- We wake up on the other side of a pile of rubble, Tealor, Sha'Rim and I. Their models are spattered with blood, looking pretty cool. Jespar is nowhere to be seen.
Tealor tries to soothe me that we'll look for him on the way to the Pyrean Beacon, but I get the feeling it's mostly a sop to my feelings. Tealor's a rock; the only part he cares about is that we're down one of our four-man party, I think.
I'm not sweating it, though. I'm pretty sure Jespar is on the same immortality train as Calia and I. I'd be pretty damn surprised if he died offscreen like a mook (poor Natara).
- The ruins are largely empty save for dozens of the carbon-black human figures, almost all looking or running forward in the same direction I'm going. It gives a weird feeling of being dragged forward to your destination, like you're a salmon swimming in a school of fish.
Whoever on staff was responsible for cute skeleton placement is getting to flex his design muscles here, I bet.
For example, I appreciate the one guy who, when the world was ending, said 'Fuck it, Imma have a seat.'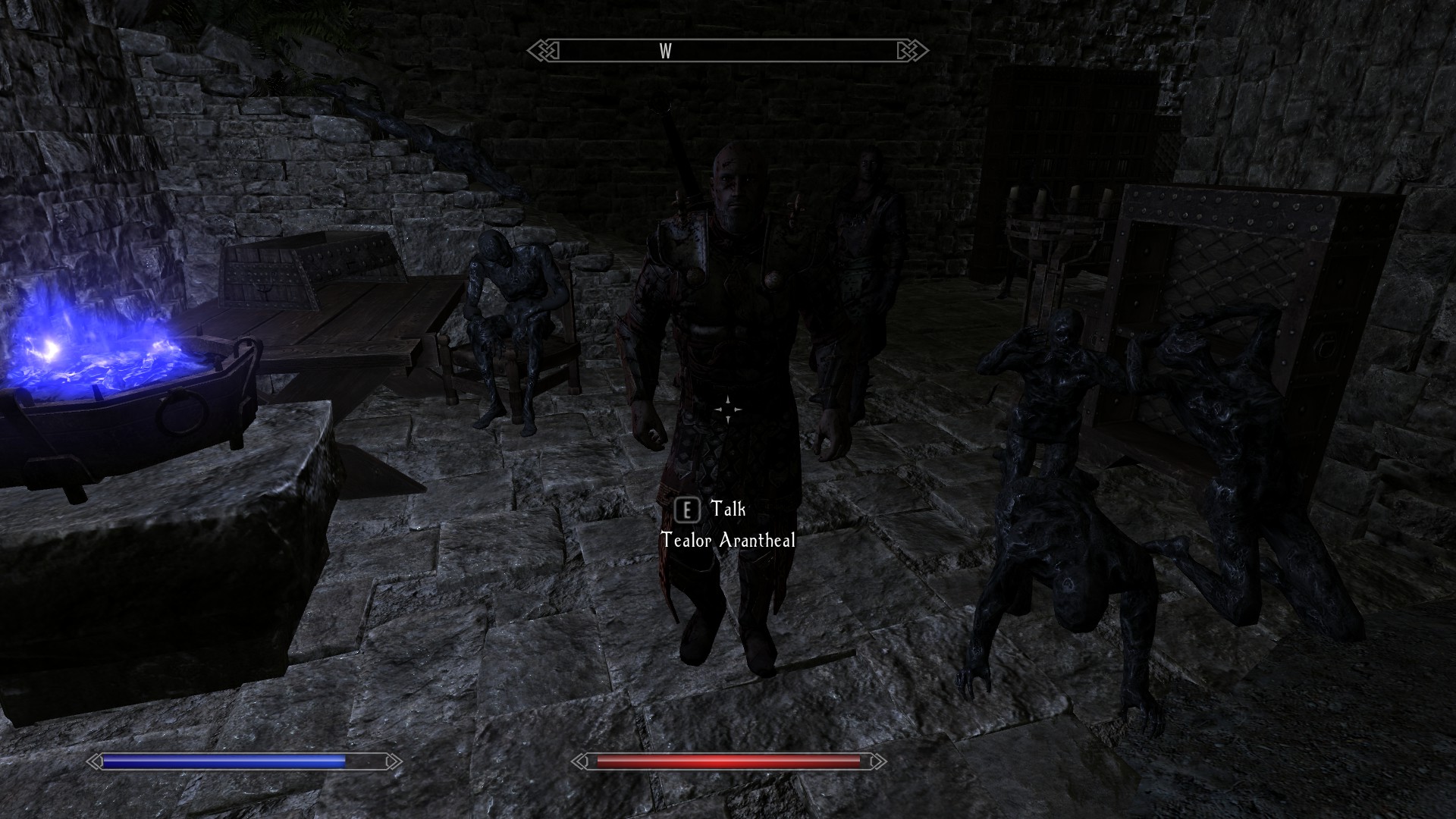 - The ruins are empty except for the black figures, one Conjured Guardian and approximately three Mad Rats. The ghost-like guardian, sure, no big deal. But what the hell have the rats been subsisting on down here all this time?
I guess SureAI just wanted to get us to flex our trigger finger now and then, to remind us during this cutscene-and-walking segment that we were playing a video game instead of a movie, but still. Why rats?
- The lighting is weirdly good, considering we're in the ruins underneath the Undercity which is underneath Ark. The purple braziers are a given (although I wonder where the crystal that has always plagued Pyrean ruins until now got to), but also there's a lot of light streaming down through cracks in the walls and ceiling.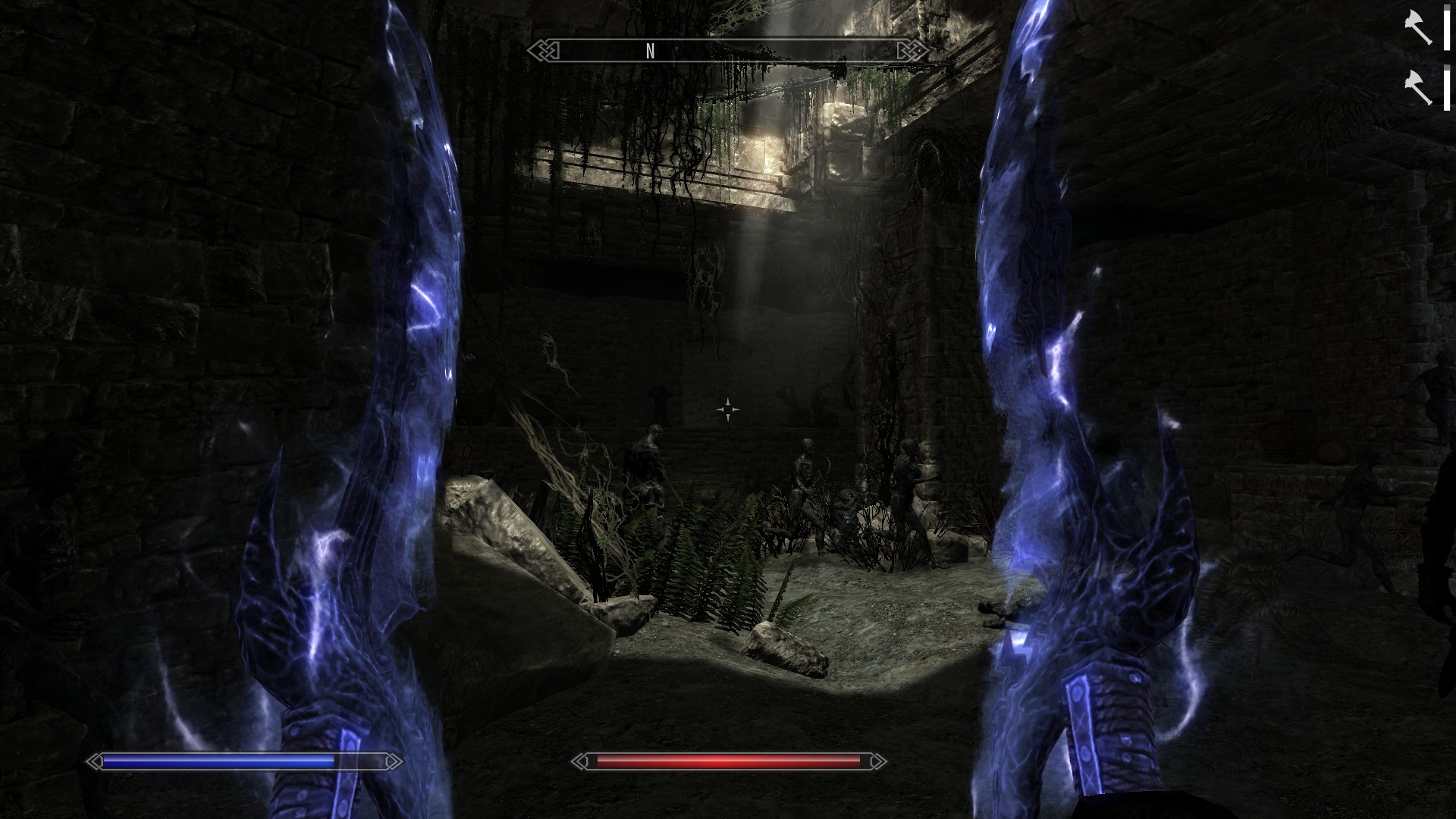 I'm wondering how far the City of a Thousand Floods extends. Are we under Ark at all anymore?
- This close, it's not just me getting the visions. Everyone does.
That's inexplicable, but neat. Something something approaching the endgame, something something Cycle, something something the time-space dimensions are thin, I guess?
- So we wander on down to a Beacon, identical to ours save for the ravages of age. And Tealor tells me I need to induce myself into having a vision here, and somehow that'll provide the connection to the High One for us to do our thing. I'm kind of just going along with things, now.
Also I feel like he's maybe not 100% sure how being the Prophetess works, but that's fair I guess. Neither do I.
So I wander around the room for a minute, point-and-click adventure style, clicking on discarded helmets and interesting bits of crystal that provoke bits and pieces of visions. Mostly just reiterating how eerily similar the Cycle is to the one that came before it. They had a Coarek, and a Natara who let him into the city, and a female voice who has more than a bit of a Tealor vibe to her.
And off we go! Tealor directs Sha'Rim to use the Word of the Dead, now that I've got the right Echo.
There is a scream, not endless, but fading in and out of existence, intercut by a woman weeping, or maybe laughing. A heartbeat begins to sound, slow at first, before getting louder and louder.
And then… well.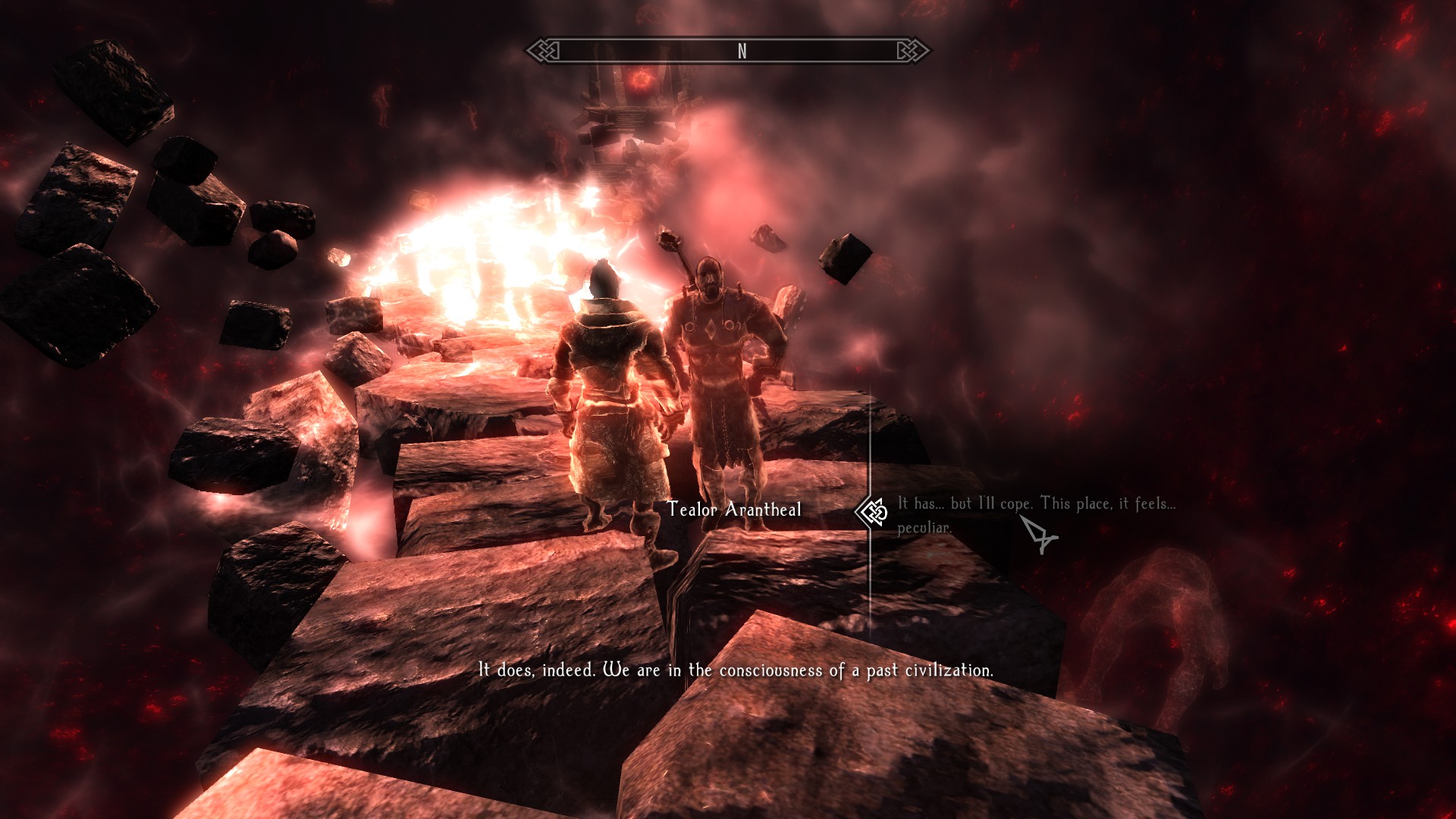 Kansas, it ain't.
The High Ones are apparently weird red stuff all the way down. It is pretty interesting that we've taken on a similar ghostly red glow to the way the High Ones appear.
Also it sort of looks like Tealor has black hair again, like he reverted to a younger self, but I think that's just the weird lighting.
- Tealor orders Sha'Rim forward to try and collect the High One's consciousness in the Word, but Sha'Rim has decided it's time to get some character growth up ins.
The thrust of his question is: 'Do you regret it?'
The thing with his son. I am suddenly reminded that Sha'Rim, as with all the other Nehrimese mages, was a follower of Narathzul first. And that Sha'Rim, as the last living member of that order, might have something to say about that at last. I can't say he didn't pick his moment, standing on the cusp of triumph or defeat for all Enderal and going 'Now let's talk about our feelings, Arantheal.'
Sha'Rim is of the opinion that that Arantheal doesn't regret. That it was agitation at being reminded of his failures, not true regret or anger, that colored that exchange with the High One in front of the temple.
- That's a pretty strong and subtle point about Tealor's character.
Anger at the High Ones for throwing his failures in his face, absolutely. But regret… yeah, I think Sha'Rim's right on that. Tealor feels like the kind of guy to regret a lot about everything that happened, but regret at the
result
, at the fallout his choices had, rather than regret at ever having made the choice in the first place.
For a guy who recognizes he's made as many mistakes as he has, Tealor doesn't tend to doubt himself much. Equal parts virtue and vice.
Okay, Sha'Rim, where are you going with this in the end? I feel like this is the prelude to a betrayal, but I'm not sure if there's room for vengeance here, at the end of the world.
- Of course, turns out there's
always
time for vengeance.
Sha'Rim was the one who hired those mercenaries to set fire to Lishari's research, and then he killed her when she caught on. He's been working against us from the start, and even before then.
Huh. The man's a better actor than I thought, that's for sure; he seemed genuinely distraught back then.
I thought this was about Narathzul, but it's not: it's about Tealor, and his fuck-up in Qyra that led to the civil war. Apparently, Sha'Rim was one of the very few survivors of that first purge, when the farmers were whipped into a rebellion and Young Tealor commanded them to be put down; his wife and daughter weren't so lucky.
Why Sha'Rim brought his wife and daughter to an open revolt against the tyrannical god-kings, I have no idea. Presumably there's at least a little more to this story than I'm getting.
The point is, Sha'Rim has been trying to sabotage Tealor all this time and has been mostly failing at it, Wile E. Coyote style, thanks to yours truly.
- Now this bit is clever. Tealor straight up asks why the hell Sha'Rim is doing this when Coarek would be killing Tealor within the day. Why kill the whole goddamn world just to kill a guy who's going to die anyway?
Sha'Rim though… he thinks, doesn't it taste sweetest this way?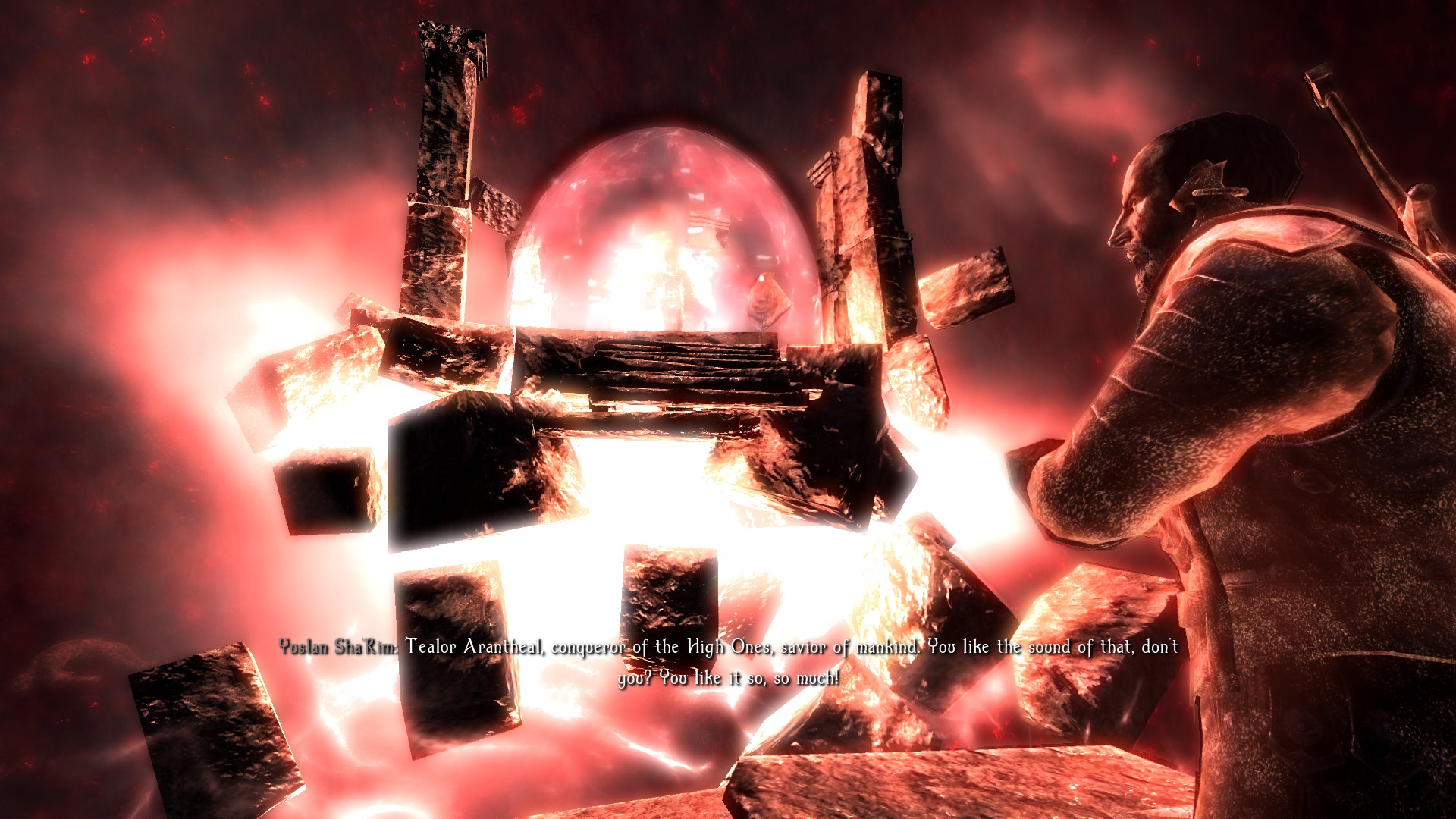 Tealor
wants
to be a martyr. Tealor Arantheal, savior of the world. What a nice ring to it.
But, uh oh, look who's here right at the very end to spoke his wheel at the cusp of his great triumph against the High Ones? Fucking Sha'Rim.
He could have exploded Arantheal in his sleep years ago if he just wanted to kill the man, probably. Sha'Rim is
stupidly
strong; he's been holding off the Nehrimese invasion by himself for weeks.
But no, Sha'Rim doesn't want Tealor to
die.
He wants him to
hurt
.
You kind of have to admire spite like that.
- So Sha'Rim does… something or other. Merges with the Numinos, or wakes it up, or… something. He vanishes in an explosion of energy, the red of the High Ones with a touch of the green lightning of Sha'Rim's Entropy magic, and we get kicked back out into the waking world.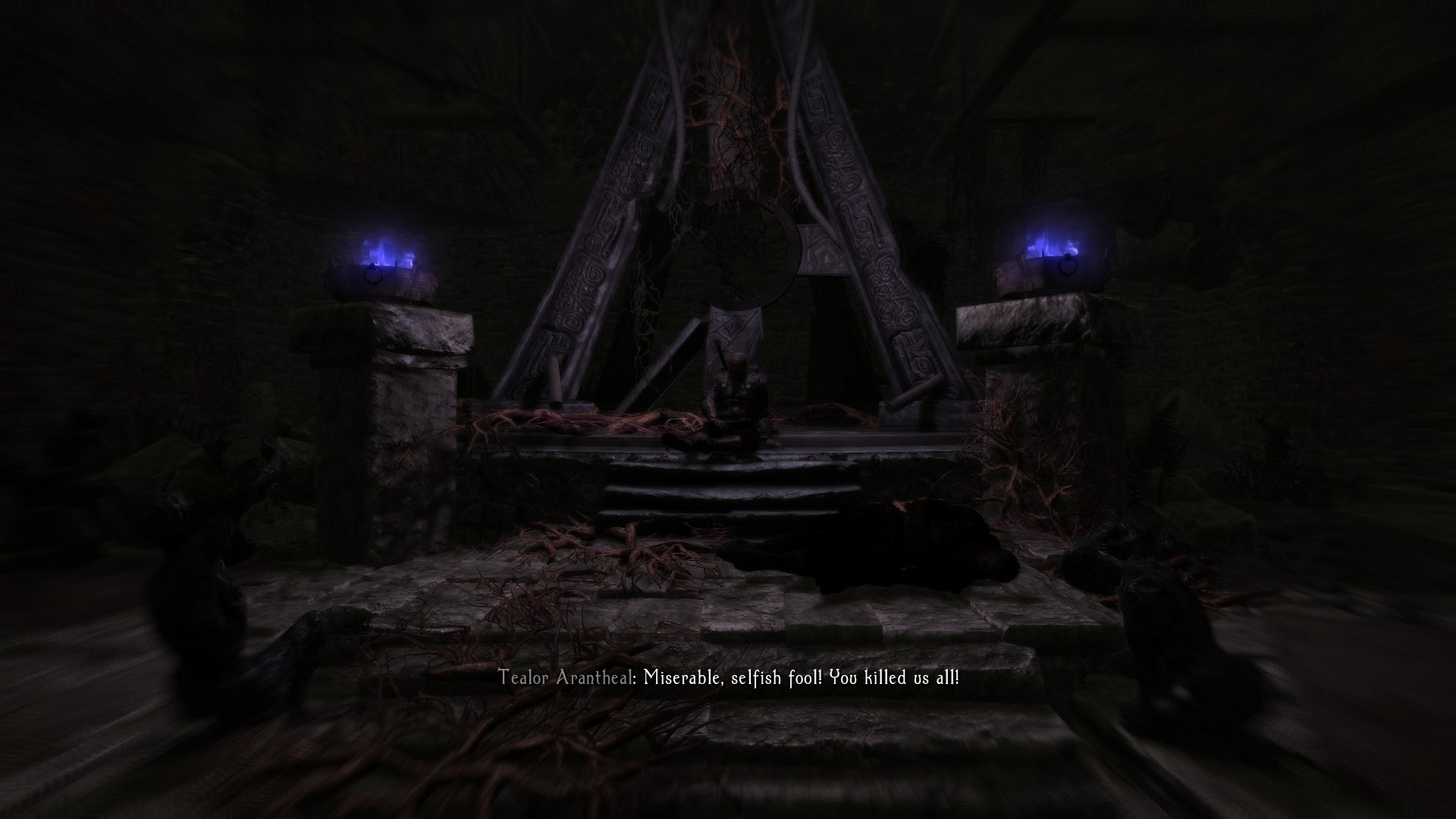 Sha'Rim's corpse on the right manages to look
amazingly
smug, somehow.
Oh, also, Sha'Rim is possessed by the High Ones. Just now? All this time? Hard to say.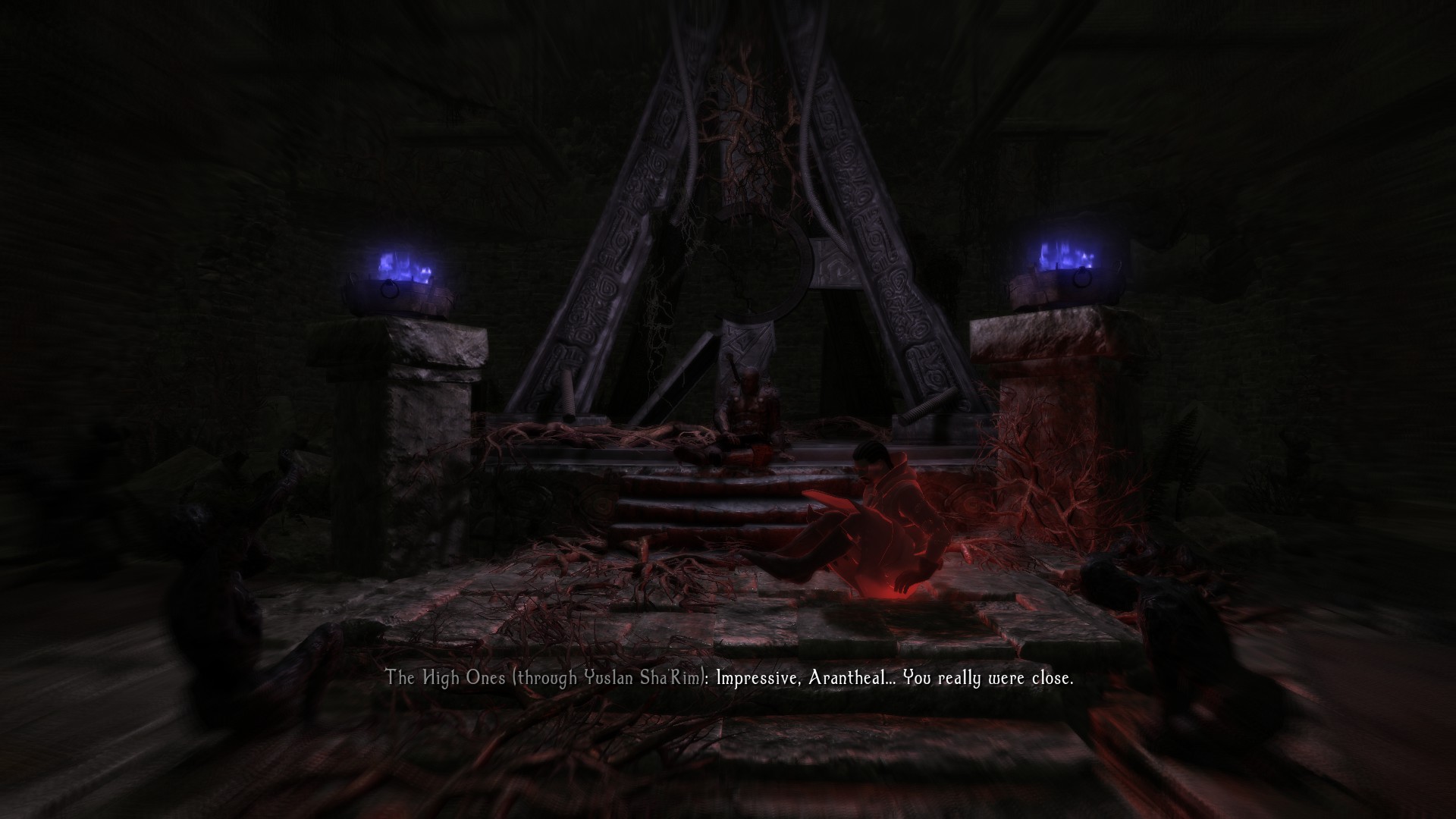 What's easy to see is that this High One is one of the
sassy
ones. Some High Ones just have
such
a good time fucking with the mortals. Lots of good sneers and smirks and such in the conversation ahead.
We must make this guy's millennium.
- Arantheal reckons he's not out of this race yet, though. See, we're doomed. Sha'Rim won… up to a point. We have no Numinos, so we can't aim the Beacon. What we
can
still do, though, is turn it on.
That's going to basically nuke Enderal. But Tealor reckons that's a risk he's willing to take.
He believes – hopes – that there are other people out there like us. Somewhere, on some other continent-nation, there's somebody who can figure this High One thing out.
He thinks there's a reason the High Ones sent Coarek here, that if he gets to the Beacon he can somehow steer it into the ending he/the High Ones want, and birth a new High One. But if Coarek and the Beacon and everything else are wiped off the map, maybe the High Ones won't be able to complete the Cleansing on their own, and we buy the rest of the world time to get its shit together.
- I'm feeling not so good about this course of action, of course, but I'm still mostly dead and Tealor has no time to drag me to the surface with him. He needs to get to the Beacon and activate it before Coarek punches through our guards up topside. It's a cause worth dying for, but Tealor is sounding just a little too eager, you know?
I have a couple of conversation options, the 'Go on, Tealor, you can do it!' or the 'Are you fucking nuts?' option, neither of which quite fit what I'm thinking. Which is that he's basing a
lot
of his reasoning on guesswork and hope, and he came up with this plan in about 30 seconds while being heckled by Sha'Rim's corpse. But Tealor doesn't
really
care what I think, anyway. Tealor has a plan.
We? We are gonna be
heroes
, Tealor assures me.
All aboard the Martyr Express, I guess.
The Takeaway:
I do feel like this would have more punch if we knew more about Sha'Rim prior to this. If we'd previously talked about his family, or life in Qyra, or something that would make us go, 'Ohhh' in hindsight. Instead, most of his conversation options around the Sun Temple were questions about how various disciplines of magic works.
I mean if this was Archmage Lexil pulling this betrayal, I'd be feeling it more. But it's still good stuff.
Tealor's character pivot was even better. Because I still like him, even if it's starting to look like we're going to have to duke it out over the Beacon. The character traits that made him such an unflinching badass in the face of the Red Madness, the Reapers showing up and the end of the world are the same ones that are causing all his problems now.
... Well, not that I think Sha'Rim would have stopped his 15+ year revenge plot if Tealor had seemed more sensitive and regretful, but you never know.
That edge of martyrdom that was in Tealor's heroic speech up in the Temple has broken open and revealed itself to be just as much vice as virtue too. It's kind of like a depressed person thinking suicidal thoughts about how the world would be better off without them. When you can't see any other way out, then dying well doesn't sound so bad. Maybe people will think well of you, afterwards. Is it a legacy thing, I wonder? Or is he so sure it's the right thing that he's getting tunnel vision? Or is it just that in this floundering Order dedicated to a God-king that no longer exists, with all his old friends and lovers turned traitor or dead, you might as well go out with a bang, saving the world?
What a Hero, they'll say of us after we die saving the world. Tealor almost can't wait.