Not sure what happened for the last Enderal forum to be archived, but let's move on! To the end.
Part 1 of this Let's Play sort of thing is located here:
https://forum.sureai.net/viewtopic.php?f=140&t=12376
part 1, in archived Forum
MQ up to "A New Beginning"
Riverville
"The Voice from the Water" and "Bad Vibrations"
MQ "The Void" 1
MQ "The Void" 2
MQ "The Void" 3, off to Ark
MQ "First Steps" and "The Sole Place"
MQ "Taming the Waves"
MQ "Part of Something Momentous, Part I" and "Divide and Conquer"
MQ "Part of Something Momentous, Part II"
exploring
CQ "Every Day Like the Last, Part II", more exploring, MQ "Part of Something Momentous, Part II"
MQ "The Word of the Dead" 1
MQ "The Word of the Dead" 2
Ark
"The Brotherhood of the Kor"
MQ "Deus Ex Machina", CQ "Two Souls, Part II"
even more exploring
The Crypt
MQ "Into the Deep" 1
MQ "Into the Deep" 2, exploring
MQ "Into the Deep" 3, exploring
MQ "Into the Deep" 4
MQs "Into the Deep" 5 and "The Lion's Den" 1
MQ "The Lion's Den" 2
more exploring
MQ "Part of Something Momentous, Part IV"
MQ "Black Light, Part I" 1
"Apotheosis, Part I"
that's not the way to Agnod
"Apotheosis, Part I"
MQ "Black Light, Part I" 2
MQ "Angel" 1
MQ "Angel" 2
MQ "Angel" 3
MQ "All the Dead Souls" 1
MQ "All the Dead Souls" 2, some exploring
MQ "All the Dead Souls" 3
MQ "All the Dead Souls" 4
CQs "Two Souls, Part IV", "Every Day Like the Last, Part IV"
MQ "A Song in the Silence" 1
MQ "A Song in the Silence" 2
MQ "Black Light, Part II" 1
MQ "Black Light, Part II" 2
MQ "Black Light, Part III"
MQ "Forgotten Homeland, Part I" 1, exploring
MQ "Forgotten Homeland, Part I" 2
MQ "Forgotten Homeland, Part I" 3
MQ "Forgotten Homeland, Part I" 4, CQs "Two Souls, Part V", "Every Day Like the Last, Part V"
CQ "Every Day Like the Last, Part V" (again), MQ "Forgotten Homeland, Part II"
MQ "Forgotten Homeland, Part III" 1
MQ "Forgotten Homeland, Part III" 2, exploring
MQ "For the Greater Good" 1, CQ "Every Day Like the Last, Part VI"
exploring, "A Touching Effigy" 1
"A Touching Effigy" 2
MQ "For the Greater Good" 2
MQ "The Shards of Order, Part I"
MQ "The Shards of Order, Part II" 1
MQ "The Shards of Order, Part II" 2
MQ "Fleshless" 1

part 2, this thread
MQ "Fleshless" 2, Ending
The Takeaway: Endings 1
The Takeaway: Endings 2
The Wrap-up
- The Black Guardian's plan is interrupted by Jespar showing up at the narratively appropriate time like a Big Damn Hero and doing… something. It sounds like he threw something that connected with a great crash, but damned if I know what it was.
Maybe his dagger, because when we get to the boss fight he's got a fuck-off big rune axe instead of his usual loadout.
Whatever it was, I stop being tied to a post by robot magicks and leg it over to my hero.
- What follows is the most video game-y boss of the entire game. The Black Guardian spawns 'flesh constructs' out of vats, which look a fair bit like Falmer from Skyrim, but darker. I think their loincloths are reinforced by ringmail, which is an interesting aesthetic for the Guardian to settle on.
Like, chainmail bikinis? Literally.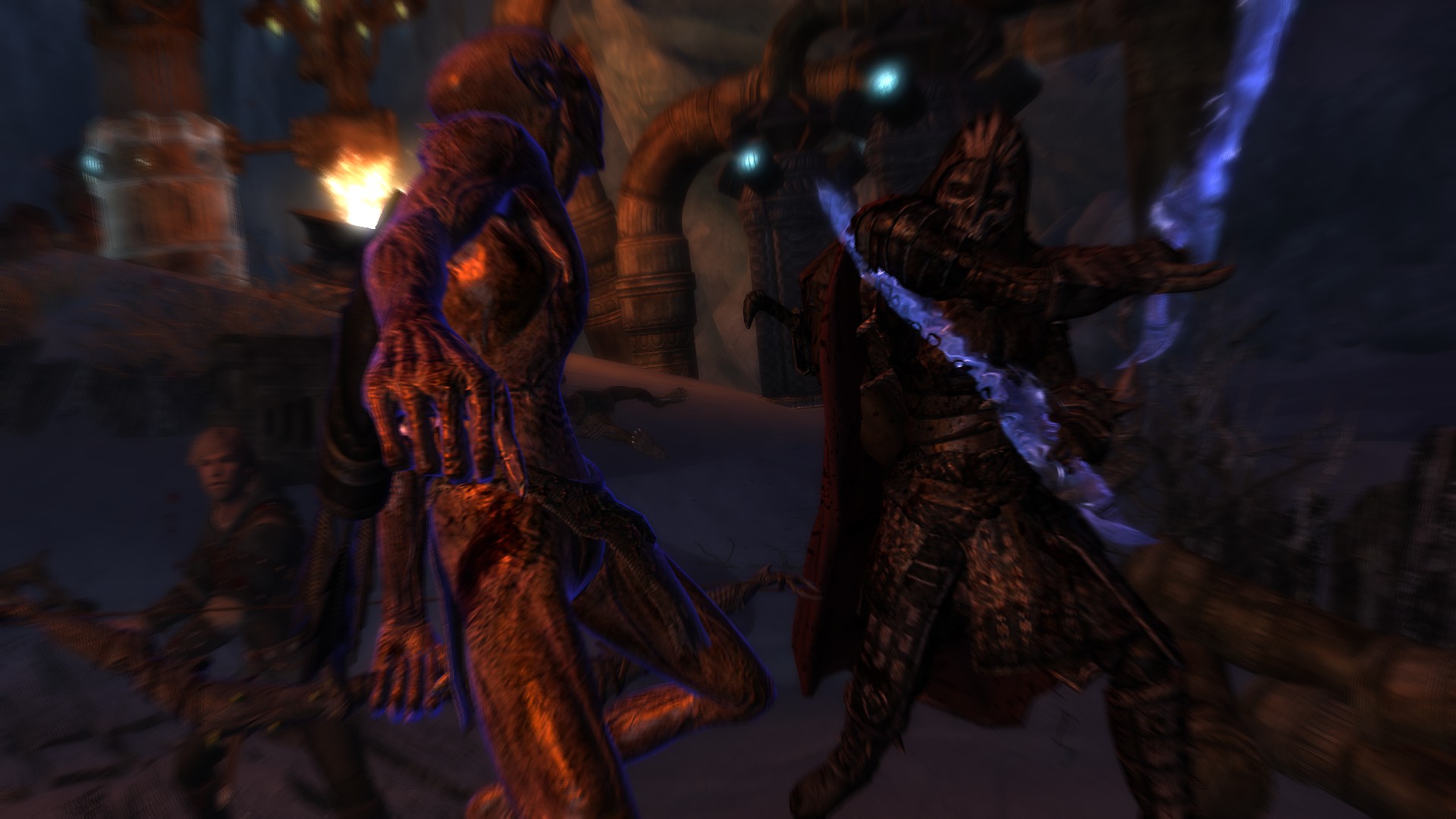 They aren't even a speed bump for me at level 60-some, dying in one hit, but I'm more wondering about the implications. How exactly did you make these things, man?
He couldn't have gathered them from fallen adventure-seekers, since he's tied up himself. Plus, I needed a Veiled Woman portal to even
find
this place. I'd guess they were some artificial homunculus-type creatures he created when he had working arms, servants to enact his will? The line he gives when they pop out is 'I have had enough time to practice!' which seems to support that he's been working on this for a while.
Except if he had these things, why didn't he send them up to the surface ever? Maybe he didn't want to clue the High Ones in to his semi-survival.
- So there are waves of flesh constructs – including an occasional glowing explode-y one that might kill you in one hit if you stab 'em, since that's what it did to me. Jespar warns you to shoot them or run away, but that was a liiiittle too late on my first run through the fight.
The waves of flesh constructs are interspersed with bashing on the Guardian's generators a bit, conveniently located nearby. Sometimes the Guardian launches fire or drops a bunch of exploding runes. Rinse and repeat two or three times.
- The Black Guardian has a few lines here and there about him being the worthy one, which are pretty standard, but he also seems really angry that I'm refusing to work together with him. He would have kept his word, he claims.
Which just reinforces the idea that the Guardian went loopy at some point, because I was on board with working with him until
he
betrayed
me
.
I think… I think he forgot. Or is misremembering what happened five minutes ago. He thinks that I was refusing to work together because I didn't want to get in the giant robot while he piloted my body around like a meat puppet.
That's not how teamwork works, I'm pretty sure.
- So eventually
something
explodes in the Guardian. It almost looks like a second, smaller dwarf centurion helmet popping out of the Black Guardian's giant one? And then it falls into the abyss. It's kind of weird, considering the Guardian already had one of those watery stasis chambers that contained the Aged Man's lover lodged in its chest, which I assumed held his old body.
- Whatever. We win, apparently!
Except our only choices are still 'blow up the Beacon, dying in the process' or 'take it to the skies, my boo.' Jespar can feel the burning of the Cleansing begin even underground, and briefly glows from within with a Lichtenstein-y tracery of white light. You can talk to him for a bit, and he notes that in his opinion, the winning play is to flee. Though he acknowledges that may just be his love for you talking, not wanting to see you sacrifice yourself. He knows he wouldn't live to see the new world anyway.
Aw. Also, you never know, man! You already got resurrected once.
I played through both endings, so I'll go through them one at a time, but both of them begin by the Prophetess making her way back to the Sun Temple.
If you choose to blow yourself up to save the world, then Jespar says he has a back way out and hopes to make it to Qyra to start telling people about what's happening. Telling the story. The prophet to the Prophetess, so to speak. Jespar and the Prophetess share a tender kiss backlit by mushroom-light before moving on.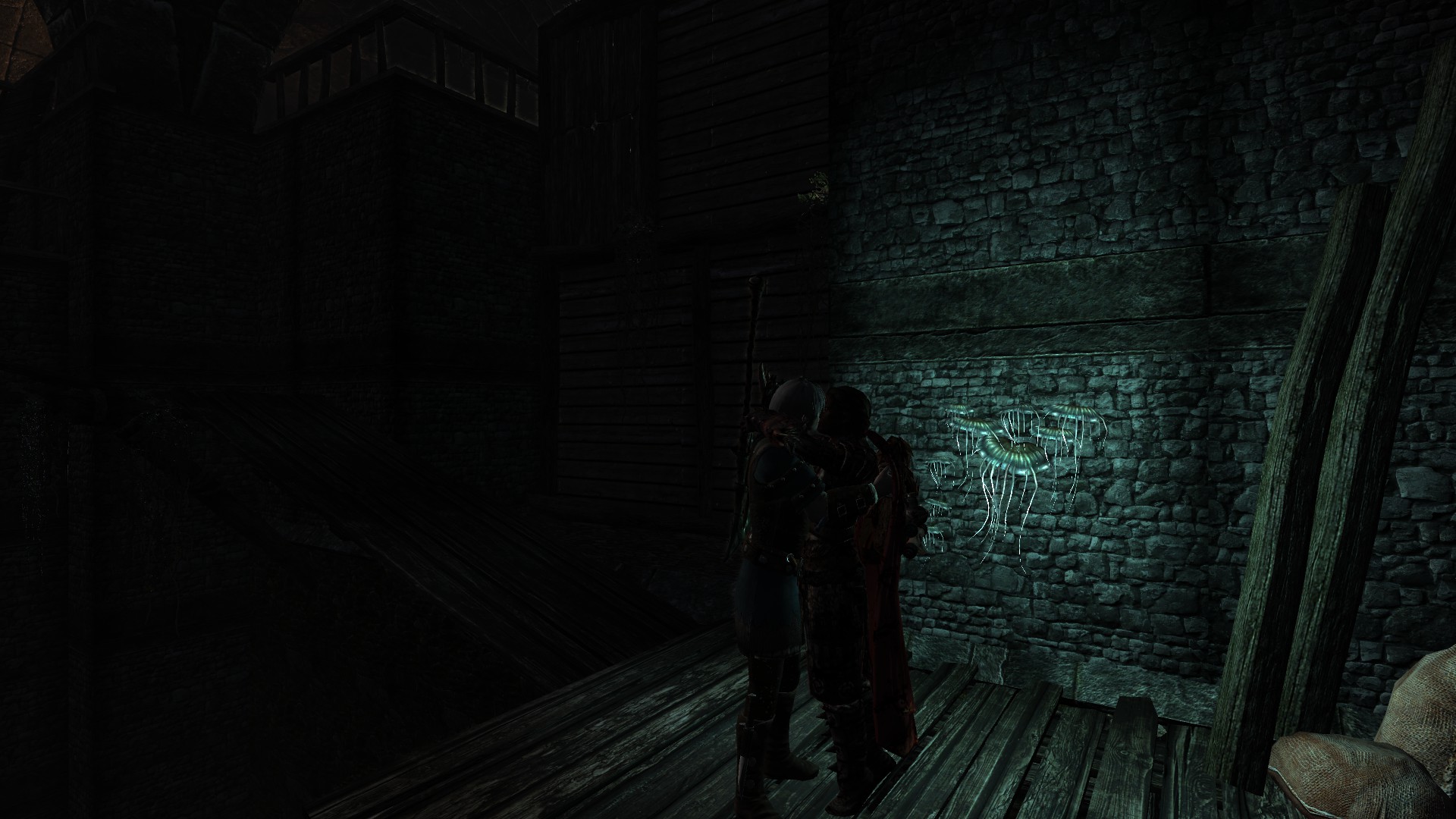 If you choose to escape, you still have to go find the pods and get them ready.
- The Sun Temple gates appear to have been broken and re-barricaded with debris that is now on fire, and the courtyard is scattered with corpses.
Some of the corpses aren't corpses but curl inwards, fetal position, shaking and shuddering in silence, Lichtenstein figures sketched across them.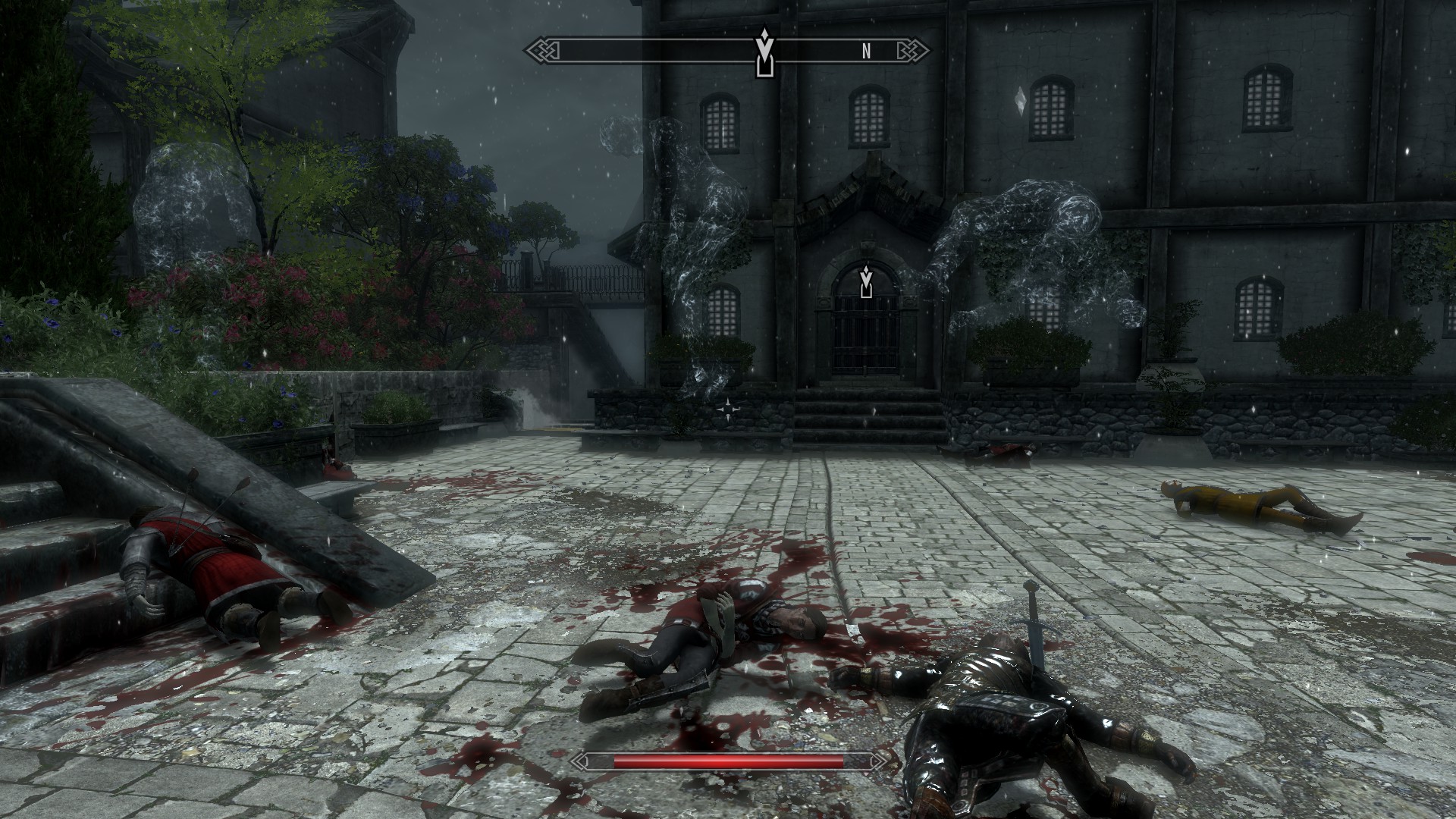 As you watch, white ghostly figures begin to separate from the bodies; their souls being drawn up towards the rift in the sky. It's cool, but it's disappointing nobody seems to be talking if you click on them. Most of them are too far gone, I suppose.
It's weirdly quiet. Only you, walking among the dying and the dead.
Scouring the battlefield, first you spot Commander Eren and the cultist-looking guy Sammael, who look like they managed a double-kill. Considering Sammael tore my soul out last time I ran into him, I have to congratulate our more recent, not-particularly-badass commander for managing that one.
Archmage Lexil is next, <delirious muttering> like someone in the grip of a nightmare or fever. But he doesn't have any real lines. Shame.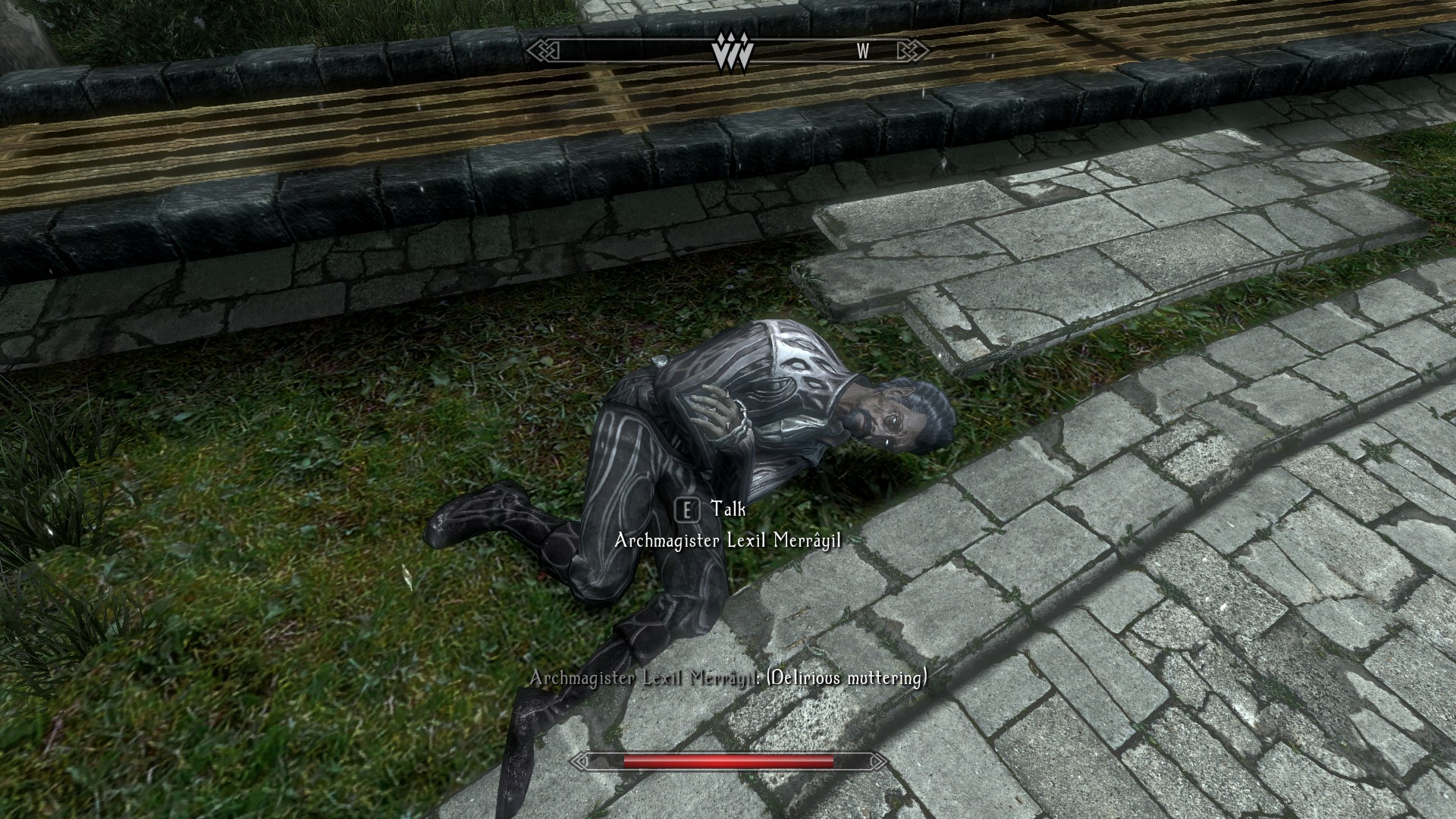 Goodbye, Fancy Elf.
Taranor Coarek is down at the center of the courtyard, not far from where Tealor Arantheal made his speech. Strangely, one of the corpses nearby appears to have been stripped of its clothes? Not sure what that's about. It's pretty disappointing that Coarek isn't still awake, I'd be really interested in hearing what he has to say. Is he feeling betrayed? Does he blame it all on Tealor? Does he think his reward is still coming?
No Natara, so I guess that plot thread was snipped earlier, after all. Weird.
- Calia is further along, and still lucid. Considering Coarek the Emissary is down but Calia is not, I'm thinking it's not being 'Fleshless' that's protecting me, but something the Veiled Woman did.
From her I learn that at the eleventh hour Tealor showed up, claimed Sha'Rim and the Prophetess were killed by the High Ones – not technically wrong – and that he found the Numinos, and turned on the machine. Of course, he was working on the wrong data; he was expecting a kaboom, and he got a wet fizzle as he did the High Ones' job for them.
Paladin to the last, she seems to be keeping the faith. Not in the Order, though. In me.
I tell her that there is still hope, and in a quiet, fading voice, she says something like, 'Oh, good. I knew I could count on you, Sa'Ira. It's what you do.'
Right in the heart. Ow.
Now, in the ending where I am blowing this popscicle stand and heading to the moon, I am pretty goddamn upset that I can't pick the girl up and put her in the pod. I mean, Jespar has to make it up here to get in his own pod, she's still responding, so what's stopping me? Except the game.
I know there's only so many branches the ending could realistically take, but this is an obvious one that people are going to want to do.
- As I travel up to the highest point of the Temple, where we stuck the Beacon, I can see the souls floating up from the city below towards the rift in the sky. It's a hell of an image, made even eerier by how the Prophetess is just fine.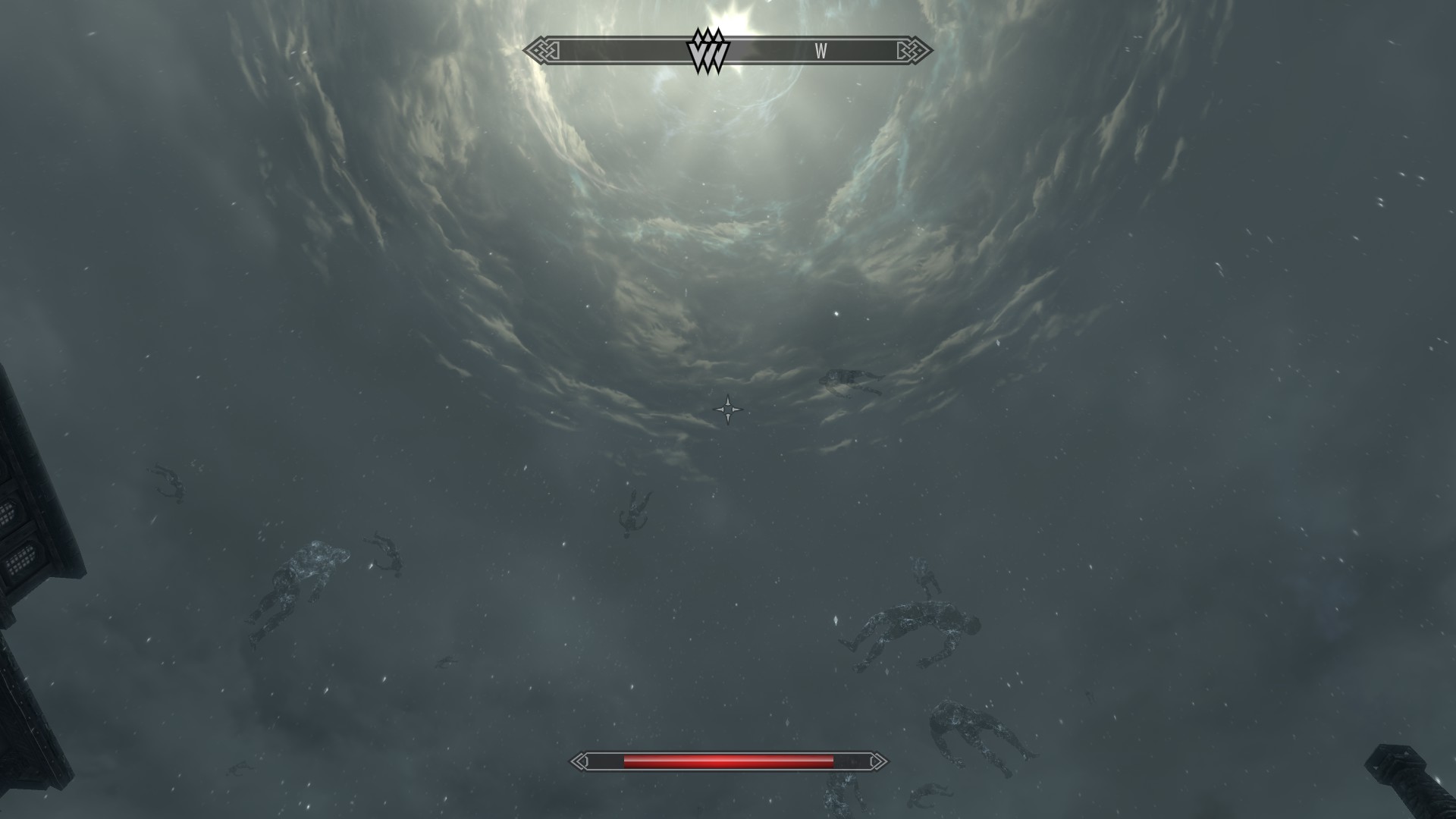 A 'dull pain', she calls it, but there's no staggering or HP loss or fuzzy screens like when I'm having a vision. You seem fine. Like a city struck by plague, with one healthy survivor.
Nothing like a nice big helping of survivor's guilt to kick off the next Cycle.
- Tealor is laying within the metal arms of the Beacon, clearly having fallen almost immediately. He seems to be hallucinating me as his dead Lightborn god-wife. 'Indra,' he says. 'See? I led them to the light. I, alone.'
Just like the ominous loading screen. … Yeah, buddy. Yeah, you sure did.
It's probably the High Ones fucking with him again, but whatever, I guess they can have their fun. There's a conversation option to browbeat him for fucking up at the end, but what's the point? It'd be like kicking a dog.
… Who left me to die down in the City of a Thousand Floods, admittedly, but his heart was in the right place. He wasn't a saint, but who is?
Except maybe Calia. Shame about her. Damn shame.
- So if you're onboard with Team Martyr, you smash the Black Stones powering the Beacon, and everything goes white.
You just nuked Enderal, just like Tealor hoped to do. The Cleansing is averted (minus, possibly, some stray souls here and there), but the High Ones are still out there.
You get sent back to the same old dream, about your childhood house. Except instead of dread, I was super ready to go kick Dad's head clean off
Unfortunately the door to the house is locked, even if the light is on inside. Kind of a missed opportunity here, for a little High One gloating right at the end.
There are four tombstones out front; one of them is presumably yours. Clicking on them activates the ending, and you get Jespar doing a voice-over as the camera slowly pans up and the sky slowly fades to white-out.
Jespar made it out in time, somehow or other, and spread the word to all the other nations. He tells the story of Enderal, of
your
story.
- The Azeraleans (isn't that where the Witch Hunters from the painting sidequest hail from? I suddenly have mixed feelings) are building their own Beacon, he says (how, tho?), except they know how it works now. The ironic trick of getting the fleshbags to pull the apocalypse lever themselves isn't going to work, at least.
The High Ones can probably still build up a Coarek to come over and
take
it, but it feels like a positive direction.
For all Coarek's talk of rationalist enlightenment, he was in the end a cultist to a being he didn't understand. You don't need a giant machine god watching over you, either, although I wouldn't necessarily turn one down if he wasn't 50 million years past the service warranty.
People shining the light of truth and knowledge into the dark corners where the High Ones live? That's how you
really
move humanity forward.
The end credits seem to agree with me, set to a fairly peppy, adventure-y jam.
- For the 'escape to the moon' ending, I need only head into the Chroniclum, past a library I never realized was there and the corpse of a named librarian I've never spoken to, to arm the pods.
It's as simple as throwing Jespar in one pod, hitting a button, hopping in the second one and closing the door.
You can see a few souls drift by the green glass window before acceleration pastes you to the top of the escape pod. Which… I'm not sure that's how acceleration works, but what am I, a scientist?
The Cleansing will go ahead as planned, minus only two quiet souls. I doubt they'll miss us, Prophetess or no.
- In the dream, Jespar is sitting and waiting for you at the childhood home. He vanishes into white light, only for another Jespar to appear, and another, leading you back down the path from whence you came.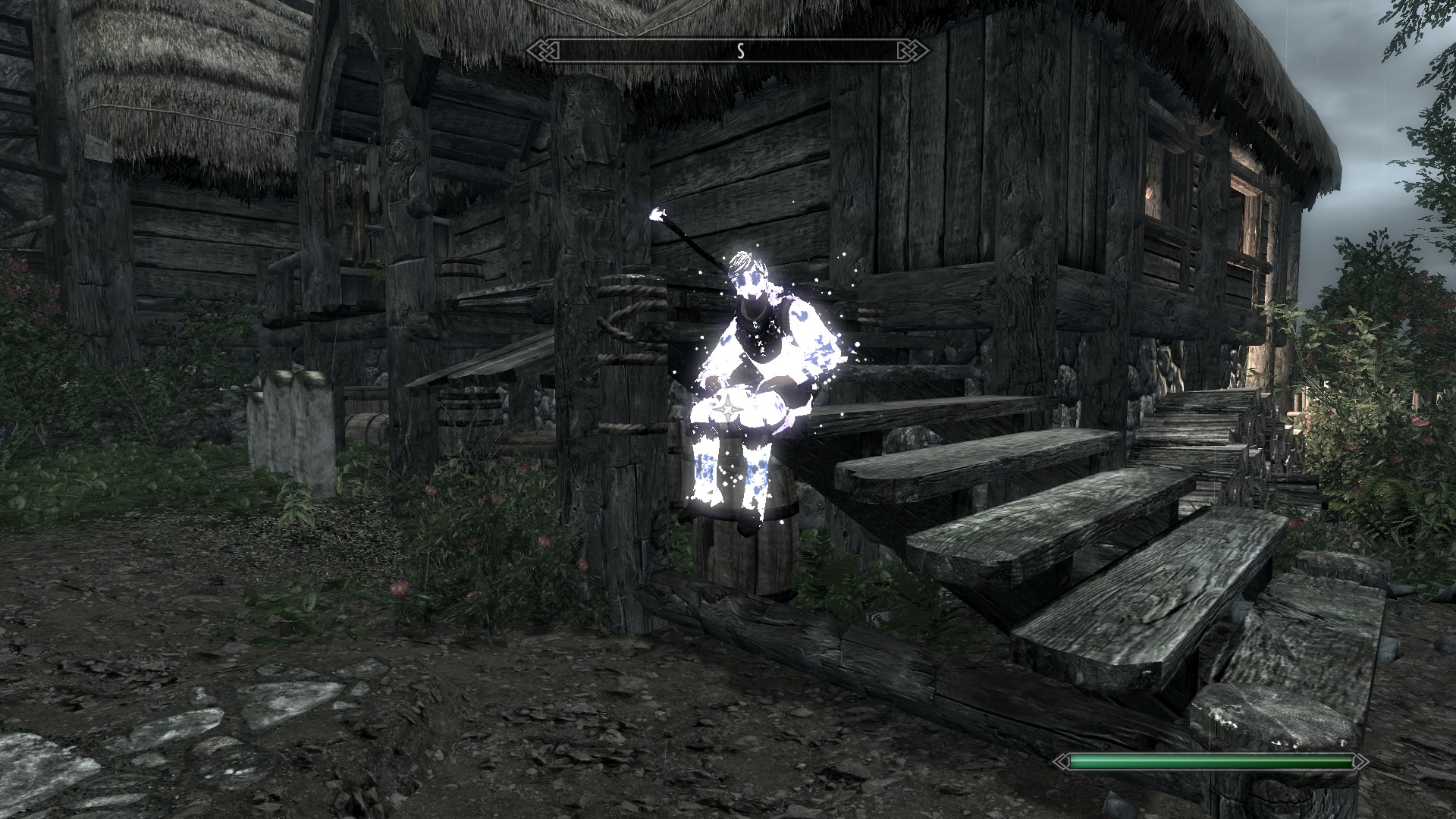 I guess you could see this as a kind of metaphor for Jespar's love leading you away from the tombstone ending that comes of sacrificing yourself? Feels a bit weak, but I can't imagine what else it would be.
- I wake up in the Star City, and wander out to find Jespar with his legs dangling over the clouded abyss. I join him, and together watch the sunset as the world below burns.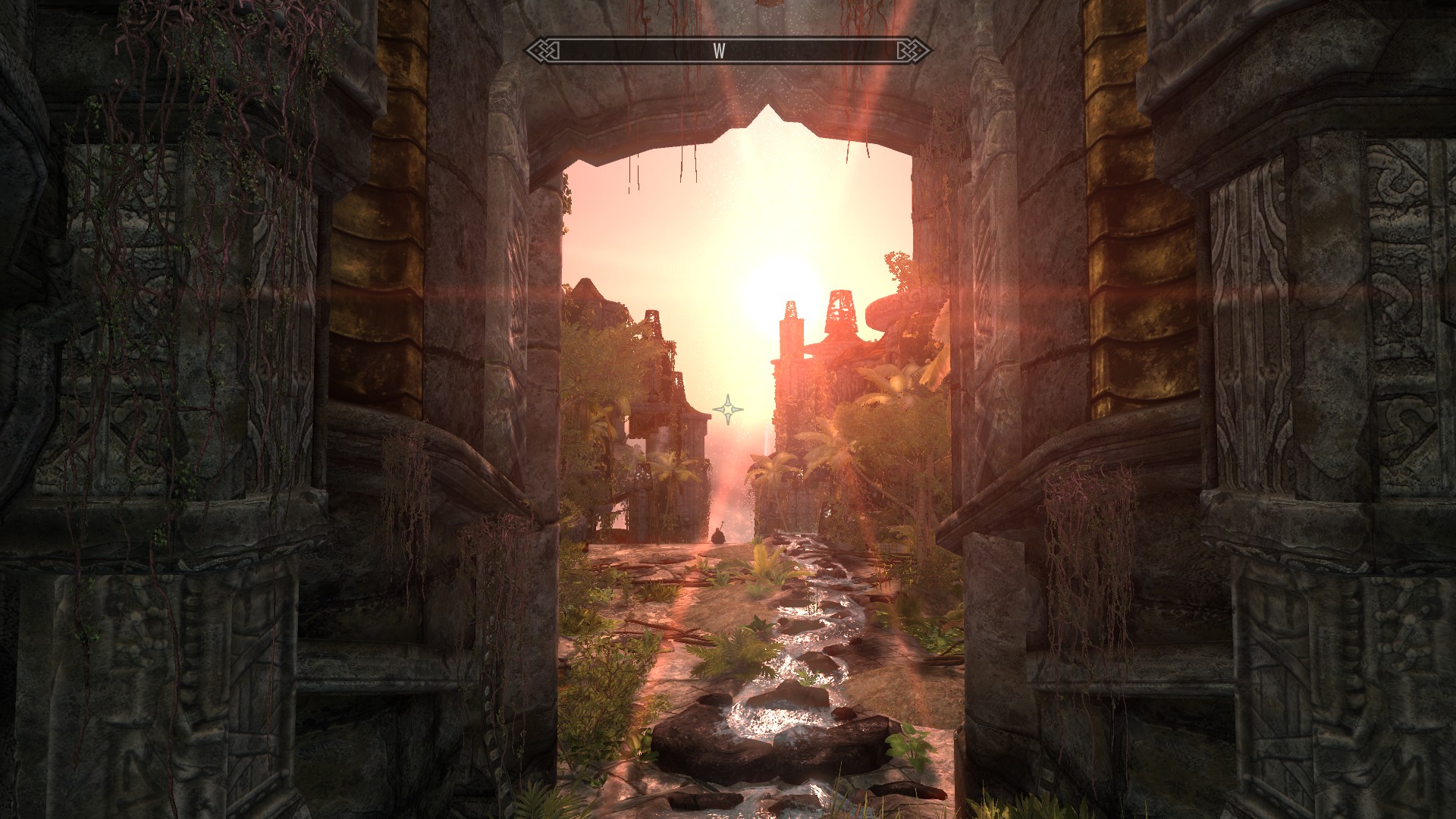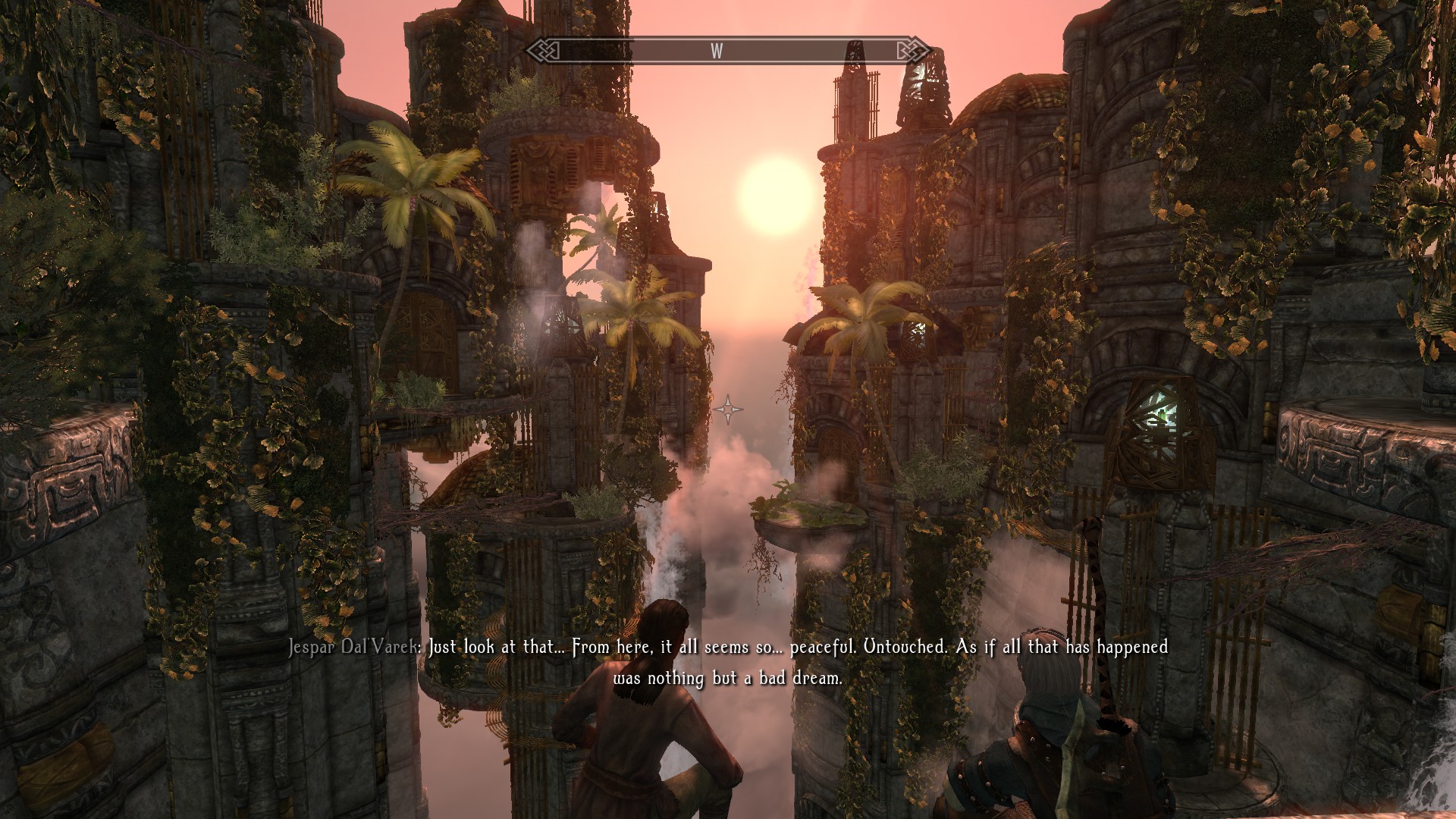 The Star City is beautiful, lushly overgrown, and a duck that has never known fear of a human nests near to where we sit. The sunset sets the sky and the sea of clouds alight. But all the same, there's a much more melancholy feeling here, a sort of 'What do we do now?'
The end credits begins on a beautiful, serene, faintly sad note… and then soon turns back into the jaunty adventure tune of the other ending. … Odd.
The Takeaway (except not):
So, apologies for the pause in the middle of the ending! Life, you know how it goes.
I'm going to digest the endings a bit and then take a crack at an extra-long Takeaway on the subject as its own post. Generally, the endings left me with a feeling of 'This is good, but', and I'd like to explore that a bit, give some of my own ideas for how this could have or should have gone.
After that, I'm thinking maybe a retrospective post for the game as a whole, and then I'll be done!