- It's a little odd, but according to my map marker I'm supposed to report Lishari's death to Lexil the Archmage. He's posed pretty fabulously when I find him, leafing through an ancient tome. #JustArchmageThings.
He has a few kind words for Lishari, but honestly the whole thing feels weirdly understated. They're kicking the investigation over to 'Commander Eren', who I don't think I've ever met or heard of. Not exactly bringing their A-game to the investigation, is what I'm saying.
Lexil and Tealor Arantheal have much more to say about the Beacon than about their ally found stabbed to death in her room. See, it's got three spots for power to be plugged in. I just knew I was going to have to Legend of Zelda this shit up at some point. I could
feel
it.
Hey Prophetess, you ever heard of the 'black stones'?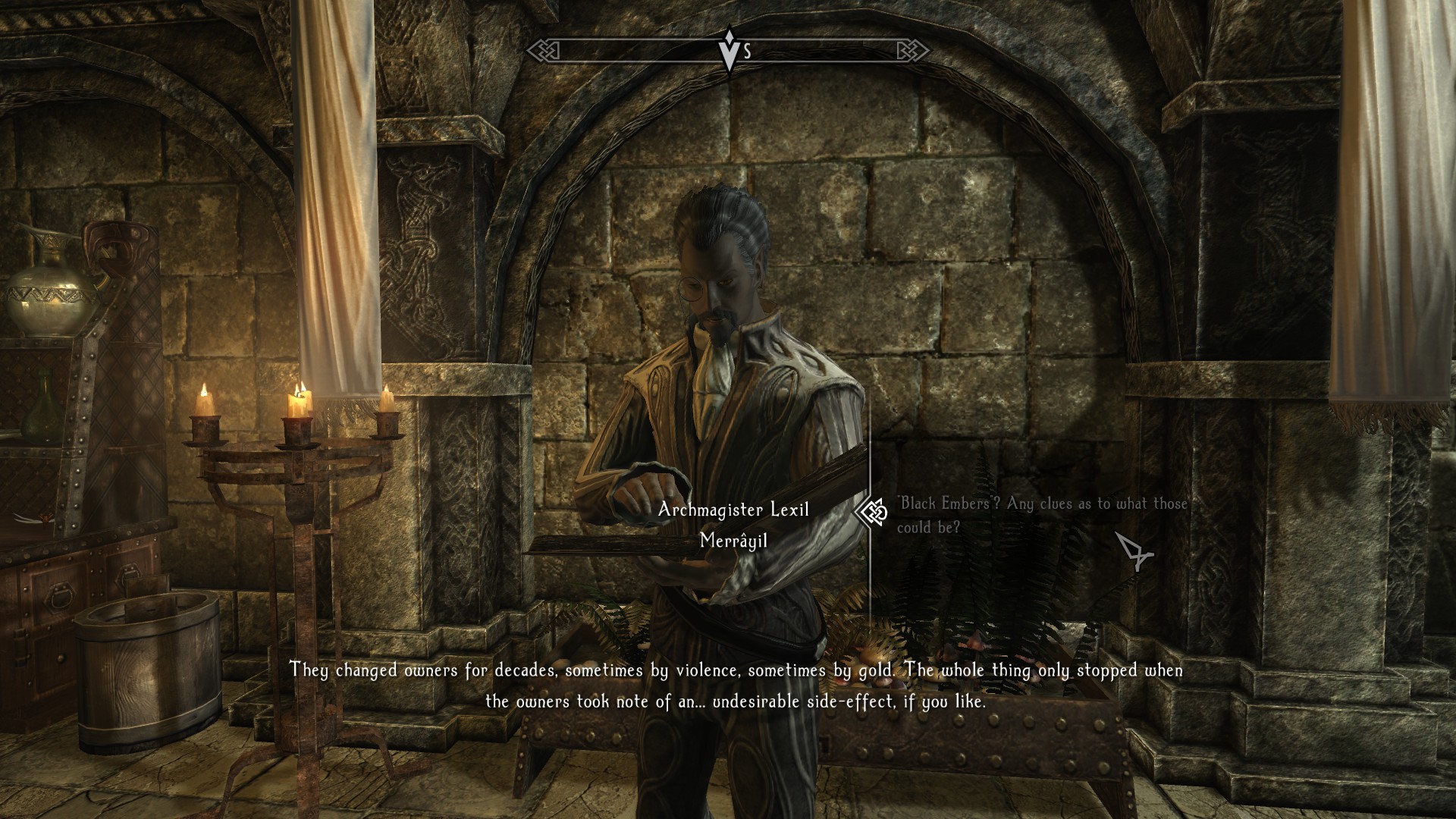 What kind of undesirable side-effects? Wait, don't tell me, I can guess.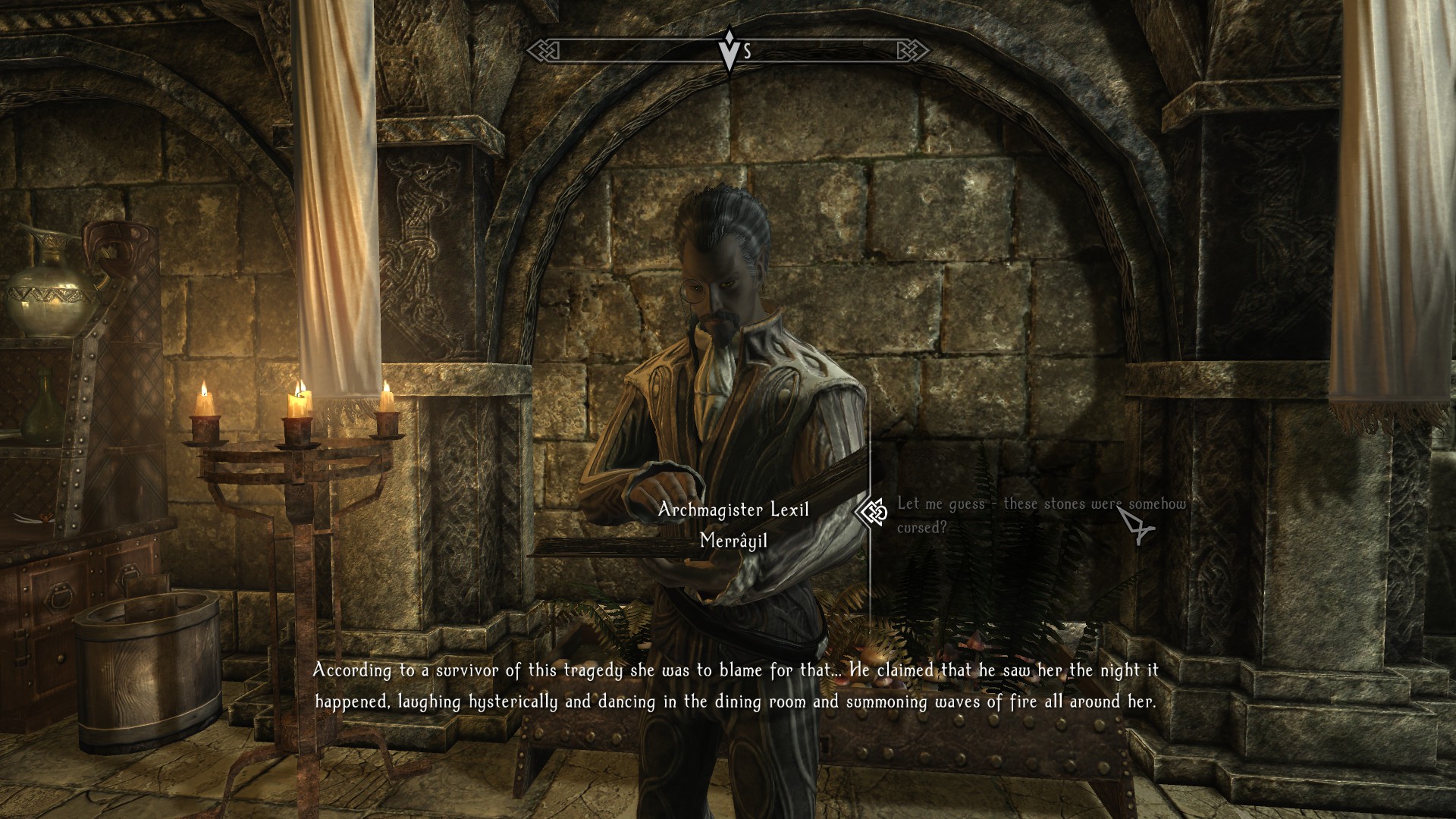 I said I can guess!
Always, it comes back to insanity and death.
On the upside, good thematic callback to me burning my house down and murdering the fam in a fit of insanity. If I have to go back to my home in Nehrim to get one of your Beacon gizmos, Lexil …
Well honestly, that would be pretty cool. Yeah. I'm down. Who wouldn't want to sift through the destroyed remnants of their childhood home looking for a shiny ball that'll probably drive them mad with power, and might have done once already?
- Also: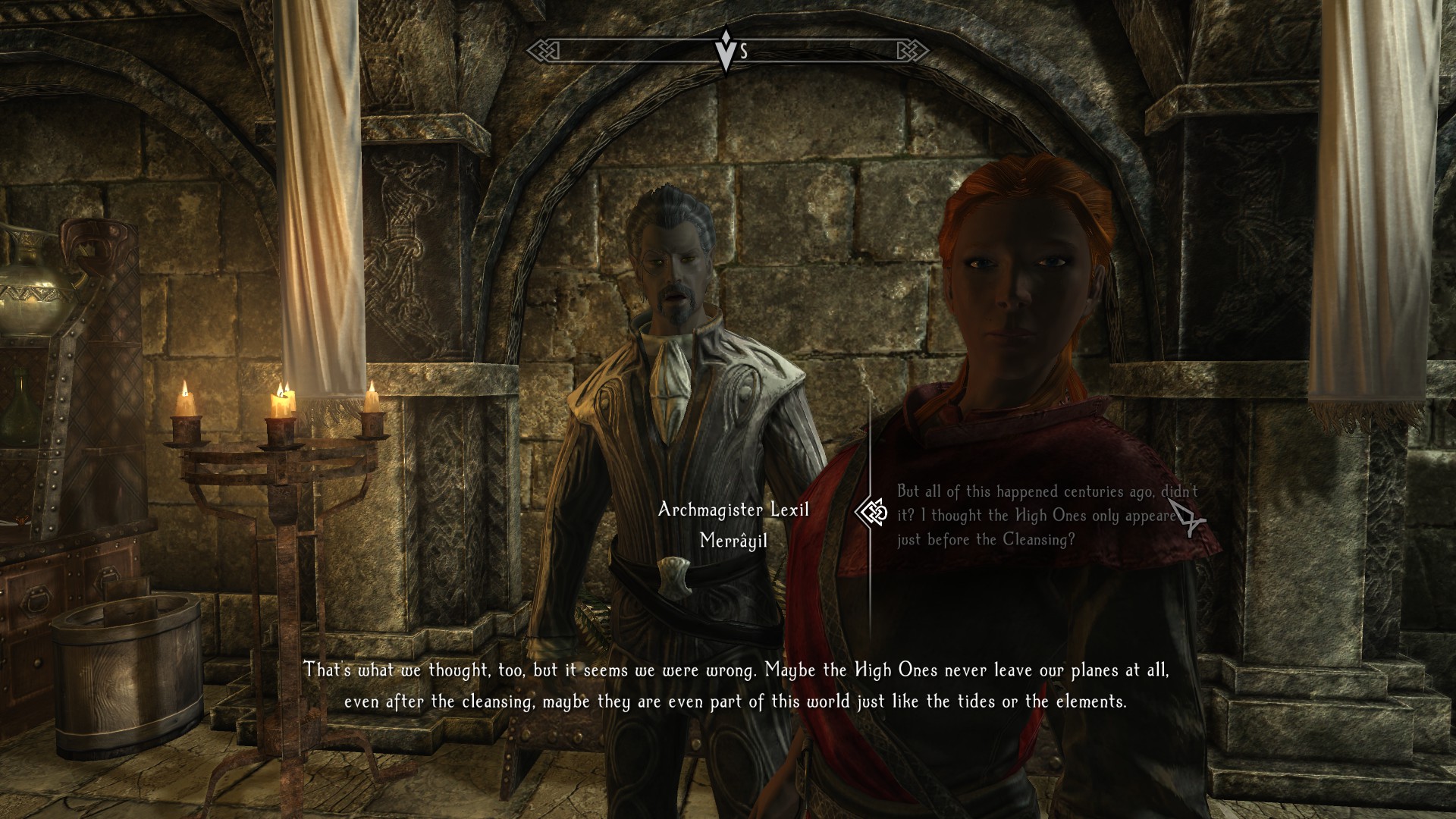 Elia. Elia, can I … help you?
… No? Not gonna say a word. Just gonna … chill? Okay, cool. You do you, girl.
- Unfortunately, I prooobably shouldn't have put this meeting off to do Fortress Fogwatch, because Lexil tells me he's got some things to get together, and to come back tomorrow. So I'm stuck cooling my heels.
- Well, I've got a quest from the 'A GOD AM I' inventor guy, to go find his wayward apprentice, anyway. So I'm off to a new area called 'Wellwatch'.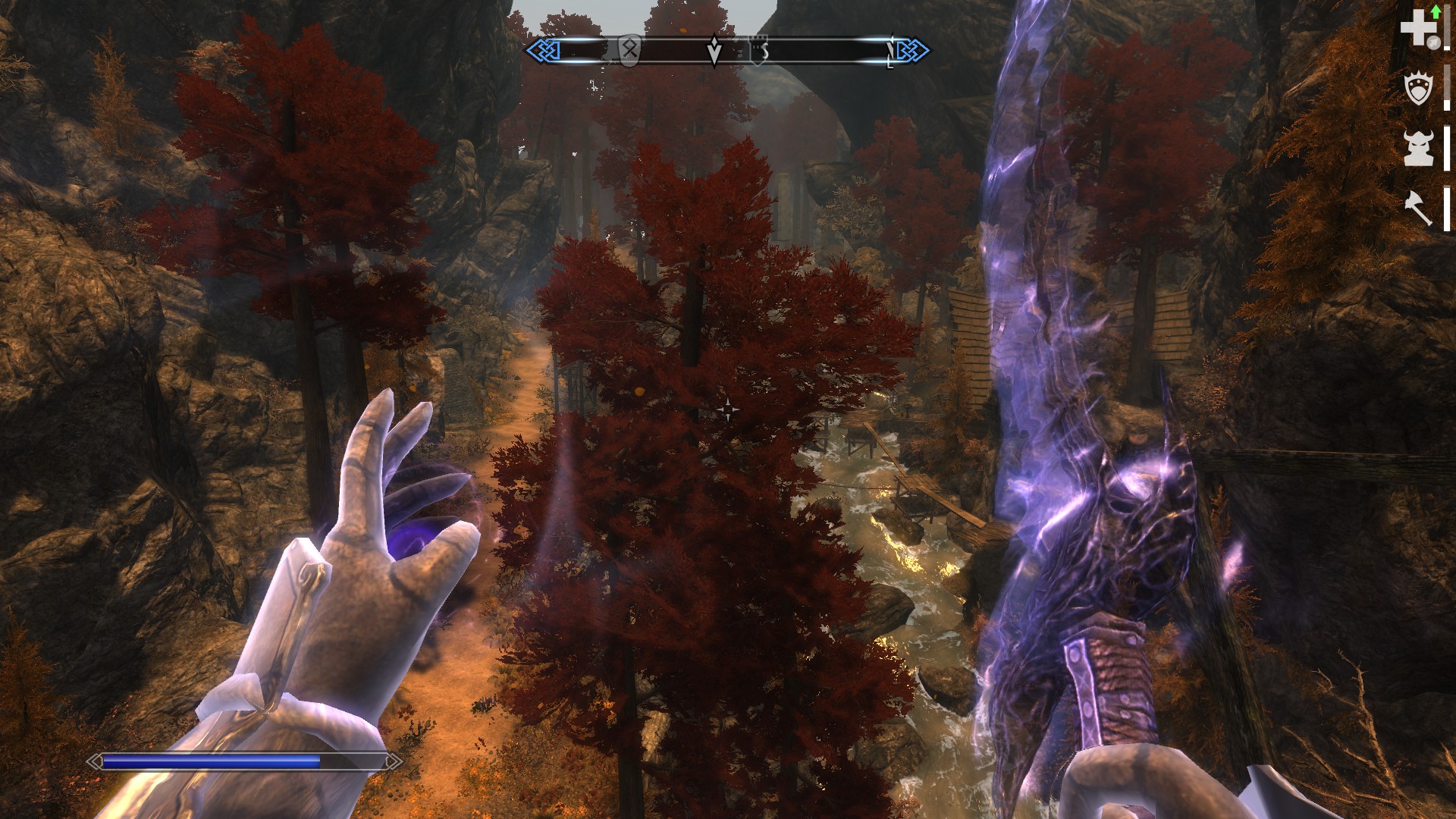 Why is this game so beautiful, holy shit. I mean, I'm not sure how the
seasons
work in Enderal, but SureAI sure can make some evocative scenery.
- On the way to the campsite where what's-her-face was dragged off, I run into a bandit camp-slash-quarry that got murdered but good by some… wood elementals or something? Spriggans? Very large dryad type things surrounded by a cloud of stinging flies, named <Goldenforst Matriarchs>.
Whatever, they're not 'ard enough to deal with flame-wolf. Bit of a mismatch, there. Right? Fire, meet tree. You already have so much in common; like being on fire.
… Is that supposed to be 'Goldenforest', by the way? Just asking.
More importantly, I wander into an innocuous cave attached to the quarry called 'Cliff Diving Grotto', and run into a new type of undead. Lost Ones, clad in black and silver armor and wielding bows of similar make.
This is gonna be one of
those
dungeons.
- Or it would be, except the pathing is REALLY bad, in here. As long as I cower behind this rock and fire about 50 arrows downrange, the two Lost Ones at the entrance just run back and forth and I can take my time and bring them down like one of those carnival shooting gallery games with the cork guns.
The next, a batch of four, are likewise not much of a challenge. I'm not sure if it's the speed they run at or more bad pathing, but none of them even get close. My wolf doesn't even deploy, just hangs around doing his best to foul my shots.
Down, then up, and then… Markul Darkhand, kin to my friend from the Madness Time beneath Ark. This one has a pretty nasty fire and ice combination attack: an AOE freezing mist that keeps the enemy from moving at more than a crawl, and then a fireball as a finisher.
That just means my wolf runs in ahead of me as I cower like the coward I am, and tears the poor lich open like a turkey.
This wolf, man. Somebody was talking earlier about who I might be romancing, Jespar or Calia? I'm mostly wondering at this point just how restrictive the local laws are. I mean, what a hero and her elemental wolf get up to behind closed doors is nobody's business but theirs, right?
- There's a few more Lost Ones between me and the exit, but I sail right on through to find this guy:
Am I weird for finding him adorable? With his little lantern and sword and skeleton grin?
Just me? Okay then.
- Off to find Pathira, then. There's a mysterious blood splatter at her camp, so… I'm guessing she's not off picking flowers. The minimap marker clicks off; it's time to do some detective work.
Except we appear to be close enough to aggro a Goldenforst Matriarch. No sweat, right? Except during the fight, something goes wrong.
Something about the mob (charm spells?), or a bug, or something... I am beset by
base treachery
.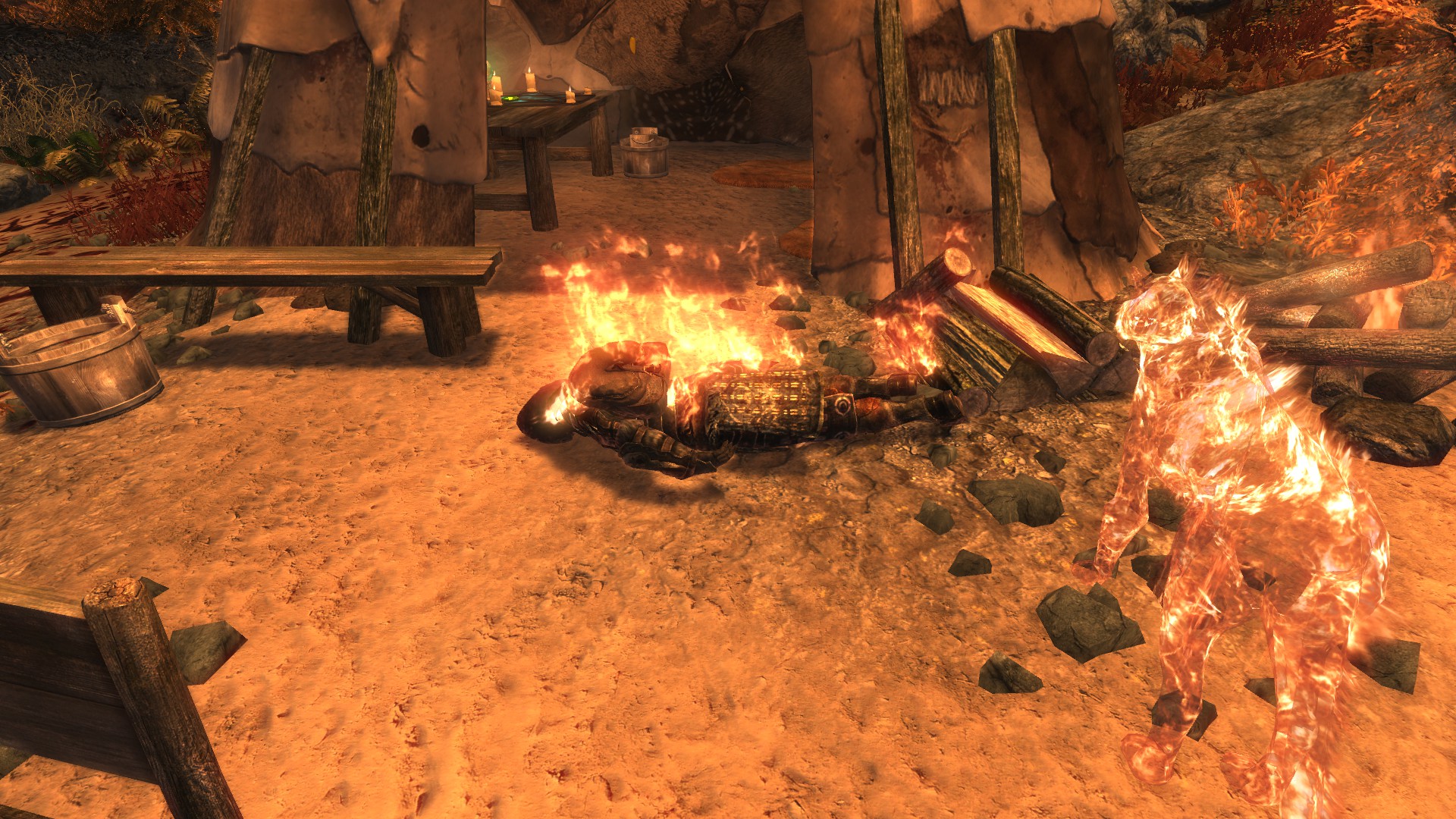 Elemental wolf bites hurt a
lot
.
- That happens twice, actually, and I just barely manage to kill the Matriarch and wolfie with a sliver of health left on the second go-round. I see how it is.
Well, y'know what, wolfie? I don't even NEED you! I have
this
hideous thing!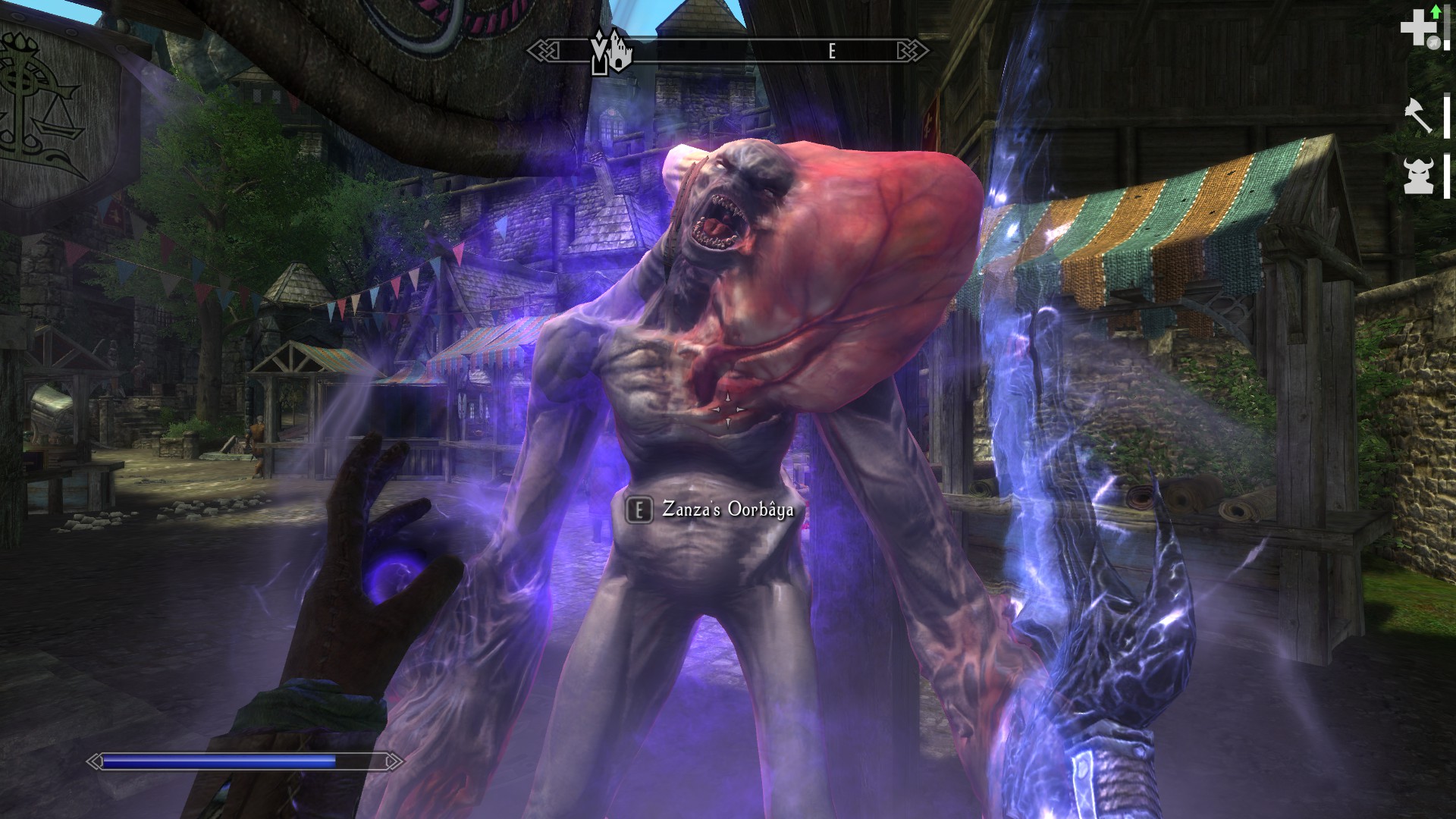 I can barely stand to look at it, but it's level 30 to your 26, and it's probably got like,
magic
and shit. I'm gonna take
it
on magical adventures in the Goldenforst, and learn valuable lessons and maybe doom all humanity to living under the mighty bootheel of a new Centurion God-king! And it'll be
awesome!
So there. *sniff*
The Takeaway:
I have to say, the Order's response to Constantine and Lishari's death is not comforting in the least. After all,
I'm
a suspicious foreigner, too, y'know? If I died on one of these little jaunts (y'know, for real) (like, permanently) I wonder if the Keepers clustered around that table in the Sun Temple would shake their heads and murmur 'sad' before moving on to other business?
Luckily, they can't get rid of me
that
easily.