Sorry for the long wait, y'all. Updates may or may not continue to be spotty between real life issues, commission work and playing Dominions 4 instead of Enderal with what time I have. Anyway, onward!
---
- The Crystal Forest is absolutely gorgeous, like a snowscape mixed with cherry blossom trees (and cherry blossom shrubs. And clusters of pink glowing crystals).
It would be even nicer without all the monsters, but one can't have everything.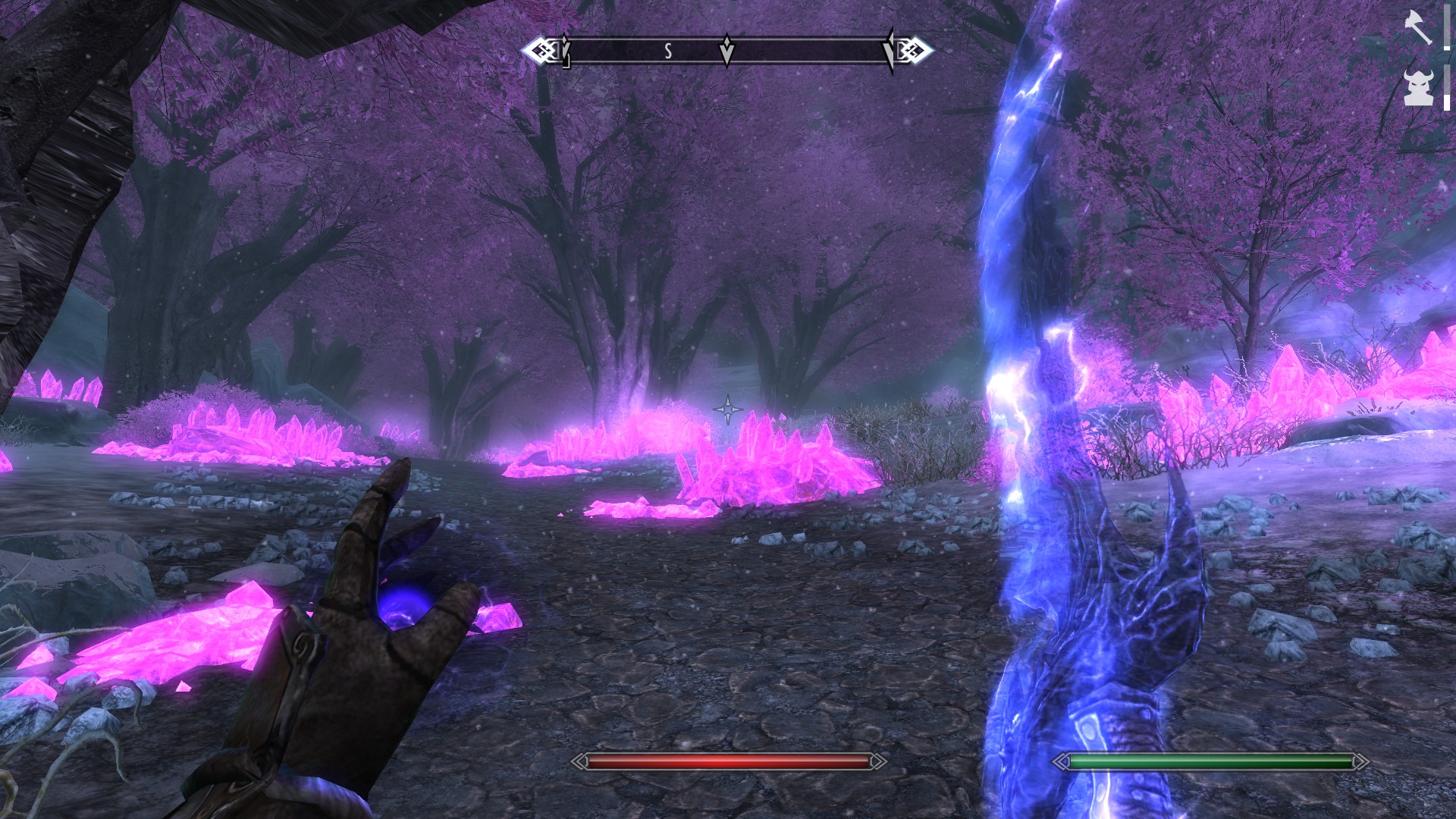 It houses 'mighty wisps' (whose charge attacks would be problematic if I didn't have Swamp Thing and Jespar to hide behind), giant pink crystal elementals (which soak up tons of damage), and some kind of floating ghost snake (which zooms around enough I need to switch back to the soil elemental, so he can bolt them on the run).
The wisps and elementals are legitimately dangerous, although blocking giant crystal fists is what I have Jespar for. The ghost snakes are mostly just annoying, leading to me flailing away wildly with my sword while it does curves and loop the loops.
- On the way, Jespar decides to drop some more information on me about the Living Temple.
Thank you.
Specifically, that it is totally conscious and – Constantine adds later – is probably mad as a hatter since it's been around since the Pyreans died off and the High Ones destroyed the world.
Now, this is a cool concept, but more importantly Constantine informs me that the Pyreans had a habit of sticking human (well, Pyrean) souls into objects. Rarely, but it happened. This temple is one of those.
So there probably are millennia-old talking swords in this setting.
Why they thought this was a good idea is lost to time, unfortunately.
- I got distracted from the main quest by wandering into a Pyrean ruin called Old Miskamuhr at this point. Some of these ruins are basically one large room with a couple of monsters and some goodies, and some of them are full-blown dungeons, and you can't really be sure which is which until you dive in. I have a quest from some starling trader group in Ark to check on these whenever I find them and bring them back artifacts in exchange for gold pennies or magic equipment.
Miskamuhr, it turns out, is a full-bore dungeon. It's pretty hardcore, actually. It's peopled by ice golems, frost trolls and some of the harder forms of undead (ancestors, and a new type of faintly glowing skeleton called Decaying undead, which sounds like it should be the easiest type of Lost One, not the hardest), plus the occasional wandering ghost snake, and they tend to come in packs of 3-4.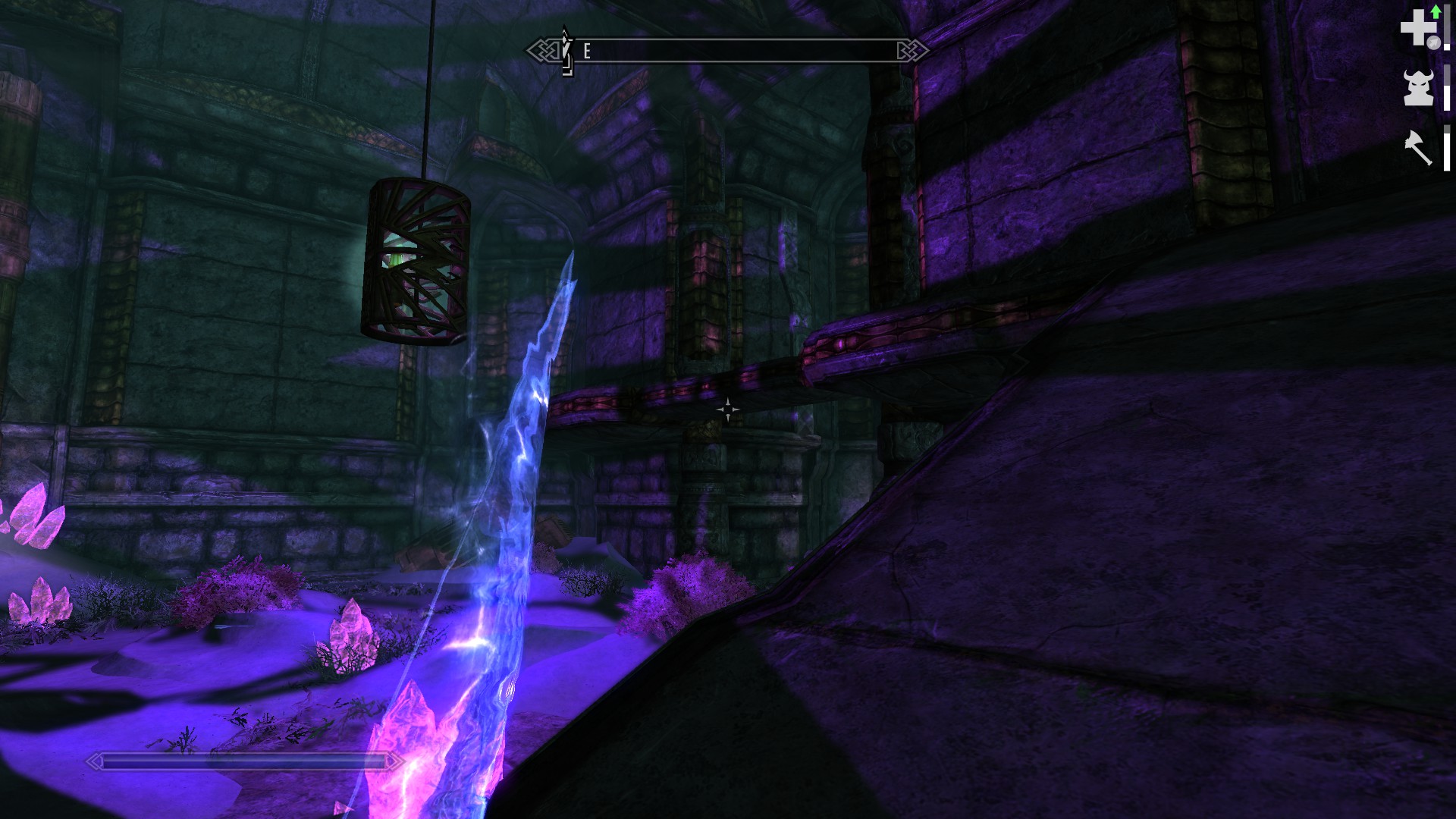 Nice lighting in Miskamuhr, too, if a little rave-y for my tastes.
- Since I got that Bound Bow III spell, I've been branching out into archery, and that helps a lot here. So the way stealth works in this game is you crouch down, and there's a little icon in the middle of your screen that starts as a horizontal line (unseen) and gradually opens into a full eye to indicate you've been spotted.
So I shoot way down the hallway and peg something (bow sneak attacks are x1.5 damage), which gets it charging towards me. But, and here's the important part, the eye is usually only half open. So even though they know where the glowing arrows are coming from, they don't see
me
, which means I can rack up 3 or 4 sneak attacks to the face to thin the herd out before they actually get to me. And by then my elemental has positioned itself in front of me, which is a nuisance for aiming but very good for not dying.
It feels good. Since I've started picking up bow talents (I've already gotten to the top of the entropy (summoning) and heavy armor trees, though I could go back and backfill in talents there or go into one handed weapons if I wanted), I'm hoping there's one that lets me sneak while moving at normal speed.
But if I get antsy and tired of sneaking around I can still just switch spells and stab things with a sword for a while, so it works out.
- So I get to the end eventually, after a puzzle that involves stripping down to my underpants and running really fast before sawblades pop up and turn me into giblets. Being an adventurer actually involves a lot more strategic nudity than I was anticipating, going into things, but never mind. So I run the gauntlet and I meet… a guy named Miskamuhr.
Old Miskamuhr isn't the name of the
ruin
, it's the name of its
master
. And he is not happy with me for killing all his trolls and ice elementals.
Are
these tamed trolls I've been killing? This guy is hanging out in the last room behind a pop-up Pyrean slasher trap, maybe he's been hiding out in here for who knows how long.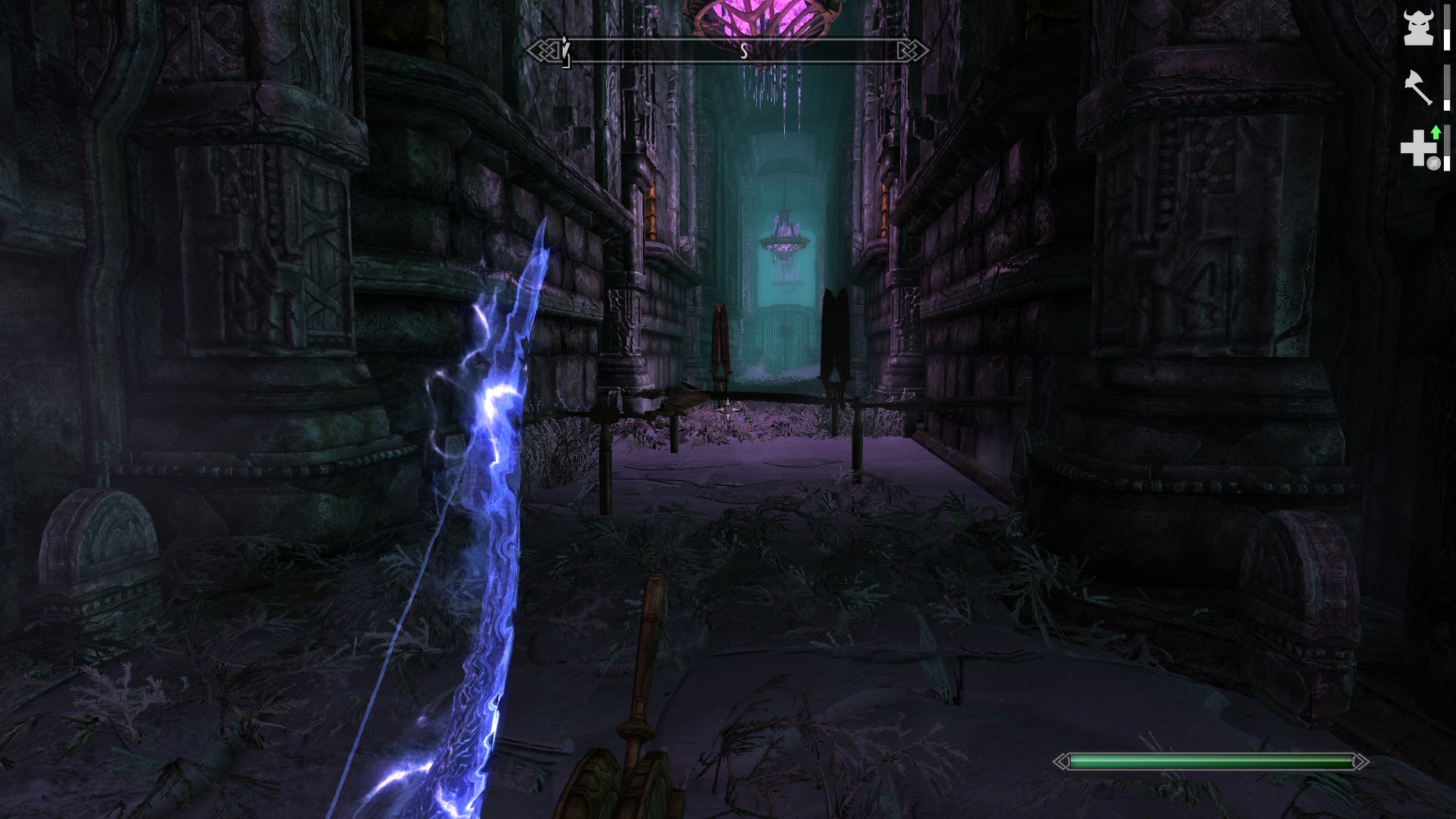 I'm guessing that this guy is actually some kind of undead Pyrean, which is weird because we're looking for something exactly like this but my only option is to shoot him in the face until he dies. Actually, I have a talent from entropy called Entropic Blood that can turn enemies into my obedient slaves. I've mostly been using it to make Arps fight to the death in comical bum fights before one of them explodes (if the slave dies, he explodes, it's pretty great).
So hypothetically I could mind-control this guy and march him all the way from the Crystal Forest back to Ark. I'm not sure what I'd tell Tealor Arantheal when I got there, but presumably 'hey here's a Pyrean lich, have fun' would distract him from my totally bad (also, rad), no-good use of forbidden magicks.
I'm actually not that sad I don't have the option, because having to walk this guy back to Ark while recasting Entropic Blood every 30 seconds would be a nightmare.
- So I kill this priceless repository of ancient lore by stabbing him in the face, and find he's wearing three pairs of shoes in addition to his sword and bow. I'm not even sure how that works, but I take all of them. And start wearing one, since these steel boots have been old and busted since level 10 and without the Handicrafts skill I'm totally at the mercy of whatever I can dig out of random ruins.
- That accomplished, I head on to the Living Temple, which looks great. And then it looks even better once I put the thing in the thing.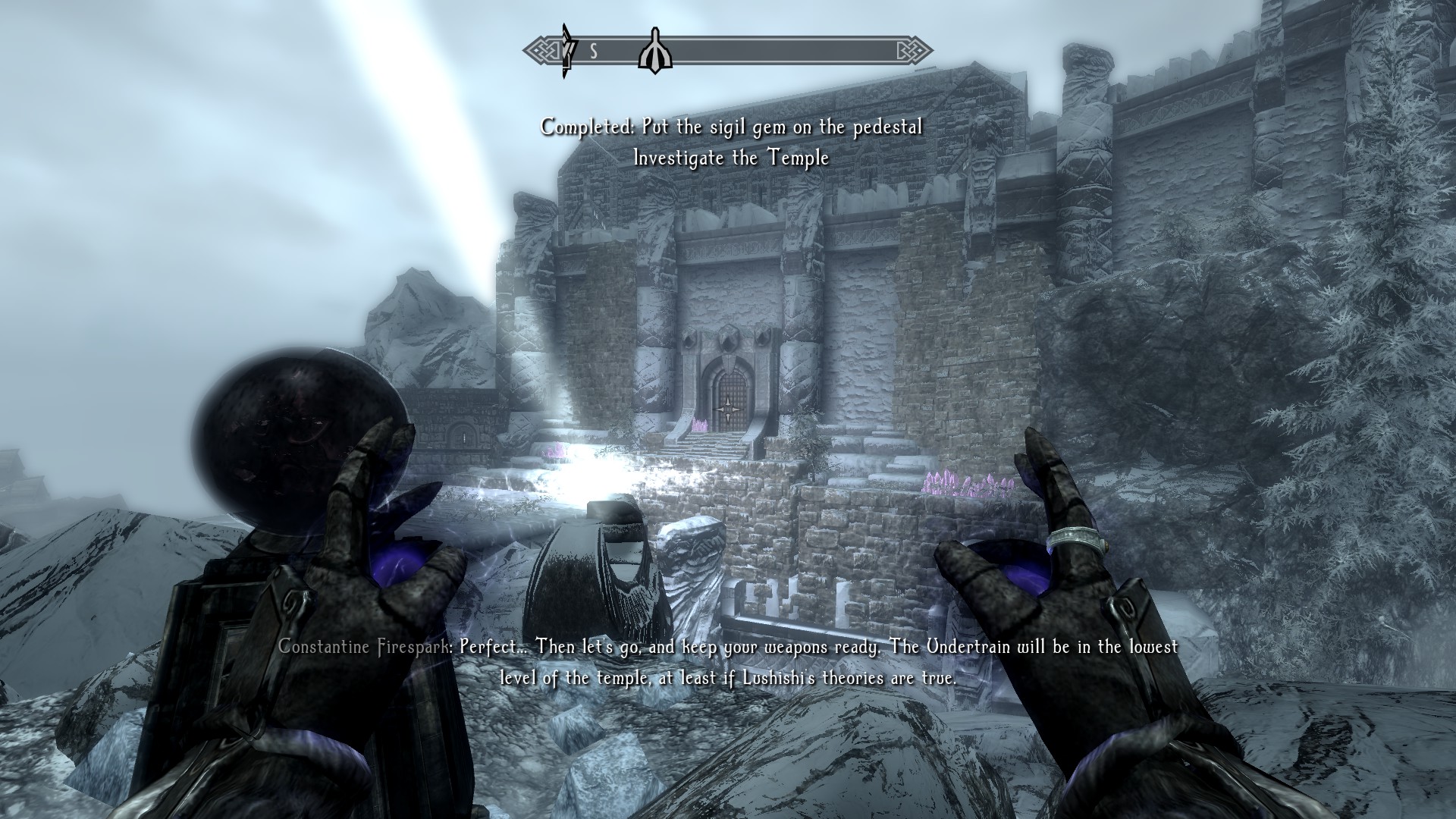 Wait, we're looking for
what
? Undertrain?? I thought we were here to stop the invasion or something! Which... wouldn't require us to visit the Temple of Doom, I guess. Huh. Well, it'll all turn out fine in the end, probably.
- Constantine monologues at me for a bit about how the Living Temple is basically Castle Heterodyne and going to kill us, but I forgive him because that's pretty cool.
Jespar also has a bout of self-consciousness and asks why Constantine keeps paying his exorbitant fees. Constantine reassures him in his own inimical way.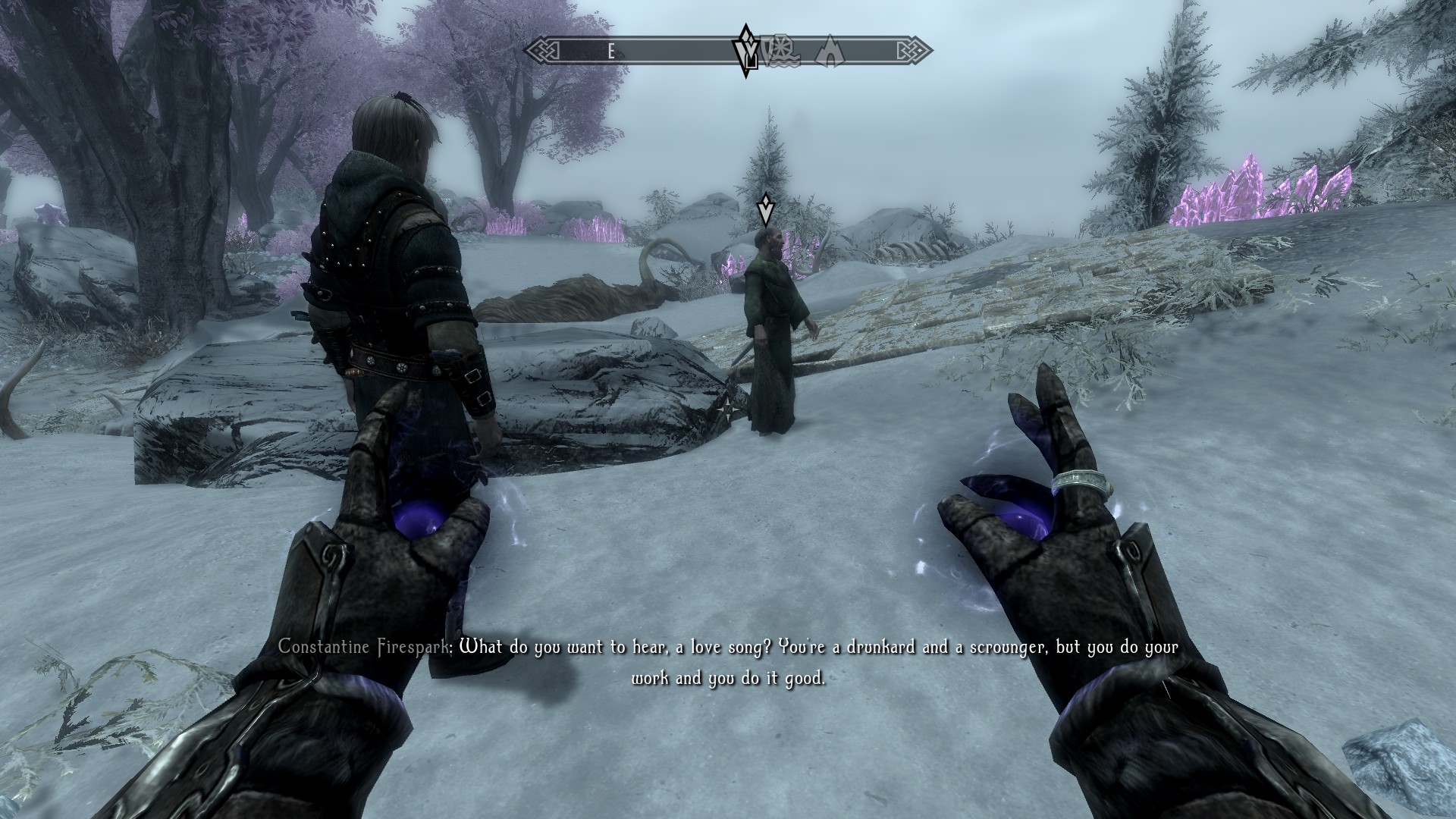 Love that guy.
- There's also an exchange where Constantine says that he'd run naked through the streets before trusting these Order guys with saving the world, and Jespar says he wouldn't mind seeing that. And Constantine replies, 'I bet you would.'
Woah, what? Jespar, buddy. I know it's been a while for you, but still. Between this and that 'What do you want, a love song?' comment from earlier, I'm wondering if I'm being a little third wheel-y right now. Should I leave you kids alone? I mean, I love Constantine, but I still don't want to see his old man bits flopping about, y'know?
The Takeaway:
Well, the distractions are over and I'm finally entering the Temple of Doom! Well, following Constantine to make sure the glowy moat is safe to cross, but there is definite forward momentum going on here. Maybe in the next update I'll actually manage to finish this quest! Fingers crossed.