- Jespar's midnight tower tryst is nice, but marred somewhat by bugginess. There are points where Jespar just stands there staring, and if you autosave and reload in the middle it can bork the chain and he wanders off back towards Ark without another word.
He's a pretty good host if you ignore that. He offers you wine or a smoke, and asks about the trial and something about your past. In exchange he opens up some about a past... conquest? It sounded more like the lady conquered him for a few years until she started getting a little too intense for him and he bailed.
Turns out he's sticking around, and it sounds like Constantine likes the fact that he's not entirely a blithering idiot, so he's probably still got a job.
- Unfortunately, the time still isn't right, so I have to go wandering again. I have a quest taking me out past Farmer's Coast on the trail of someone named Max Niceblood, so I figure, what the hell. I already tracked him to a barn outside Ark but he slipped the net, so now I have to go hiking up into the mountains after him.
About 15 steps past the Myrad post, though, I get shaken down for coin. Bandits, man, they're everywhere in this country. Now, if he'd come up with some sob story about fleshmaggots, sure, but this guy is being way too smug for me to give him 200 pennies.
I reflect that this may have been a mistake when the vagrant sneaking up behind me buries a steel battleaxe in my spine.
- I die an additional two times in various permutations as I work out how the fight goes. The two bandits in front use sword and shield, and naturally draw the eye, while there's an archer off to the side. But honestly, I wish every bandit in the world was an archer, because as long as you keep moving they don't really hurt. It's the battleaxe guy doing all the damage. As long as he dies, the fight is doable.
- Flush with victory and not having any intrusive bits of metal in me, I wander into this cave. It's got more bandits in it of course, but at this point I expect bandit attacks like spring rains. More importantly, there's this glowing crystal sprinkled everywhere, including this pillar of the stuff here. There's also some old ruin-y bits around, carved faces and the like, like this was some old Pyrean worship site or something.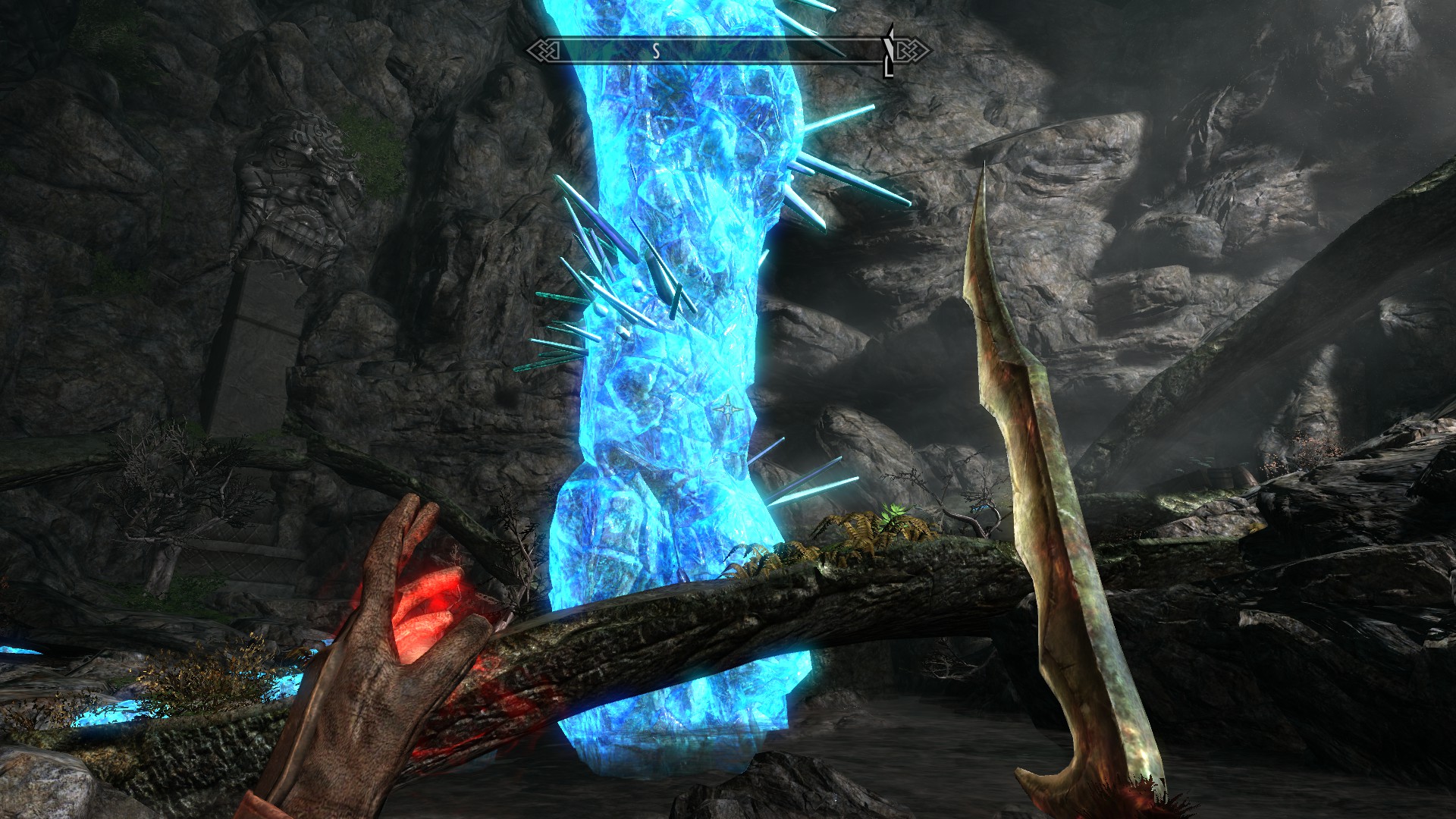 But sadly, nothing hinting at the history of the place as I'm going through the bandits' personal things after the murder. I know they're bandits, not archeologists, but still. Really inconvenient, guys.
- After that is a distillery with actual non-murdery human people (but no extensive dialogues or quests or anything), and there's also like a barn or something. I wonder what it's-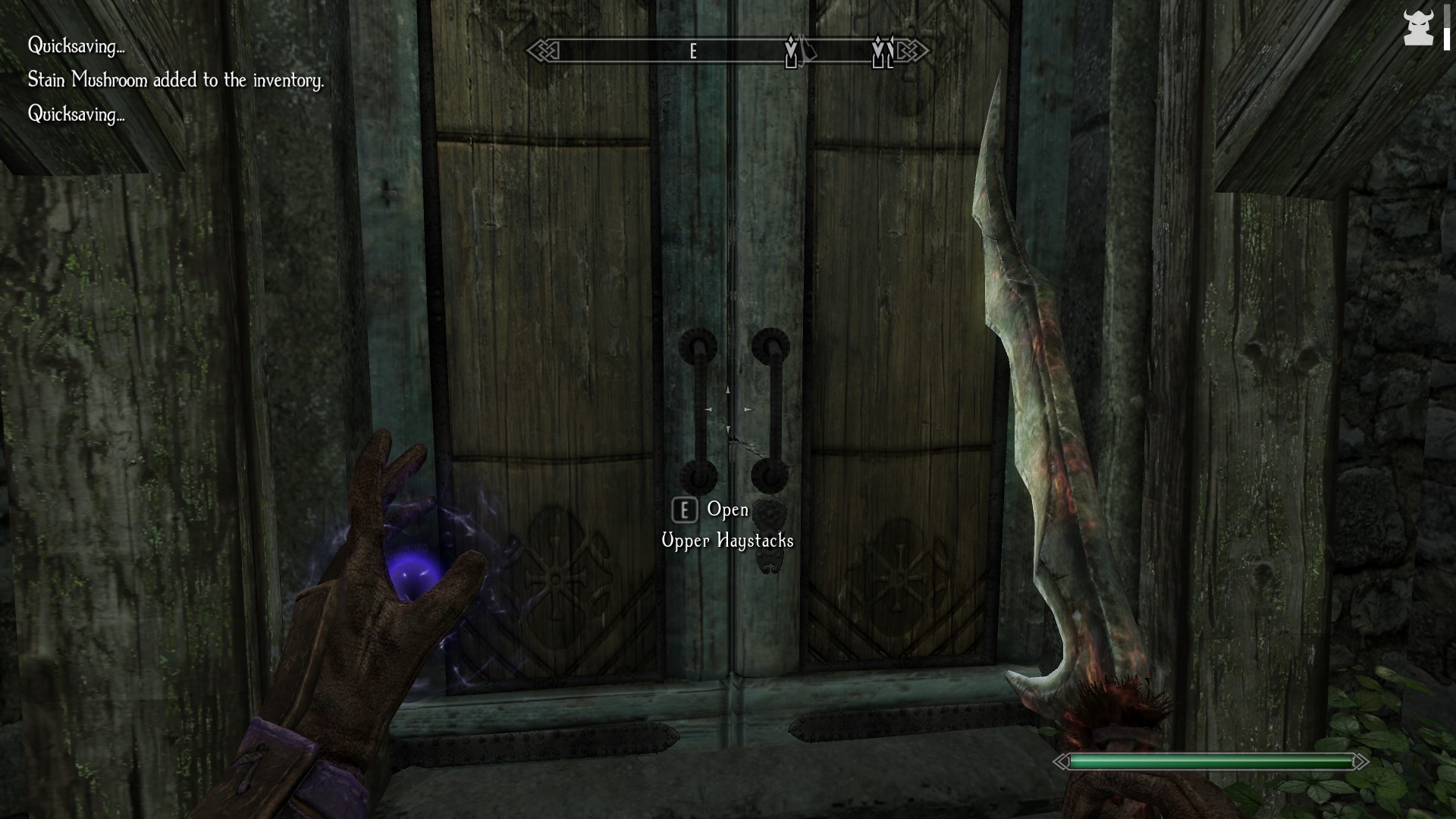 Oh, nohohohoooope. If it's anything like Lower Haystacks, I want no part of it.
- I go up into the mountains a bit and - after fighting more bandits - find another note from Max. He congratulates me on getting him to run away, and notes the jewelry chest near the note is from him, in honor of my achievement. Also, the one who sent me after him is mad because he refused her bed, he wanted me to be clear on that.
He might as well have signed the note, 'See you in the next game, sucker!' but if he wants to give me a few shiny baubles when he was clearly ahead of me every step of the way, sure, I can play along.
I go home, deposit my money in the bank (did I mention? There's a bank in Ark, and it accrues something like 2% interest daily) and sleep it off until Arantheal is ready to see me, which is pretty quickly.
- I am welcomed with the bon homie I've come to expect of the Order.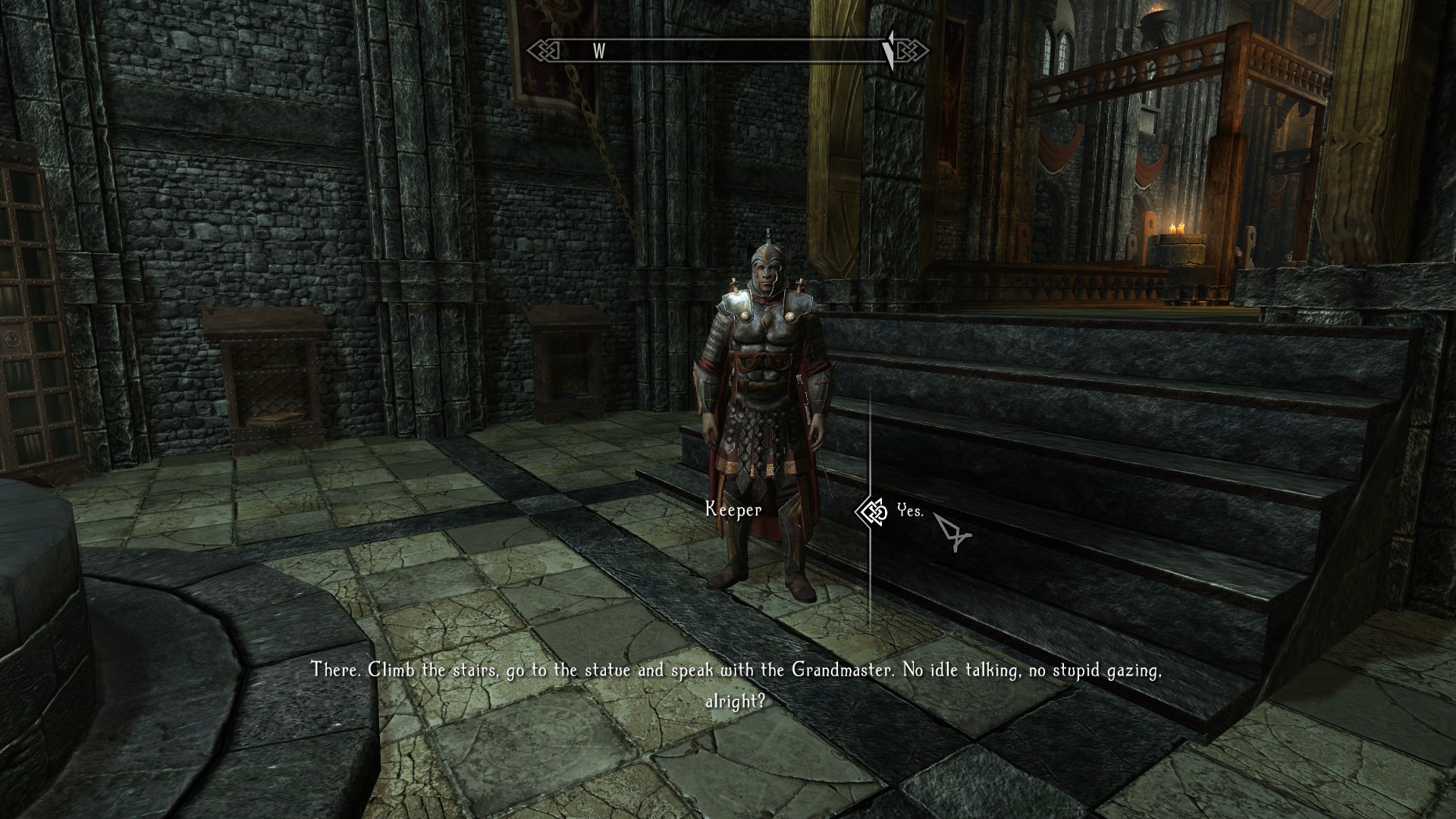 - Arantheal has a speech about tradition and togetherness and living on after the death of the gods and stuff like that. Calia and I do some light chanting. I don't think the dried up old bag of dicks that is the Order's Fourth Sigils are buying what he's selling, but it's a good speech.
And just like that, I'm raised to the First Sigil, something like the sixth highest rank in the land. I make the rounds of the little church, but nobody wants to hear my acceptance speech.
- My old buddy Sigil Leader Jorek from the trial is here, front row center. He's in fine, sarcastic form, too; he has a way of dragging out his vowels (and the 's' on Prophetess') that really makes me feel his disdain, it's kind of great. He wanted to let me know that he likes Calia better. I figured, but thanks for coming out, Jorek.
I also get some backstory on him; he's old initiate-buddies with Tealor Arentheal and the 'Tuchessa', which I guess is a rank like Grandmaster? But he didn't fight in the war like they did and changed the subject really quick on me. So he's stuck at 'Sigil Leader' rank, whatever that may be.
I wonder if this is setting him up for a jealousy character arc, and if imma have to kill him later.
- Some other named Sigil lady in the second row also chews my ass like Kilean tobacco. Do I know the history of the order (no), do I know the hundredth verse of the Chant the initiates need to do every morning (hell no), do I know why only x-y-zed people can enter the chapel (gimme a break, lady), do I know what some moldy war hero said to another after suppressing a riot (lady, I can't even remember the names you just finished telling me. Hell, I can't remember your name!). And so on, and so forth. My boots defile the chapel by standing here, etcetera.
Well... I have Future Vision powers? So... so there. Yeah.
Between Jorek and this lady it's like my disapproving parents are here in person even after I murdered them, it's sweet.
- The armory informs me that even if I'm Arantheal's special boy, I'm still paying normal prices. Swell.
I also get a free set of Keeper armor. It's bog-standard steel stuff but (as far as I can tell) can't be improved at the workbench, and therefore I will never use it.
I wonder if the temple armory would be weird about it if I tried to sell it.
The Takeaway:
Boy I sure am glad I get to be in your secret club, Arantheal. I kind of want to go find those occasional unusually racist Endraleans who give me that line about 'my thousand husbands' and call me 'coalwoman', put on my Keeper gear, and see if anything changes.
Regardless, the wait is over and I can get back on the main quest stuff, now. I can either go see a man about a corpse that will somehow or other lead me to a rite that would protect the Order and the Guard from the Red Madness. That 'Sigil Stone' stuff that got namedropped a few quests back. Or I could go do.. something, about a discovery in the Heartland woods? That Sigil Stone stuff seems more immediately pressing, so I decide to go for that first.