- Anyhow, time to get this show on the road.
My minimap markers take me to an unassuming (though admittedly beach-front) house. In the front room is a man beating a very fancy toy horse into shape. He seems a nice enough chap, although…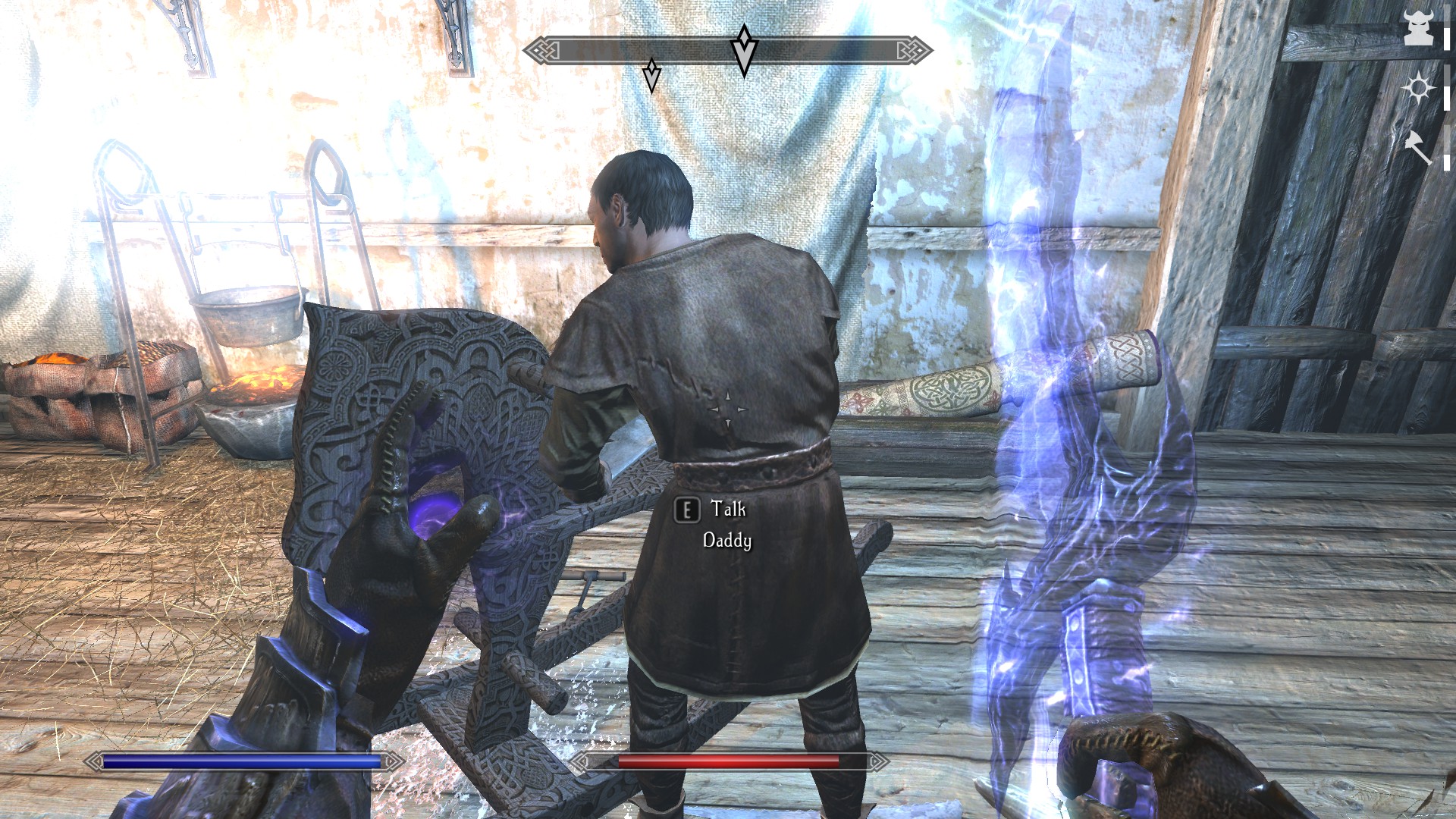 Yeah, I'm not going to call you that. I only call very specific people 'Daddy', and you don't have any kind of glistening six pack or flyaway silver hair, okay?
The Prophetess actually has a very minor freakout over the fact that 'Daddy' looks very much like
her
daddy. You know, the monster from the dreams who wants her to join him in death.
Which, with a Black Stone involved, who knows what's possible and not? I'm just kind of glad Ryneus's Daddy isn't like the Prophetess's; if Ryneus dreamed Silvergrove into being, it's sure as hell nicer than
her
usual dreams. … So far.
My first inclination is to assume the 'Daddy' is some kind of standard template the High Ones use for their visions and her dreams are Black Stone related too, but that's kind of reaching.
Just… watch out for sudden spontaneous combustion, Prophetess. And don't ask what's for dinner.
- Ryneus's room is honestly totally awesome. I want, like,
all
of this shit for my room back in Ark. Captured butterflies fluttering away? Posh pillows and rugs in bright colors? Books and maps spread carelessly over the desk nearby? A wooden rocking horse compatriot of the new fellow being worked on in the front room? There's just so much… stuff, it feels eminently comfortable.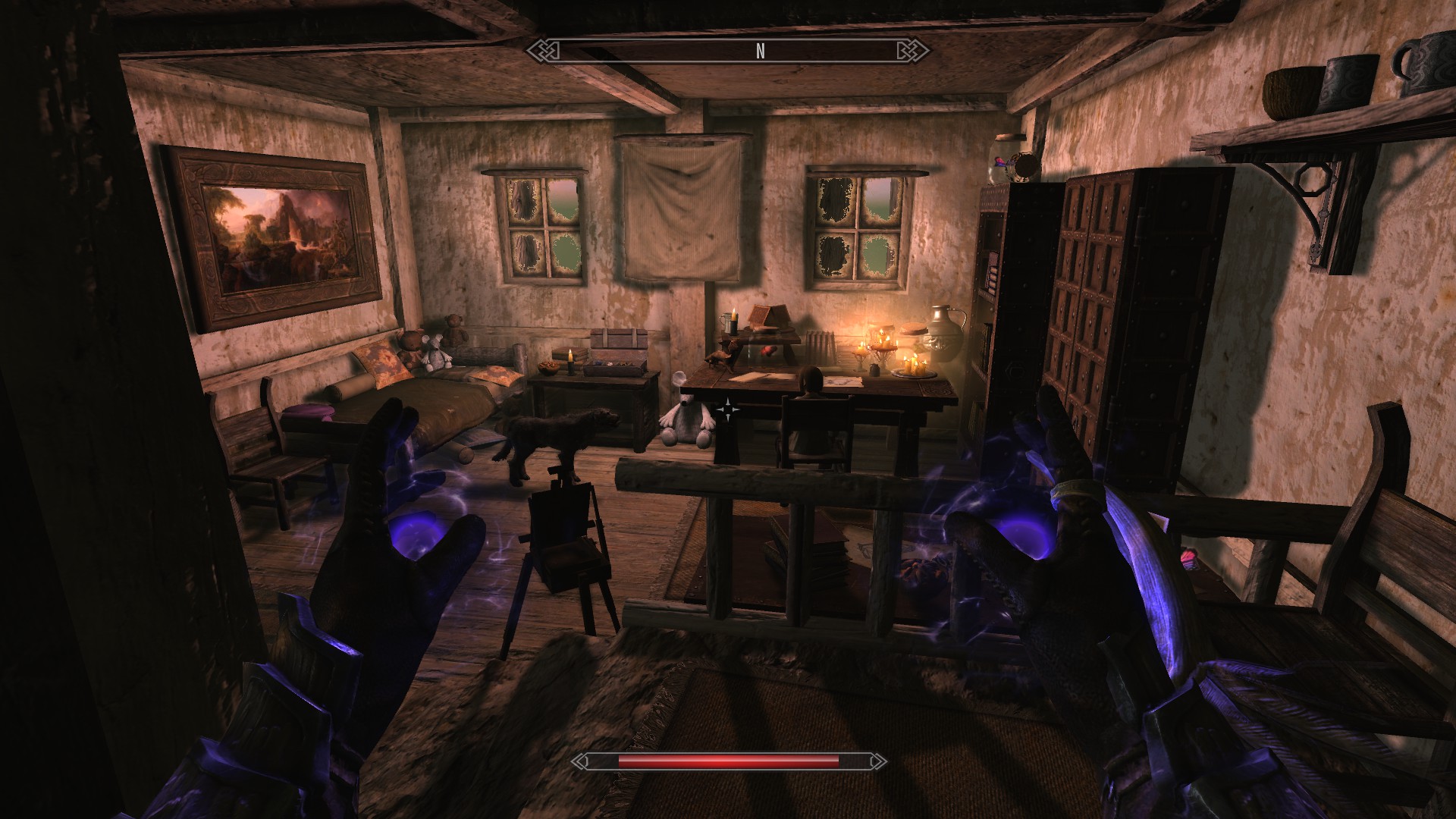 Totally sweet. This is the room of a main character, no doubt about it.
- We talk for a bit, and I get the feeling that Ryneus isn't cut out for a life of crime.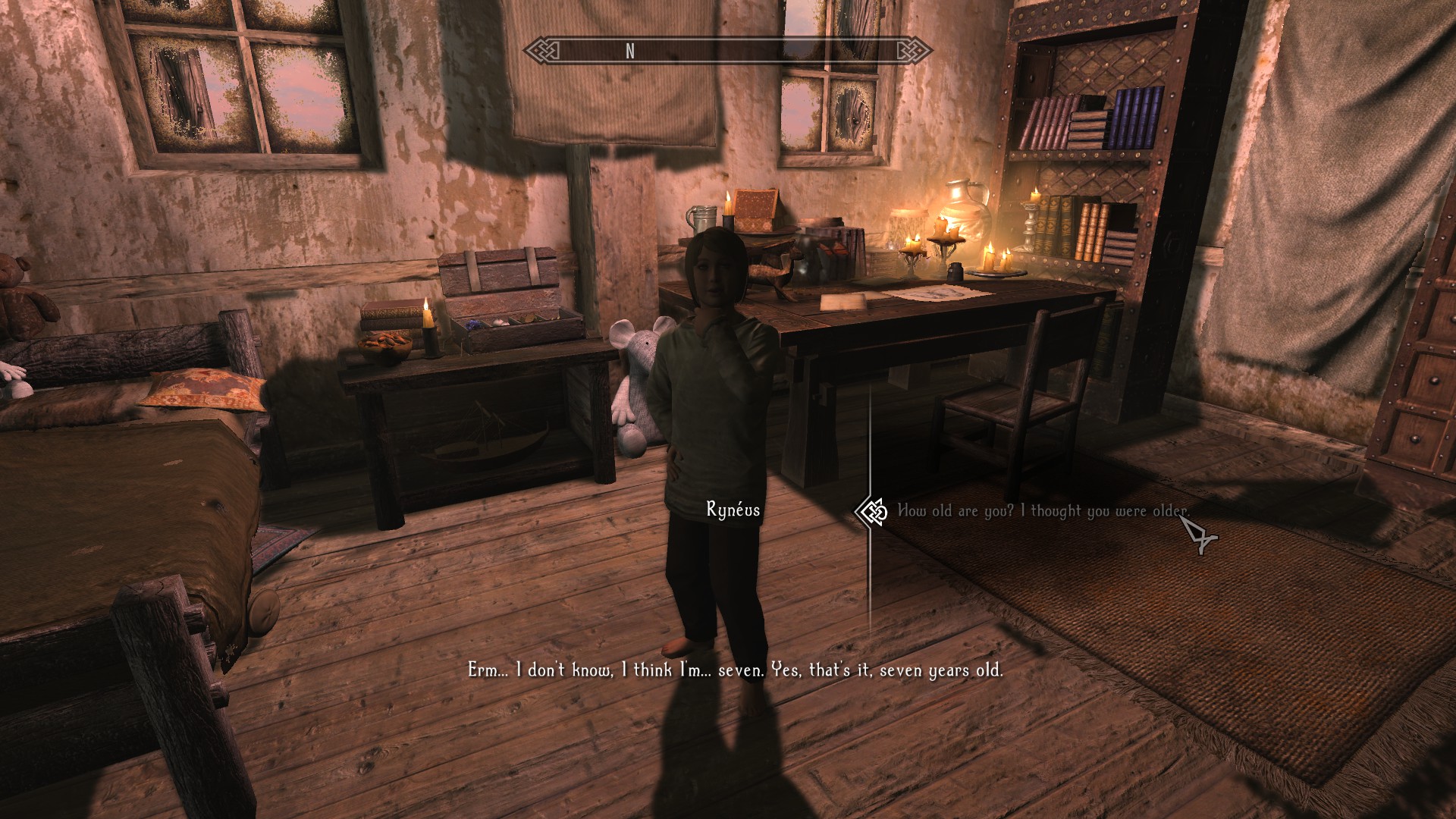 'Oh yes, my backstory doesn't hang together, hm? Well, I, don't remember, what is the linear progression of time anyway, really, can we just go look for butterflies?'
Ryneus wants to play in exchange for giving me the Stone, natch.
Well, there's this bit where Ryneus's dog grabs a toy and runs off right in the middle of my asking for the Stone, and I have to chase him down.
High One with the furry fetish, is that you?
Well, the dog runs all over town but never does turn into glowing red smoke and talk shit at me, so it's probably fine.
- We get back to talking about the Stone without further incident. Ryneus wants me to grant him three 'wishes', which is Pretentious Kid talk for 'do fun stuff with me.'
Now, I have the option to be a cunt about this and say stuff like 'Ain't nobody got time for that, give me the stone kid, now!' but of course I play nice on the grounds that for all I know, Ryneus could turn me inside out.
So I chase a dog around for a while and show off my bow skills and catch him some butterflies. I go for the optional 'catch all fifteen butterflies' when I could have stopped at 7, on the grounds that if Ryneus turns out to have ultimate power over life and death I should be the best big sister I can be.
It's around the first 'wish' (skeet shooting on the beach) that my suspicion is pretty much borne out: the sun never sets in Silvergrove. It hovers over the horizon in a determined sort of way, giving plenty of light at all times and fantastic sunsets over the beach.
The Guardian said I could stay the night while the Bonerippers prowl outside, but I have all the time in the world.
After all, what kid, given infinite power over all he surveys, would wish for anything as lame as rain or darkness? Let summer reign, and the good times last for-ev-er.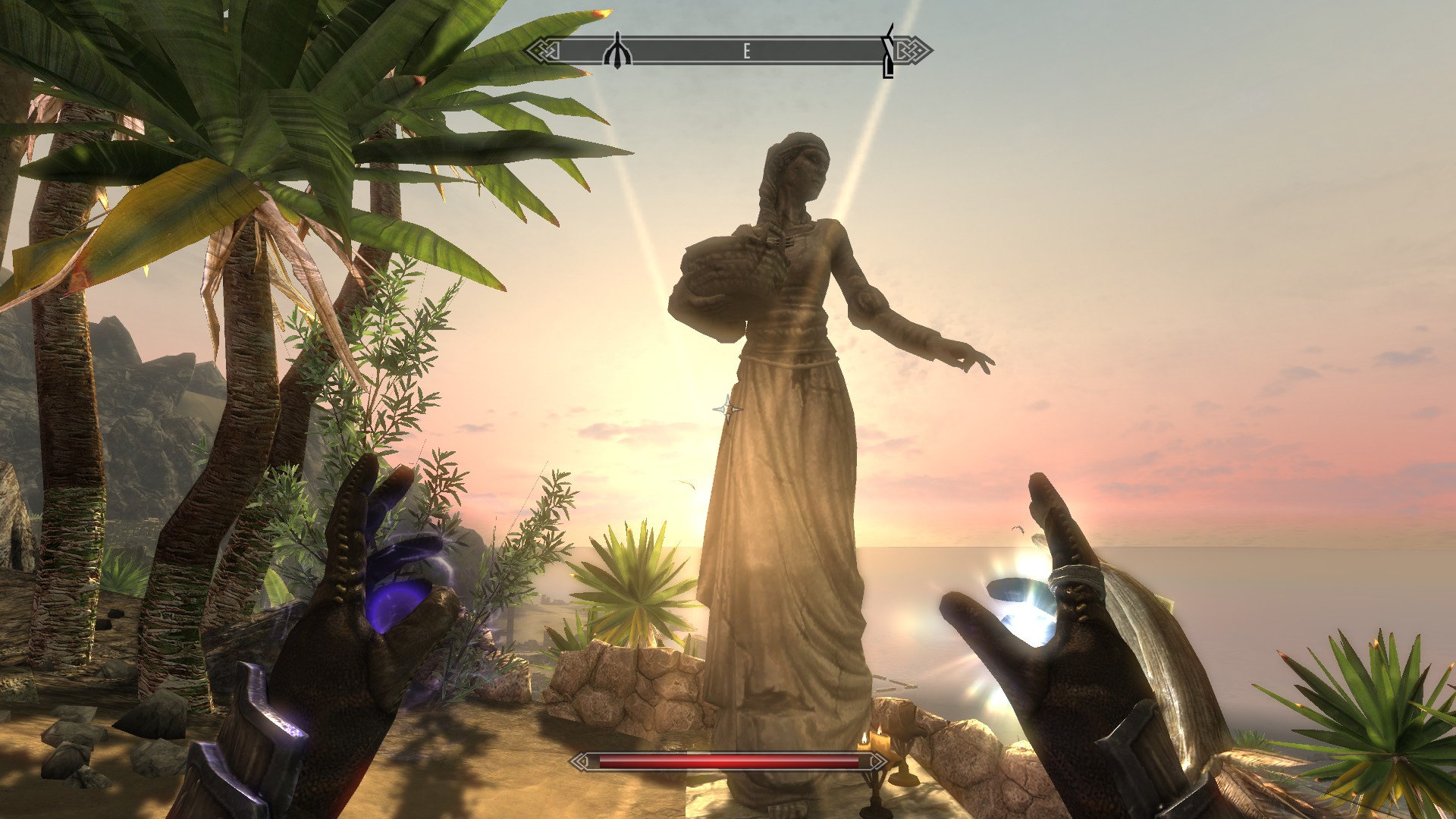 - I wonder, is it just my suspicious mind, or are these two intentionally voice acted poorly?
I mean, it's not the worst voice acting I've ever heard, but this game normally has such tight voice work for its main characters. Then you get these guys who are just so happy and tranquil and taaalk sloowly and enuunciaate their woords.
- Ryneus does have this cute hopping animation while we're talking in his room, though.
Kind of weird when I'm trying to be all 'I need the Stone for world peace' and he's hopping back and forth and stuff, but yeah. Cute.
- So for the third of Ryneus's wishes, he wants me to go to a hidden cave under a waterfall, containing a locked door.
Well, he's either got something cool to show me or he's already plotting where to hide the body, but either way let's get 'er done.
- Turns out he just has a really nice painting of us on the beach backlit by the sunset to show me! It's really nice.
When did he have time to paint this exactly?
Stop asking questions, human.
- Ryneus's third wish is for me to stay with him forever.
Which is kind of sweet but also … well, we all know how it goes from here, right?
The world outside is dark and cold, but here in Silvergrove it's always great and everyone's healthy and there's no rain or clouds and I'm tired of being alone, you know?
The Prophetess unfortunately needs everything spelled out for her. Because of course the kid is alone, everybody else is people puppets or something! He lays it all out for me, that playing tag with the townsfolk is like playing tag with himself.
He is himself, but they are also himself. Like that.
He's scared, though. Even a normal little kid can have that nonsensical fear of everyone just… going away, for no reason, and never coming back, and it all being your fault. And most little kids haven't been unwanted, tossed away by a father who never wanted him because he was born malformed.
But then you contrast that understandable, irrational fear with lines like "I never wanted them to be trapped here, but it was the only way to make them love me, you know?"
- The whole backstory comes out now, about a Silvergrove afraid of the malformed youngster dropped on their doorstep.
Endraleans aren't exactly the most understanding of folk, you may have noticed.
The story begins with an old woman dying in front of Ryneus's house. Of people coming in the night and dragging Ryneus out of bed. Of his stepfather trying to fight them off, and getting knifed in the dark.
And of the stone whispering, whispering…
And then things were better! The next morning, his father was alive. Ryneus was normal, just like all the other boys and girls. Everyone was nice to him.
Because it's what he wanted, and in Silvergrove, what Ryneus wants is what happens.
Except with me.
Ryneus can feel the Prophetess's difference. That it feels like part of me is far away (hopefully not trapped in that dream prison with Aixon, but who the fuck knows).
- I still need that stone, though. And of course, there's a hook hidden in the apple. This is Enderal.
Even if removing the stone brought back their free will, the people of Silvergrove haven't eaten real food in years. The stone tells Ryneus that. And Ryneus's body is a product of the stone.
So, Prophetess. How much do you want it?
Enough to end this land of Always Summer? Eh. Into each life some rain, etcetera.
Enough to kill a few dozen people? Sure, I do that before breakfast some days, and most of the villagers don't even have names.
Enough to consign a poor kid to a twisted and painful life as the local version of the Hunchback of Notre Dame?
I look inside my heart of hearts and think, the Order will probably take him in. Bad things happen to good people all the time. C'est la vie.
The connection isn't quite there, the way it is with Jespar and Calia. Ryneus is still just a video game character.
- Silvergrove without the stone is, of course, darker. Overcast and gray.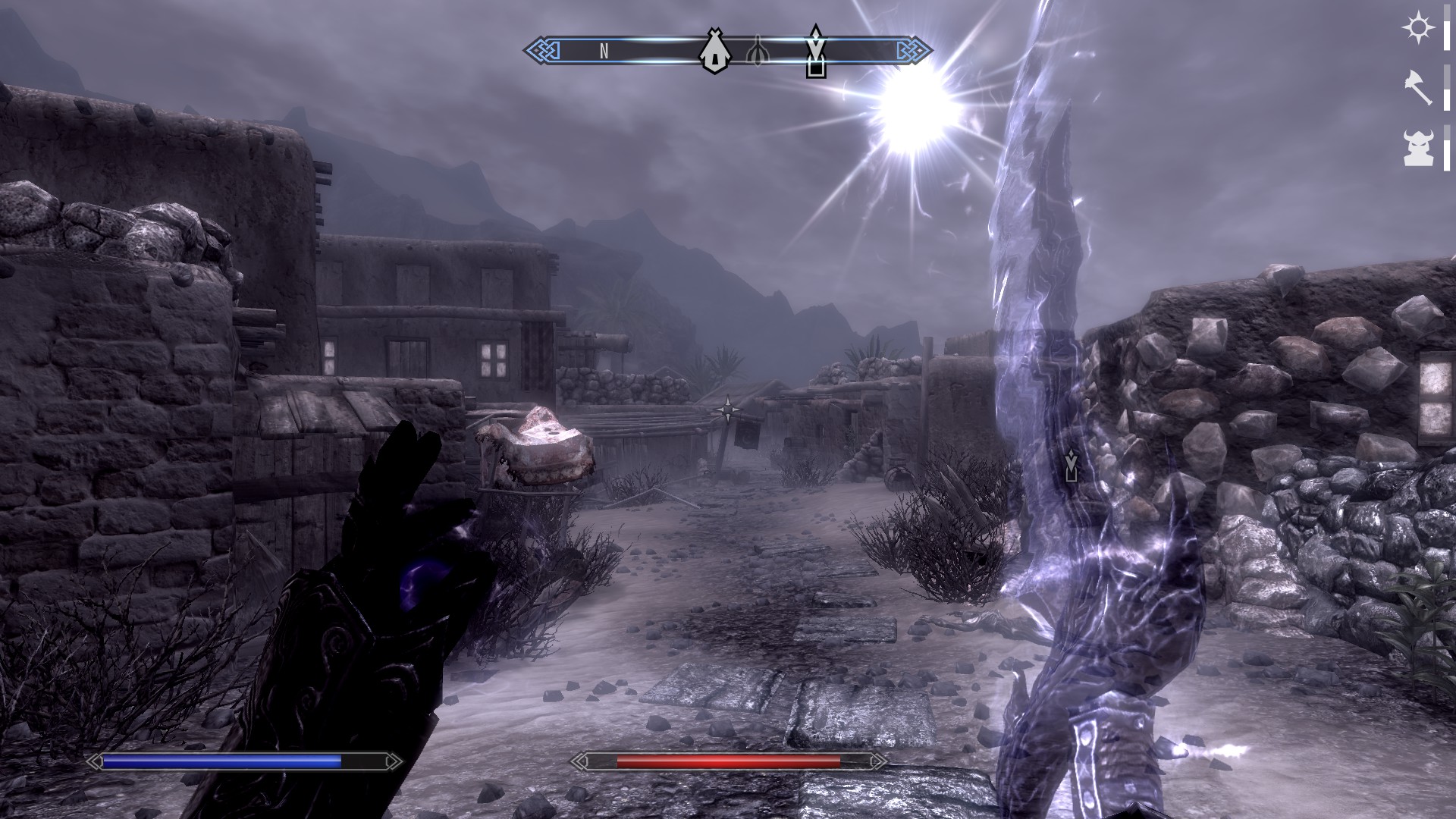 Corpses litter the streets, gray and wrinkled, starved to death in an instant.
There's one sitting on 'Daddy's' favorite bench outside their house.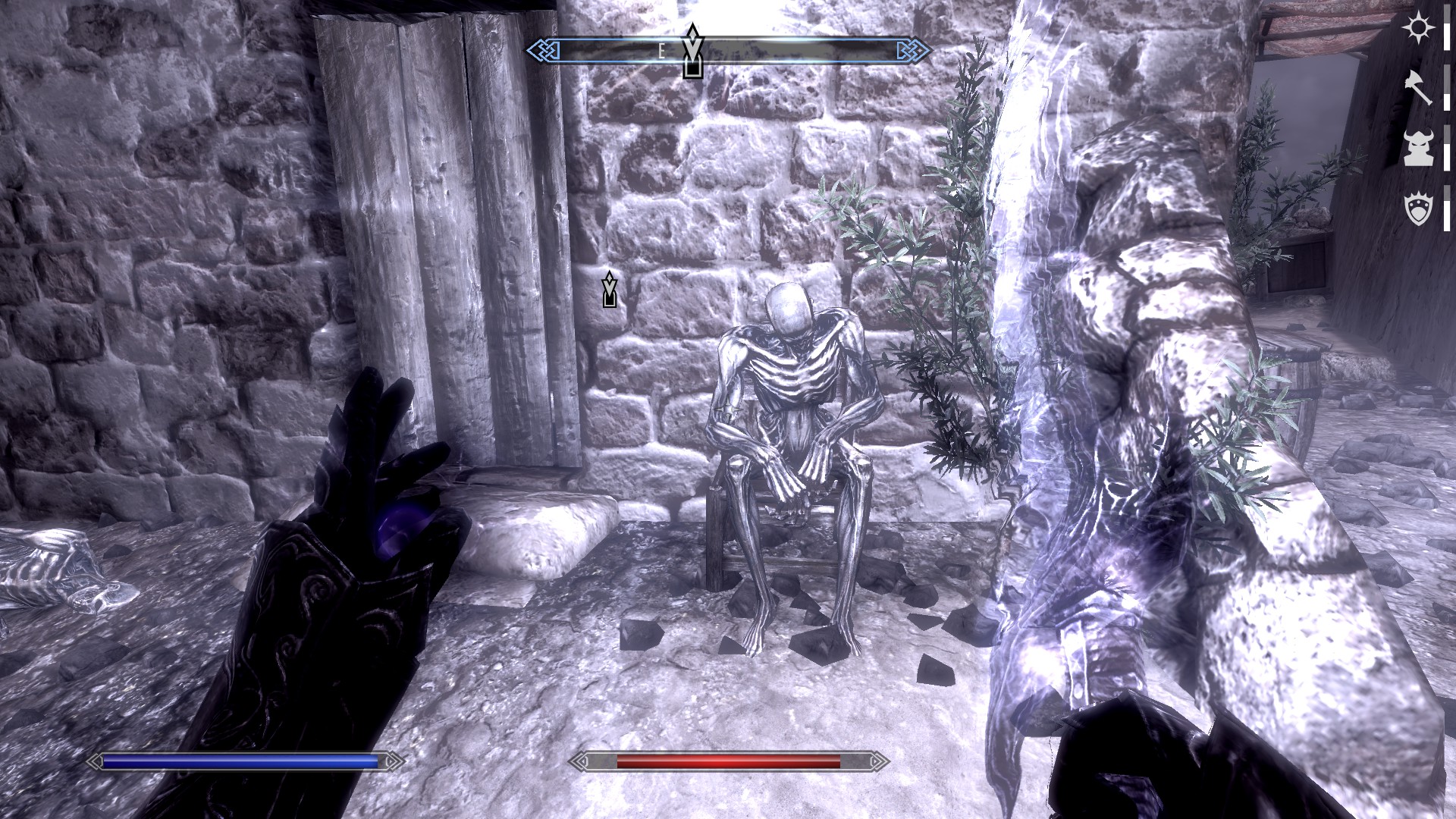 Inside the house, there's no sound. No background music. Only a quiet, intermittent cough from the back room.
The house is… less, than it was. No metal toy horse, no warm yellow light from hearth and candlelight, no hammering. I gird my loins and enter.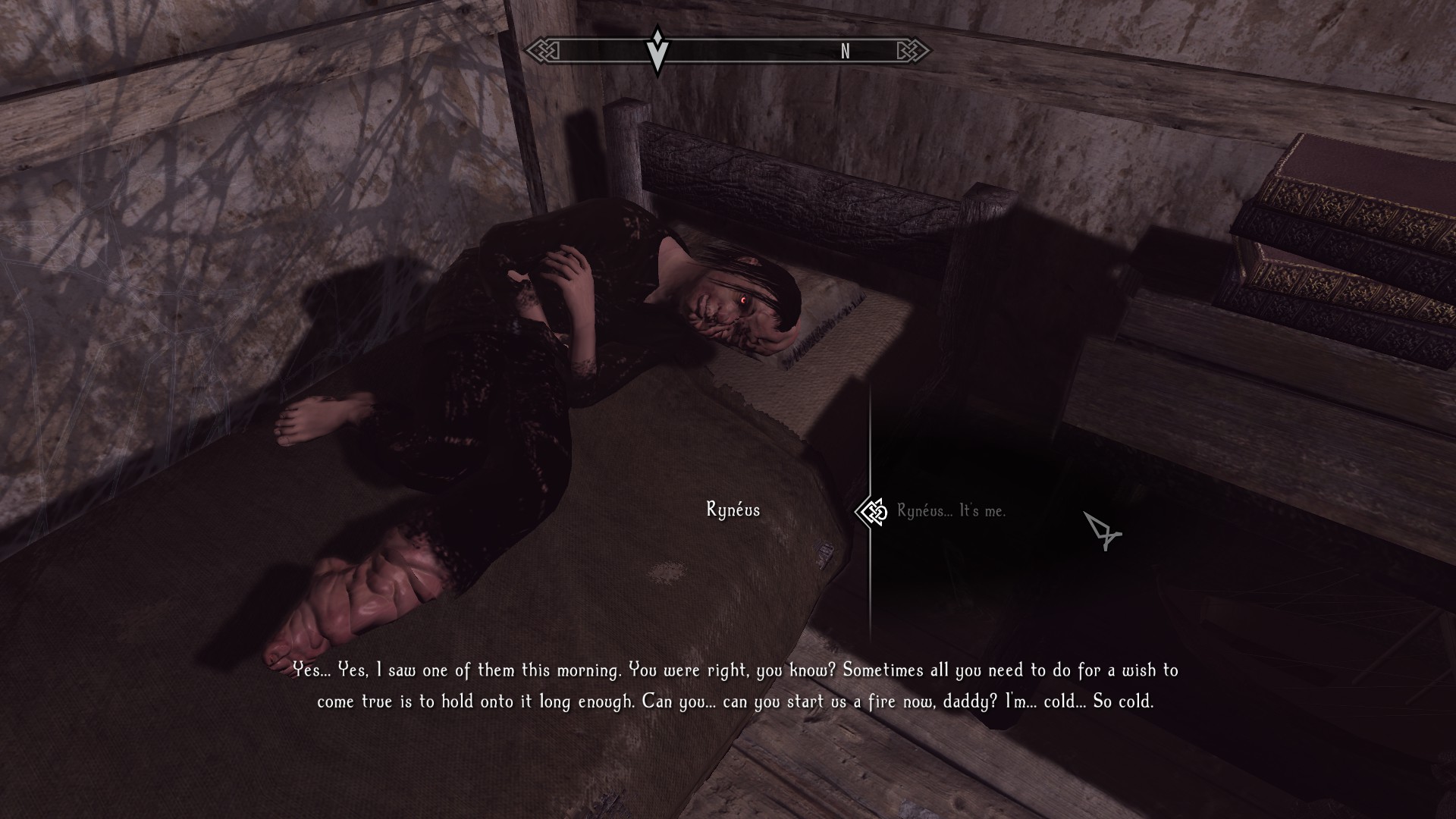 Oh, I think. That's a really good character model.
The warm and welcoming room is lesser, colder, and covered in spiderwebs.
The quiet 'We did it, sister' hits pretty good.
He can't walk. By the time I come back with a horse for us to ride, he's almost gone. One of his last lines is a delirious 'You were right, [Daddy]. Sometimes all you need to do for a wish to come true is to hold on to it long enough.'
Oh, I think. There's the knife. I was waiting for you. Yes, yes, through the ribs and up into the heart, you know the drill by now.
The Takeaway:
This was an interesting quest.
The 'run around town doing little errands for the kid' portion was filler, but I wish it had actually been longer! If I'd had to run down to the tavern for date pies and listen to what's-her-name talk about what things were like when she was young ('I dunno, they were nice I guess, not as nice as since Ryneus came though') and play hide and seek with Ryneus and his little kid friends and actually meet the villagers properly, that would have helped form a connection that SureAI could have used to make it hurt more.
I felt kind of bad for Ryneus having to go back into a monstrous body, but the villagers? I could give a shit.
I was actually kind of worried when the emotional punch in the cave behind the waterfall just… failed to land? Maybe because I'd figured the broad strokes of all this out ahead of time.
Heading back into the village and listening to Ryneus breathe out his last on the bed finally did the trick, and I'm not sure what changed between those two points that got the emotions rolling. The character model curled up on the bed? The house itself being bare of all the fun little kid things fake-Ryneus had? The kid's VA bringing his A-game right at the end?
Not sure, but it did a lot of much-needed heavy-lifting on the emotional side of things that was missing while I was convincing this kid to give up his perfect fake world for a much shittier, crueler, if realer one.