- Okay, went back a little ways in order to get my husbando on lock. Restarting from balloon lift-off, basically.
A few things.
First, Arantheal's kid, whose necklace I'm now wearing? His name is Narathzul, a name I've somehow gone through the entire game up to this point without hearing. Honestly the name belongs on an orc necromancer, but what do I know about names, I named myself dyslexicfaser.
Second, the moon down in the hold? Still ominous as shit. I didn't quite grasp the… halo, the corona of power around this thing until I got a closer look.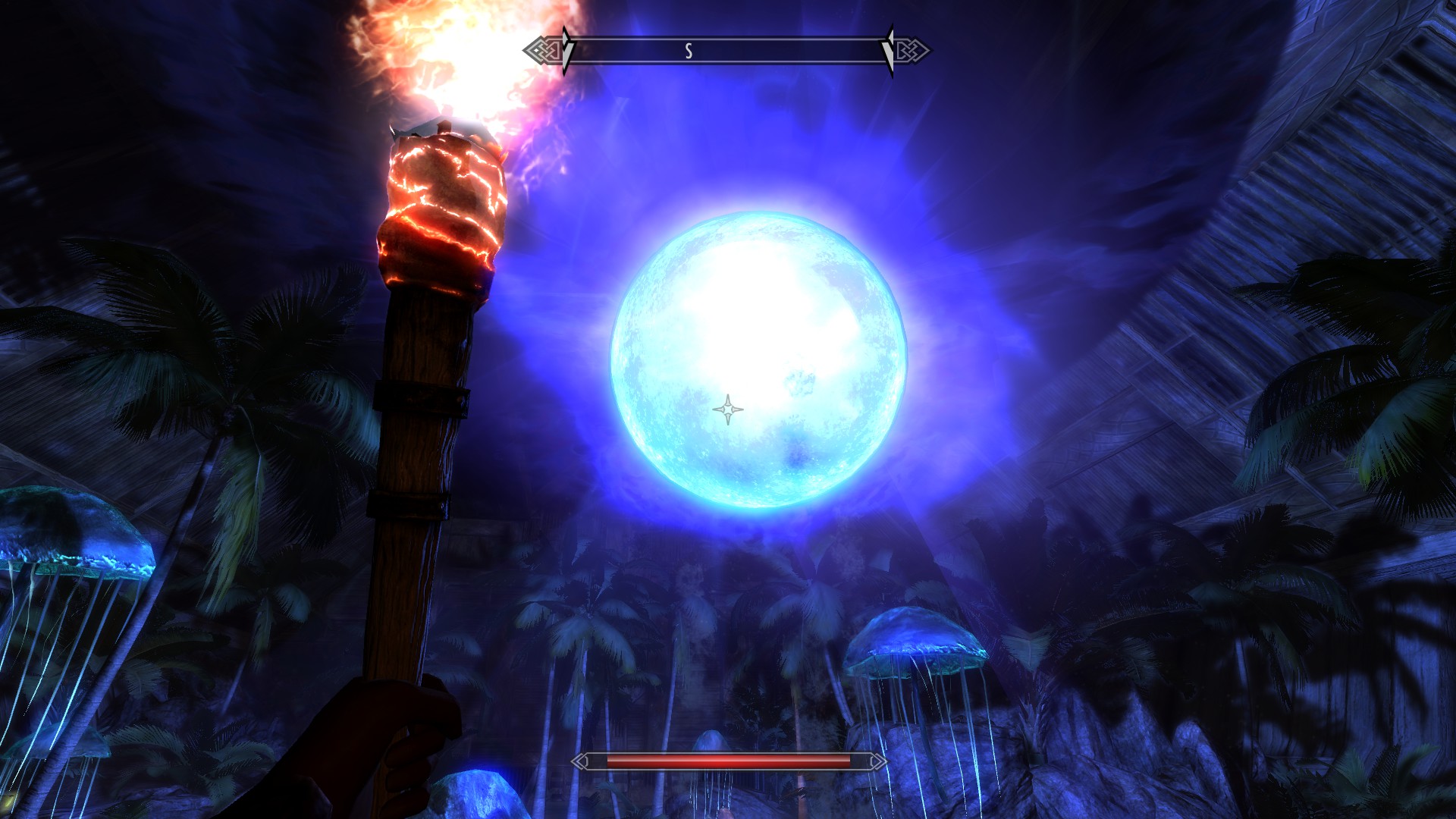 That's like, end-boss-of-a-JRPG levels of ominous right there. Third stage, at least, right after the 'normal' and 'one-winged angel growing out of the prow of a biological airship' levels.
Third: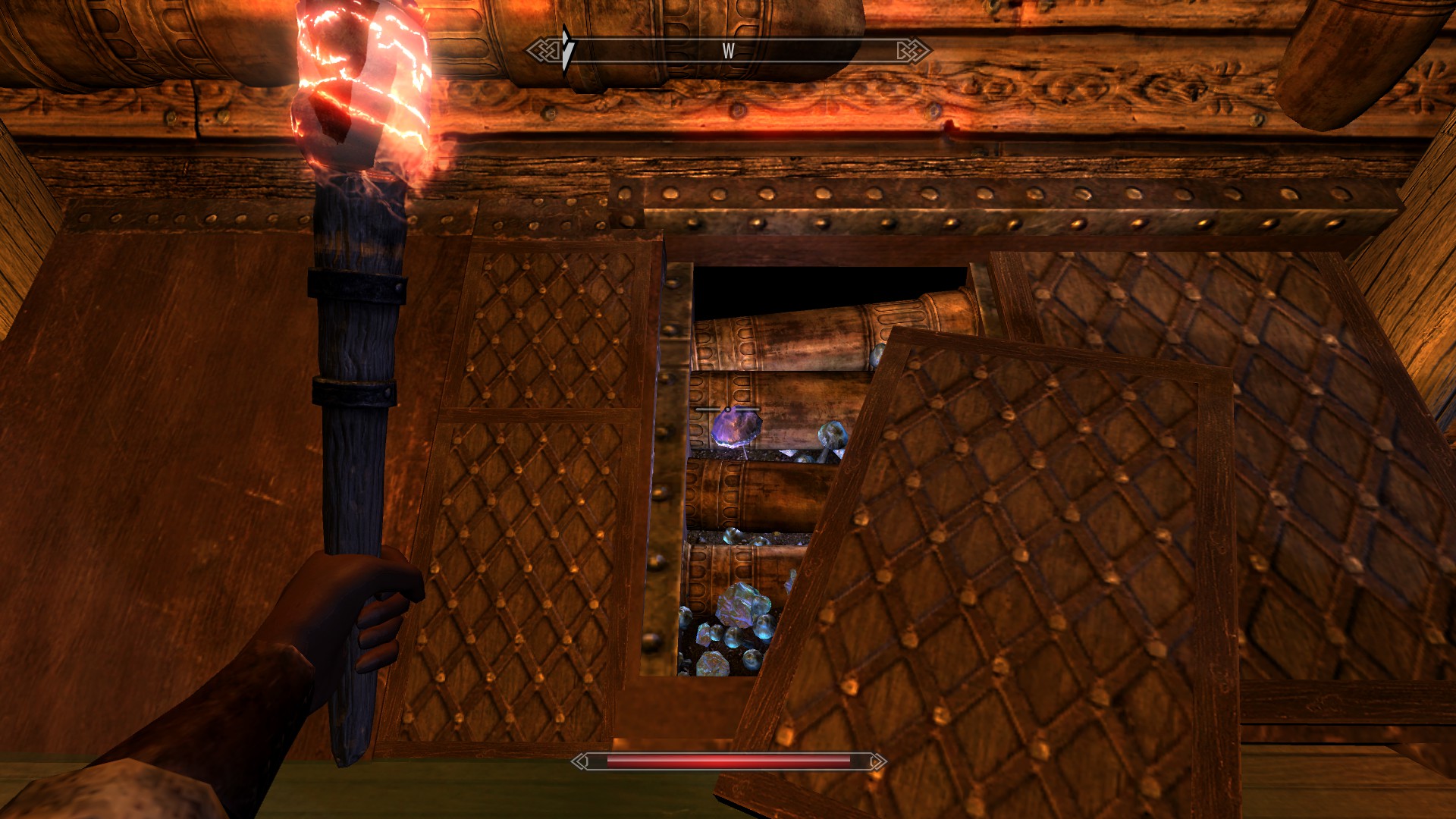 I cannot escape the mushrooms even here! That
can't
be good for the pipes.
I think that's dirt the 'shrooms and the pipes are nestled in, actually. This ship is far more biomechanical than I expected, even considering the jungle nightscape down in the cargo hold that's powering it.
- Anyway, talked to Jespar again, and selected the 'Only friends, tho?' option.
Surprising no one, our favorite free spirit doesn't want to put a name to this thing we have.
Actually, first he tries to friendzone me, and look. Nothing doing, okay, pal? I gave up monster-paladin snuggles for this, and
I will have it.
I mean you. I mean whatever.
I don't care.
This girl? Cool as a cucumber, yeah.
- Actually, he wants to make sure that if we're going to do this, he doesn't want to call it a relationship. He doesn't want to get locked down, to deal with jealousy and possessiveness. He stresses that I'll be free to play the field as long as he's the one I always come back to, and vice versa.
SureAI, it's not nice to tease my Prophet-Jespar-Calia OT3 like this when you have no intention of following through, okay? Not nice at all.
Anyway, so Jespar talks about freedom and stuff for a few minutes, which appears to get him hot enough to share a kiss out under the Aurora Borealis.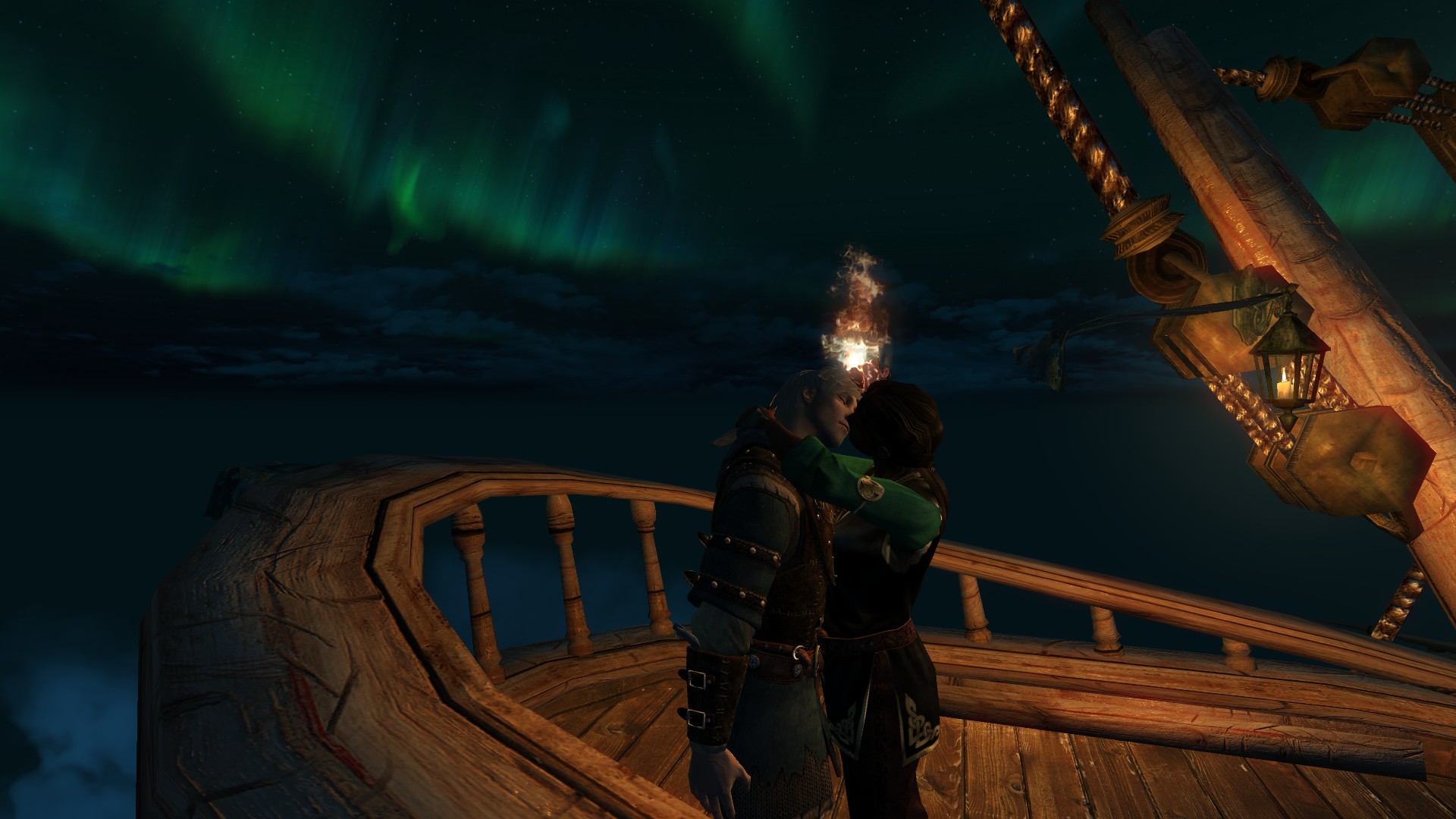 … Jespar, hon, I think you have a… you have a little fire in your hair. Jespar, you okay? He's okay.
Look, it's night time, all right? I carry a torch. I like being able to see.
- Anyway, sexy times back in my room. Except...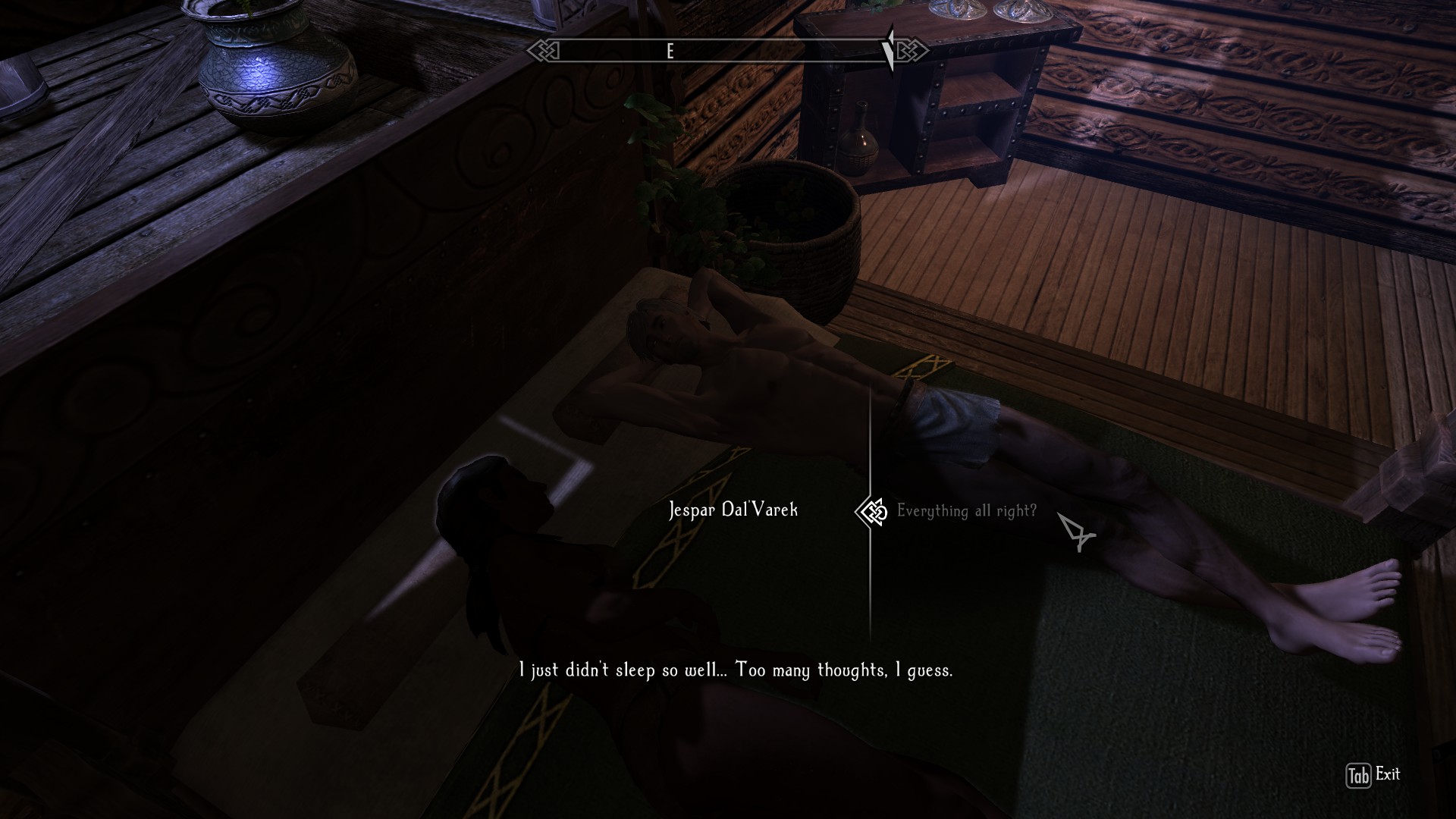 Jespar, look, I know you probably took philosophy as your major in college, but there's a time and a place, okay?
Nevermind, he's off and speechifying, anyway. Jespar, don't ever change, but sometimes it's a good thing you're sculpted like Adonis, man.
He recognizes me as 'a woman of dark gifts'. I assume that's not a crack about my skin tone, but rather all the entropy magic I've been throwing around? Or he knows more about the 'probably a lich' situation than I've been led to believe. Interesting!
More quality voice acting, of course. The amount of pathos the guy can put into a tortured whisper of 'I'm a winner' is astounding.
For a while we talk back and forth about how his sister Adila – that's the one who went nuts and became the Bone Judge – deserved happiness like this more than he does. Because he's still traumatized, of course; it was really just a few days ago that he found out his sister was murderin' dudes as Enderal's answer to The Punisher. And she actually factually killed him. And then he got brought back to life by that annoyingly vague god-woman who appears now and then.
- There's this bit I like a lot in particular. The tone of his voice says he'd despair enough to throw himself off the goddamn skyship if he wasn't so completely frustrated by the whole thing:
"'Bone Judge'... Such lunacy. Such idiotic, fucking lunacy. I mean, are we so easy to break? Is placing some magical stone in our hands all that the High Ones need to do for something like that to happen?"
Signs point to yes, unfortunately.
It's probably just how people are, though. Given infinite power, some break harder than others (
Adila
), but anyone would go a little screwy.
Probably healthier in the long run for him to be angry than depressed, although depressed Jespar just gets naked, hits the cat houses and gets high off glimmerdust. I've heard of worse coping mechanisms, like
staging elaborate, ironic murders.
- Finally managing to get vertical (and pants on), we pick back up where we were before, with the empty Star City spread before us.
One new bit is Yaela noting it's nice to see people 'finding ... common ground, even in these times.'
You sassy old person, maybe we'll make a Constantine Firespark out of you yet.
- This area is called the Valley of Clouds, because the Ancient Fathers were apparently very, very literal.
- Kurmai pulls his runner act again, but we catch up to him in a minute to find him shouting at a door sized for giants: "Father Yurelai! Father Jotanax! Father Raijimon! He is here, he has found you, just as your prophecy foretold. Now open the gates!"
It's interesting that he has actual names, people from the passed down lore of the Starlings, that he was expecting to still be there waiting for him. Those old legends are
surprisingly
specific.
Also, something about a prophecy? Those never go wrong, amirite guys.
- Well, Kurmai's pretty much broken. He's convinced that he should never have taken us here, and yeah, I can kind of see his point. Yaela takes charge, sending people out in groups to find a way in, Jespar flirts a bit ("This place is the most beautiful thing I've ever seen – no offense.") and in no time at all we've found a side door.
Of note: going the other way reveals a single, solitary skeleton on a lonely lookout, with a book on Rhetorics and light magic. Which is the opposite of promising.
Lejam and Calia have to stay with the ship, and be prepared to cast off if we're not back in 12 hours. Not a call I would have made, considering all the crazy things we could run into down there up to and including time travel, but I unfortunately wasn't consulted.
Not to mention leaving Calia behind with the redshirt! What if we need something demon'd? You
know
we're going to need something demon'd before this is done.
- The city itself is overgrown, and the only thing we find are empty workshop after empty workshop, occasionally filled with rats. Mad Rats are not particularly threatening to me anymore, but I also notice Jespar isn't really pulling his weight anymore. I have to step up and kill most of them for him and Yaela.
It's okay hon, I'm sure this happens to a lot of rogue companions!
- Not a whole lot to talk about in this section really. There's some cool lighting effects...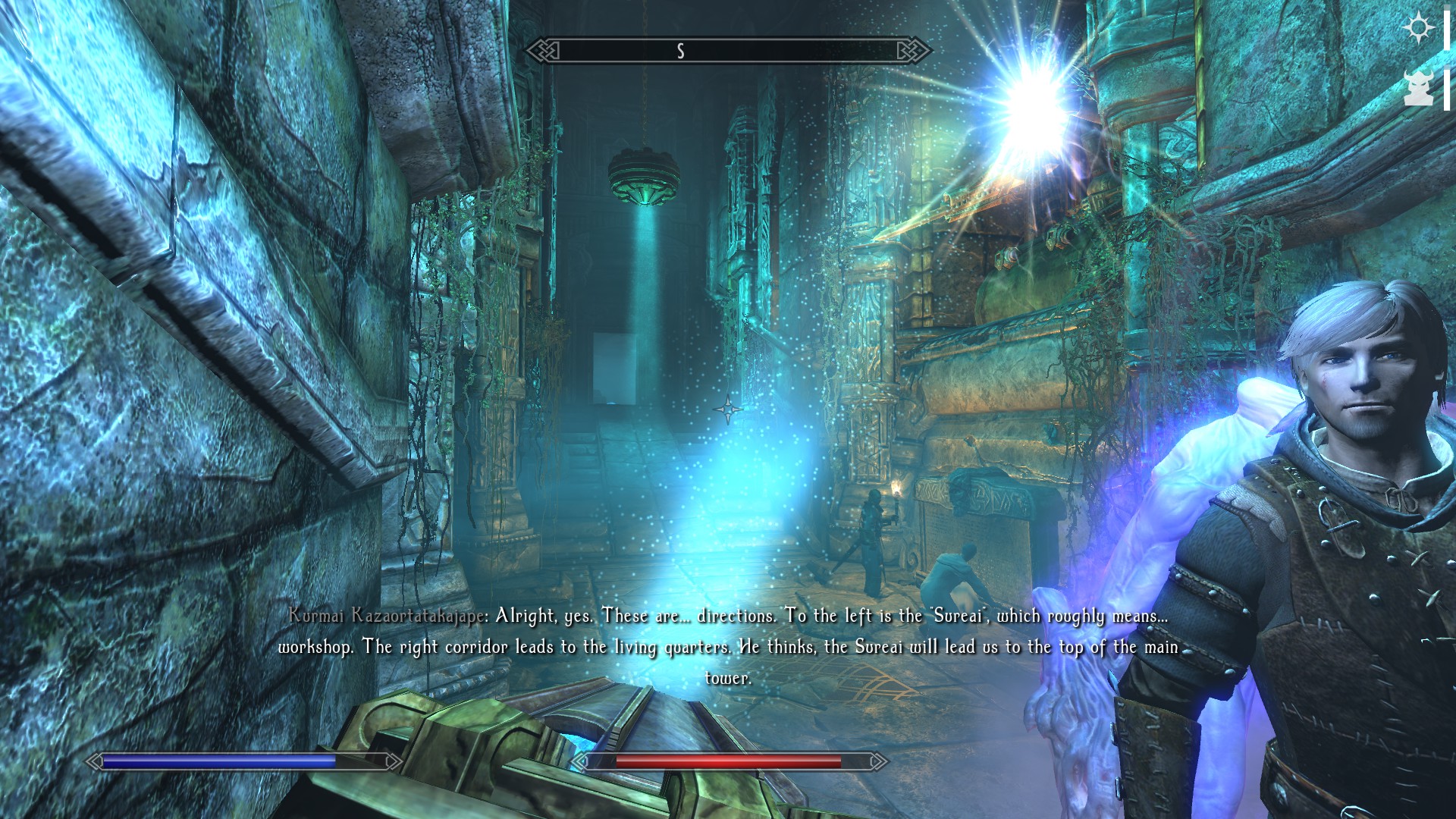 The Ancient Fathers seem to go in for a mix of cool blue laser-y light and more traditional candles that have a similar but different greenish glow to the old Pyrean Doom Train.
Some nice statuary…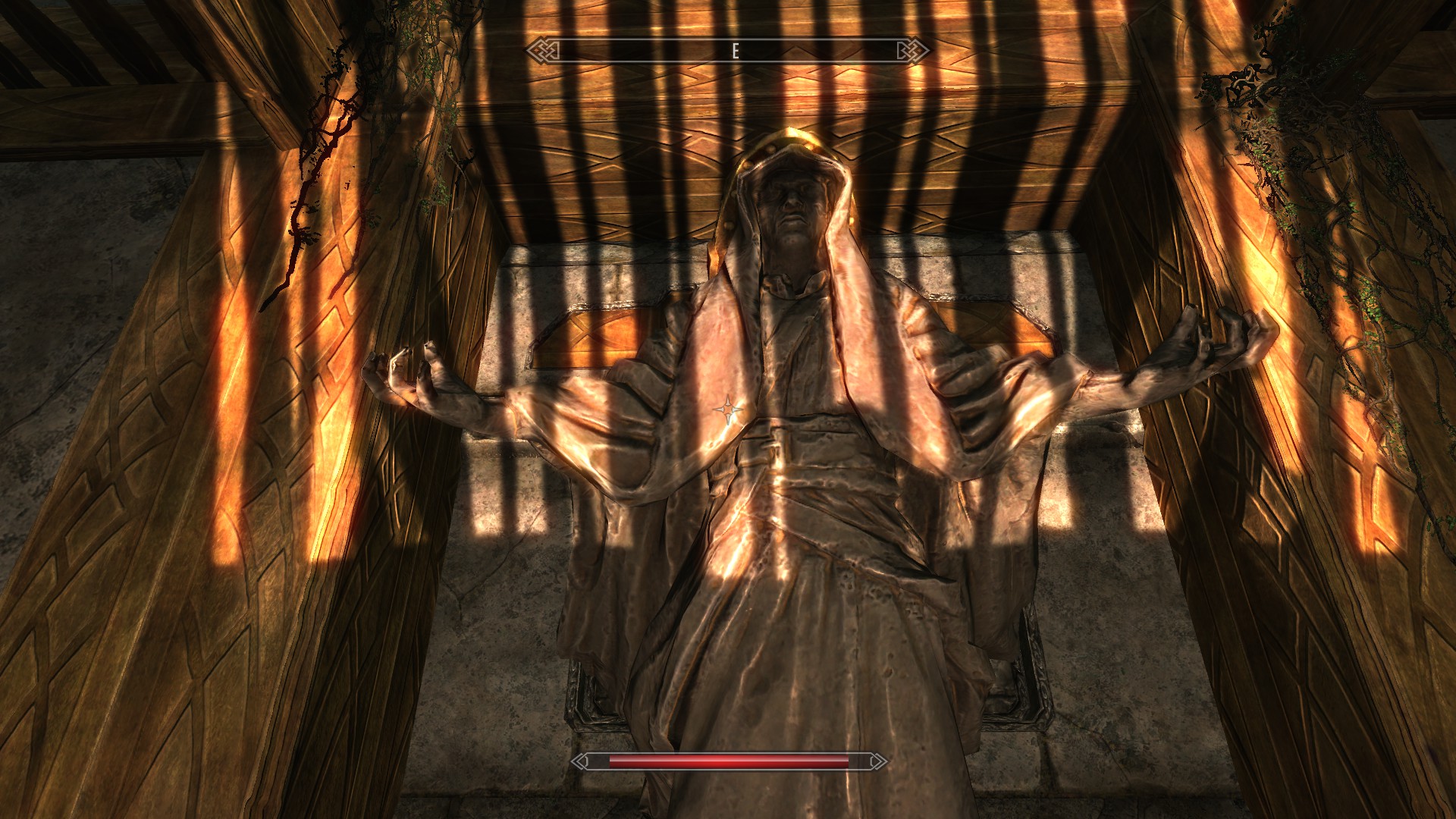 There's also some of those mother goddess type statues, which have a pretty hilarious exaggerated sneer on their faces, like they just smelled the worst thing they've ever smelled in their statue-y lives.
- The workshop where the Ancient Fathers met was apparently called… the Sureai. Heh. I guess I've been pronouncing that wrong the whole time, huh? Sure-ay, not Sure-A.I. like Artificial Intelligence.
- We eventually make our way to the 'tower of memories', and the elevator kinda… screws its way down deep into the earth. Each layer seems to tell its own six panel story about a civilization, of which the Ancient Fathers have seen… let's call it 'a lot.'
We head down to the Pyrean level. We see them:
1) grow ('life emerges from nothing', as Yaela puts it, I wonder if that's significant?),
2) thrive,
3) develop a theocracy (sun-priests, in the Pyrean's case),
4)
kill
their gods (apparently Arantheal's kid and something called the 'shadowgod' did for the Light-born, the pyreans had a general called Jakil go rogue and wipe them out),
5) then the Cleansing, madness and death orchestrated by the High Ones who sit far above,
6) and finally everyone starts floating upwards like the Rapture is happening.
- Yaela has a 'Eureka!' moment that feels only slightly unearned. Here's how this goes down:
The Cleansing is the process of killing a civilization and harvesting their memories to form a new High One.
(Does the resulting High One have traits of the civilization that composes it? I suspect it's (child of the 90s that I am) like a vampire from Buffy the Vampire Slayer; the resulting creature has the human's memories, but feels completely differently about them. Otherwise, at least a few of these High Ones would have presumably been very, very angry with the others for murdering their entire civilization to use their corpses to make a smoke-monster.)
(... I wonder what civilizations made the three High One Furries? Like, when the dreams and secrets of your entire race congeal into a single form, and that form goes 'Yanno what, Imma be a bear'... or even worse, the guy who decided to be a giant spider for all eternity and then expected us to be able to take him seriously.)
The Numinos is less 'a macguffin you find' and more 'a macguffin you make.' Basically, we need to use the Word of the Dead scroll we got from the Aged Man to go inside a
High One's
memories, find some kind of essence there, and stick it in the machine. The Word of the Dead can visit the memories of the dead, the High Ones
are
the dead given form into some higher being, this hangs together pretty well. Good Chekov's Gun!
The machine uses the essence you stick inside it as a kind of pattern or homing device so it can aim it's bomb or disintegration ray or whatever in the right direction. Also pretty logical.
- Damn it, does that mean Coarek is kinda right about the Cleansing being about advancing humanity to a higher plane of existence? I mean, he's still wrong, but he's closer to being right than I first thought.
That's just good storytelling, though; making your villain understandable to the audience is the first step to making him relatable, which is how you get people to care about him.
It's really human to want something to be true really, really bad and then twist everything until the thing you want seems (to you) to be the only possible choice. But there also needs to be some truth (or some lie) buried in there to get twisted, or Coarek's just fucking crazy. And crazy people
can
make good villains, but usually not relatable ones.
- Does that even make sense outside my head? I dunno, I'm going to split this one up here, this is getting long.
The Takeaway:
The romance isn't exactly blowing me away yet, but I'm always down for Jespar's voice actor to wind up and go. It's not like we're done yet, presumably, so there's still plenty of time to wow me.
I do appreciate the Word of the Dead coming back into the story again. It's a great plot device. Not exactly something you get to use every day, but it's a really cool power particularly for these 'search for knowledge' quests. It does get undercut by Prophet's schtick, I guess. Like, you have this scroll that can visit the minds of the dead, but also your protagonist can just throw up visions of stuff that happened without it, so whatever.
I do wonder if the Aged Man himself is going to be involved again at some point. 'Mind meld with a High One' is a tall order, if he turns out to be a High One that went back down to slum it with the mortals or whatever that would be super handy.