I was going through my screenshots, and wanted to share something I skipped over last time: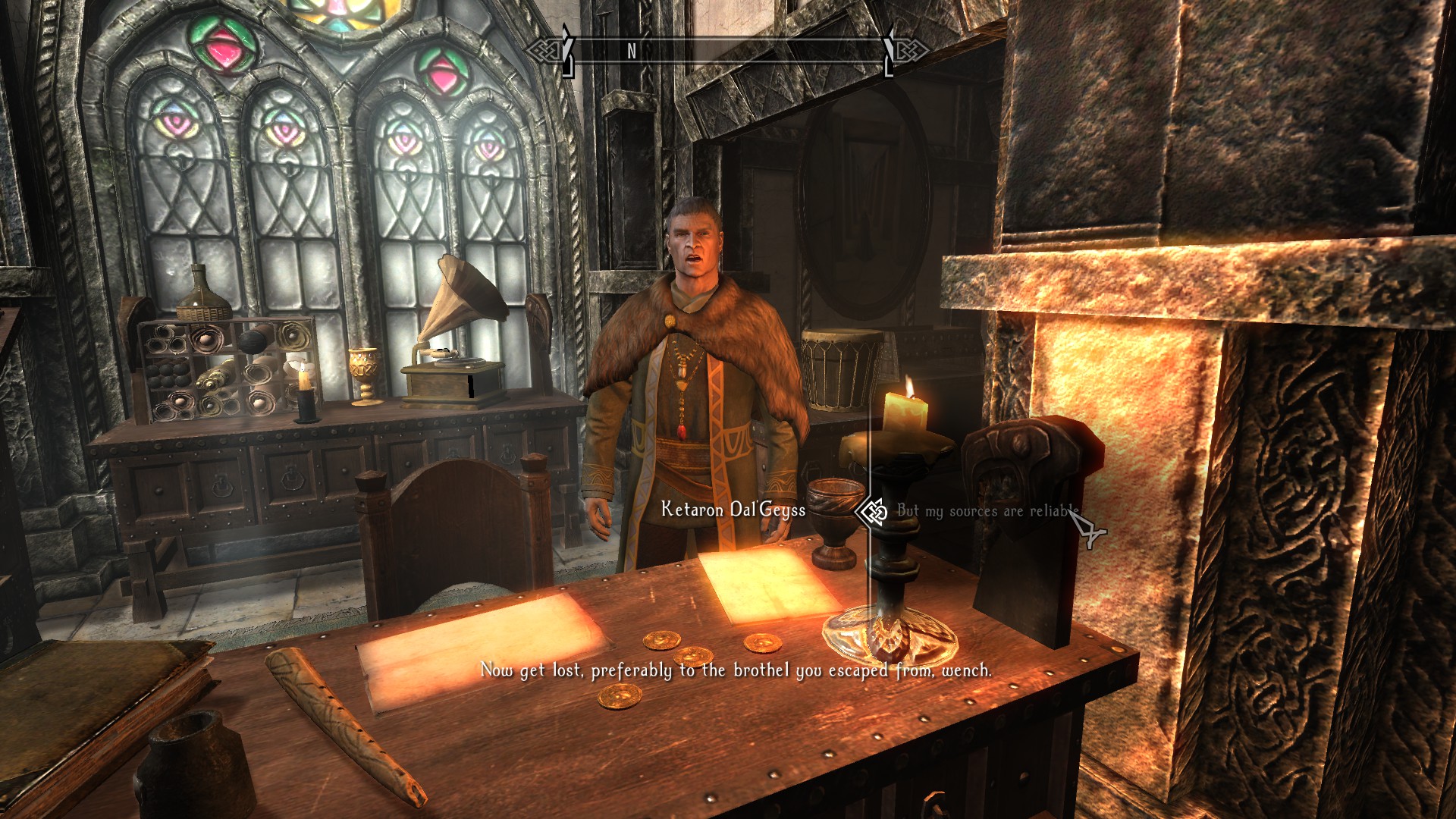 I am something of a connoisseur of Endralean insults by now, and I can say that slam was excellent. 9/10, Dal'Geyss.
- Anyway. The Angel quest has me meeting Calia in Frostcliff Tavern, on the edge of the Great White North.
When I get there, I find her already questioning two of the locals about that Dal'Guldar guy. Good hustle, Calia!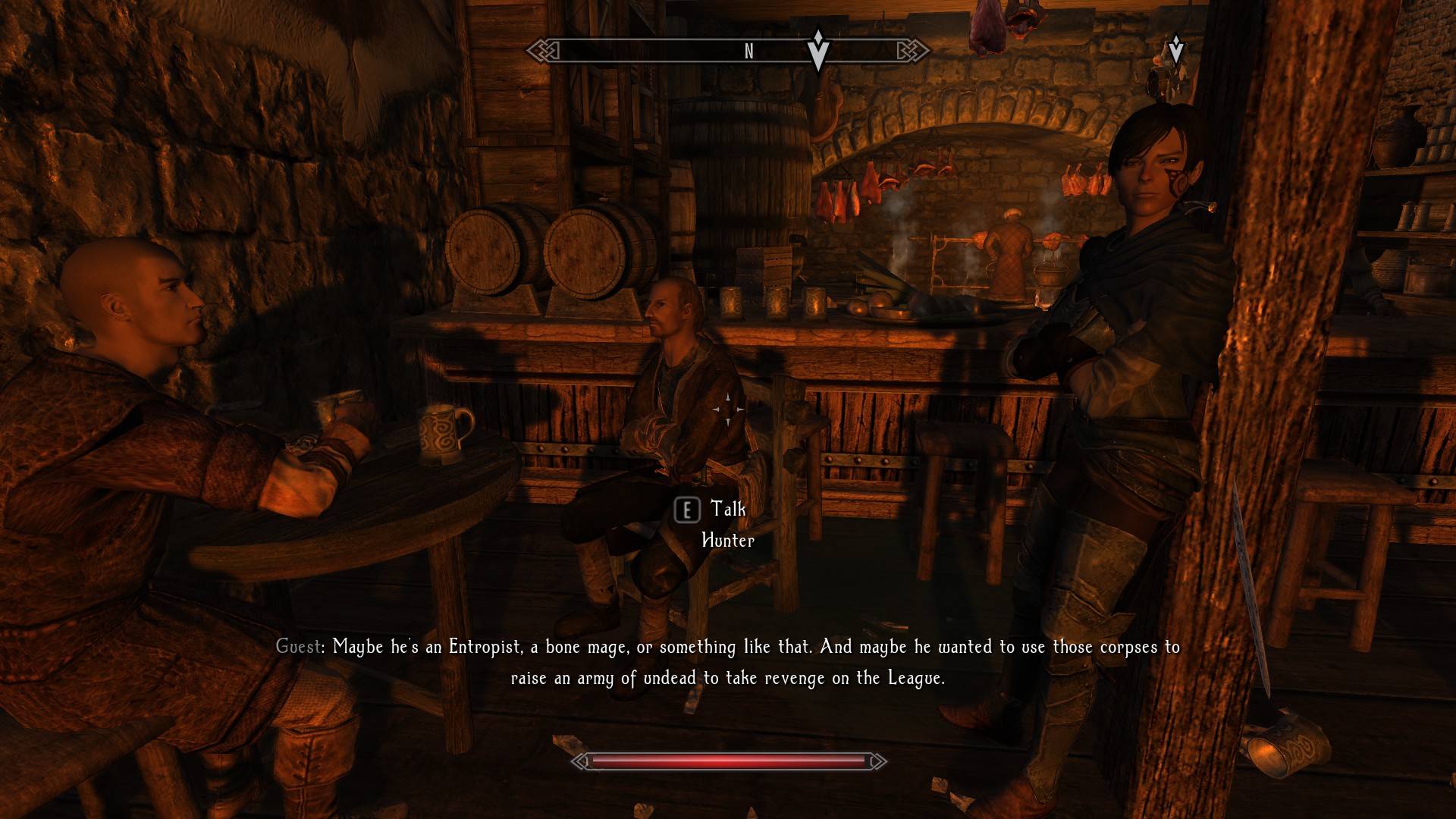 I wish this happened more often, honestly; showing up to find the quest already in progress. Jespar could learn a thing or two.
- You can just move on with the quest, but you can also ask around about Dal'Guldar for a bit of extra XP. One customer is convinced he's going to lead a horde of undead rabbit monsters to take over Enderal. One fellow tells a story showing that to a civilian, summoning some ghost-animal is probably pretty damn spooky. The way he tells the story sounds like people have made fun of him for it so much he's half convinced it didn't happen.
Yeah. Summoning ghost animals. What a silly bugger. As if that could ever happen, right guys?
- Due to the bug I spent a lot of time wandering around the tavern talking to people and looking for anything I missed,which involved listening to the minstrel girl play my new favorite Enderalean bard song (
https://www.youtube.com/watch?v=iw7PWr8znuE
) as well as a couple others. The NPC named 'Minstrel', meanwhile, was in the back, stirring a stew pot on the hearth. What is that guy's deal?
- Calia, little ray of sunshine that she is, also has this to say about the war with Nehrim: "They trump us in every aspect - manpower, equipment, siege machinery… Let's just hope the walls of Ark are as durable as they're said to be."
Ark, of course, is the capital of Enderal. She's freely assuming that the enemy will be knocking on the Order's gates shortly.
This is pretty effective story-telling, here: Calia is kind of a downer by nature, but the Nehrimese landed like, a week ago, game-time. When even your party members are expecting your side to roll over in that short a time…
What we're doing right now has nothing to do with resisting the Nehrimese invasion. We're hunting down macguffins to fight the High Ones when we're expecting a wave of purely mortal steel to punch our gates in.
Whatever! It'll be fiiiine.
- The path to Dal'Guldar's fortress is about as far from Frostcliff Tavern as Fogville, that place with all the Arps, but in the exact opposite direction. Along the way almost immediately we're attacked by half a dozen Nehrimese soldiers and a guard dog, but honestly I was fighting guys with the silver swords the Nehrimese are using 10 levels ago.
It's a shame there's only one of me and like five entrances into Ark, I could kill guys like this all day.
- Calia warns me to be careful of a guard tower along the way, but frankly it's right next to the path so I aggro it anyway. Sure, I might have been able to sneak past if I'd stuck to the mountainside and engaged the sneak skill, but after rolling those Nehrimese earlier I'm feeling like maybe I'm actually a big deal after all, and swagger down the path like I own the place.
With Calia tagging along, even 3 wild mages isn't too much of threat. Possibly this is due to one of the mages slipping and falling off the mountain, admittedly.
There are a few kegs of black powder to pick up here, presumably that's going to be useful at some point? Since I've never seen anything like them, I'm assuming 'quest item'.
- More of a problem are a trio of Lost Ones hanging out over a few extremely and thoroughly murdered Keepers on the road.
Lost Ones are some of the highest tiers of undead I've run across except for those Lord of the Lost assholes; a lot of them are naked, but with sweet glowing eyes.
Calia is distraught, and suggests we should search the group for clues. I, of course, am way ahead of her and already wearing the Keeper's baller red cloak.
He did have a written order with him, telling him to go hunt down a local entropist, so we take a brief break to do that. The mine the entropist is hiding in is like 10 steps away, so it's convenient.
- The mine is pretty sweet-looking.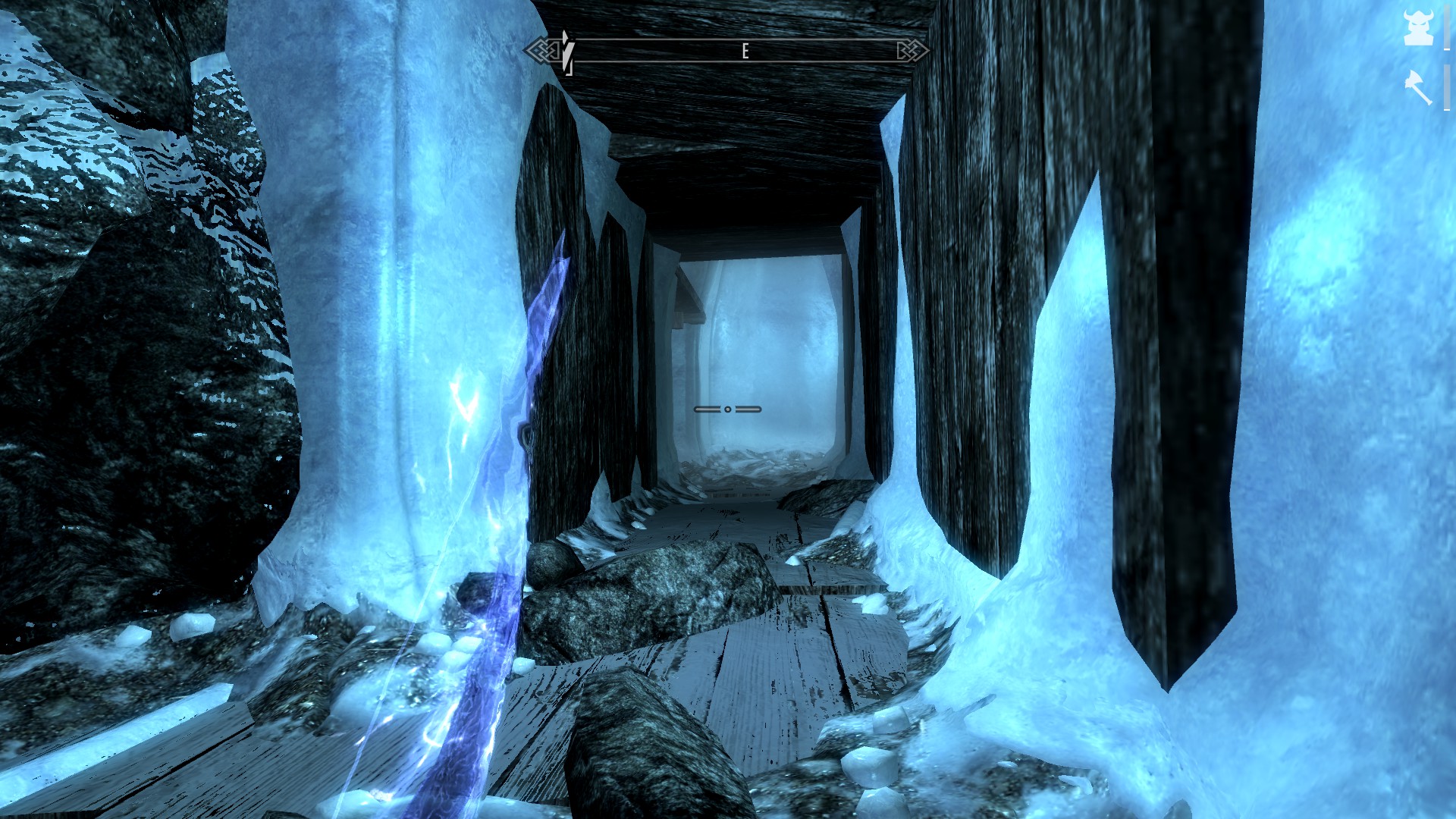 Not exactly homey, but it has a certain ambiance.
- Elemental wolf bites still hurt a bunch, but they're relatively fragile and never having to fight more than two at a time keeps things manageable.
I learn that the dead Keeper (whose name I have already forgotten) helped Calia during her trial. I like to think that I'm honoring him in my own way; his cloak is going to keep me warm and noble-looking in the cold winter nights ahead, and his boots will finance the Order (I am part of the Order, this fact checks out).
- After dispensing justice at the point of a blade to the no-good Entropist, we come upon an abandoned village covered in fire elementals and elemental wolves. Not entirely sure why. Are they guards? Is something calling them here? The way they're spaced, in ones and twos along the roads of the village, it kind of feels like I stumbled into the Village of the Fire Fairies or something.
Calia informs me that someone has been here recently. Hunters? the Prophetess asks.
No, me. I don't think it's hunters. Unless local hunters know how to tame fire elementals? I don't know, the bloody things always attack me on sight, but then, so do wolves and bears (there are also wolves and bears).
- Just as a side note, wandering off the beaten path a bit after the ice bear leads me to a lonely tower. Abandoned, empty, left open to the elements. At the very top… a book on a pedestal called something like The Life of Whisperwind, Volume 4. If the book is to be believed, this is where the noted murderer and drug (sorry, 'drogae') addict ended up. He joined an ascetic holy order and returned to the right Path. Right here, presumably.
I thought it was neat, anyway. I should probably read more of Enderal's books (besides 'King Lewd and His Maidservant Devotia' and 'Lyrical Gushes And Other Fluids, By Prince Adreyu of Mith', of course, of which I own at least three copies each).
- At the top of the mountain sits the fortress we came here to find.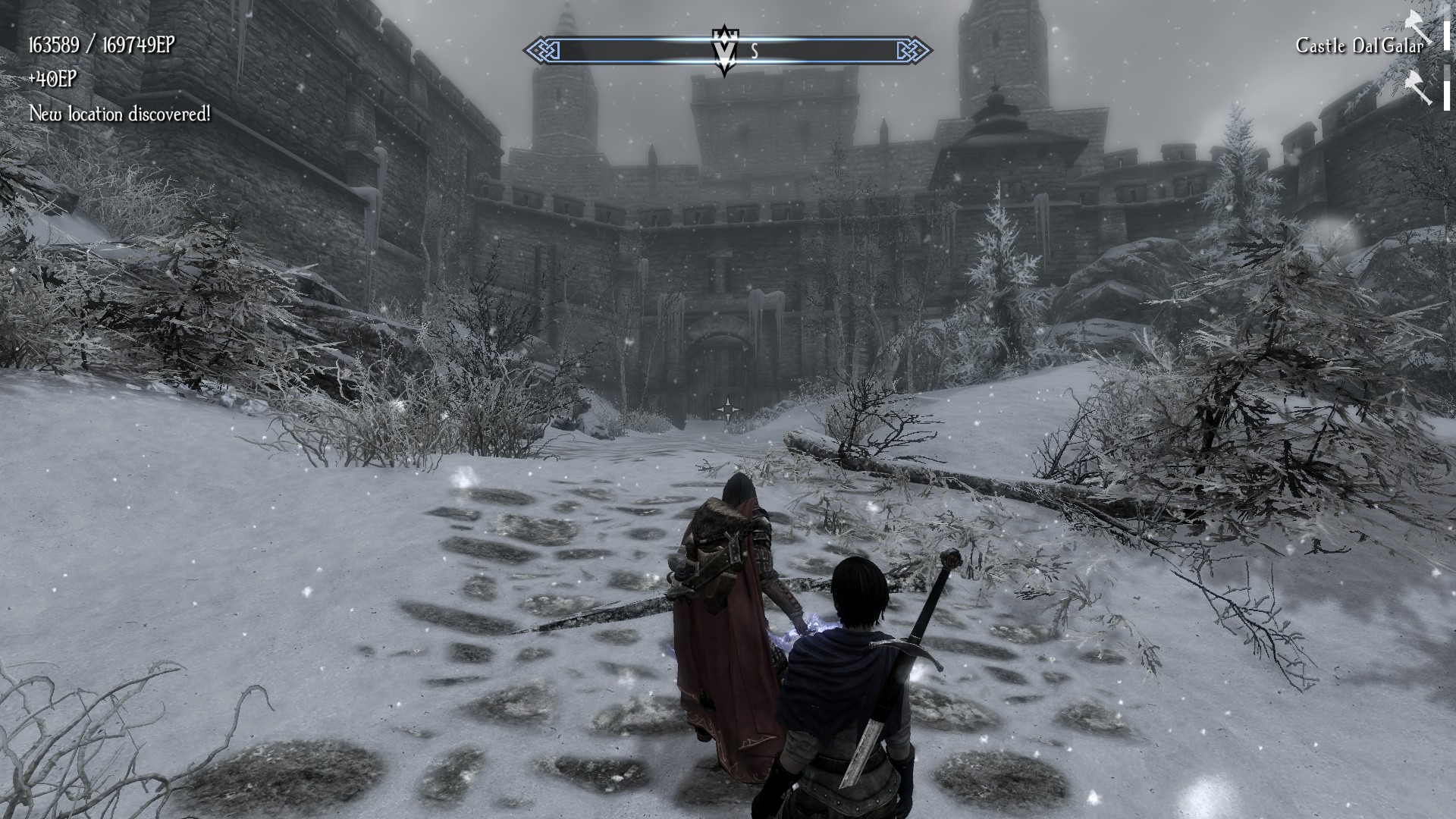 Next time, I'll actually enter the place. He'll probably be a nice man who will have us in for tea, and we can talk about Calia's curse over biscuits. Or we'll have to fight a bunch of elementals or undead or something.
One of those.
The Takeaway:
Getting to head around the tavern and talk to all the superstitious peasants about the weird things they've heard or seen Dal'Guldar doing was neat, if somewhat buggy. It kind of had the feel of Van Helsing asking about after that mysterious Count in the foreboding castle up ahead. Also, the map is now much more… papery. It's nice.